INDOOR DRONE TRIAL INSPECTION
Test an Elios drone at your site, a trial mission is the best way to experience and demonstrate the efficiency of indoor drone solutions. Our experts gladly organize a proof of concept on your site, this will help you size the impact of drone technologies to your inspection processes.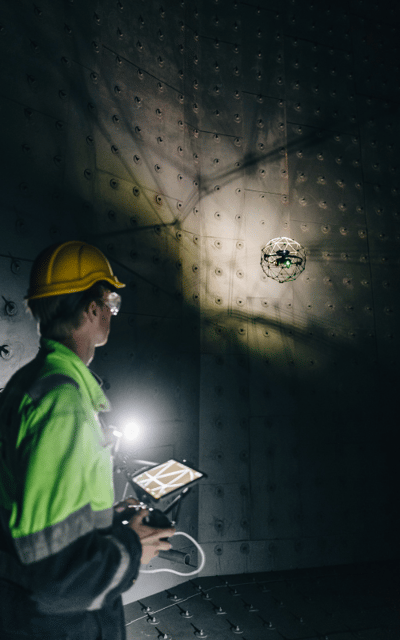 The typical steps to such a mission are the following:
Preparation call
Briefing on site
Data acquisition mission
Data review and delivery
Debriefing on site or via a conference call
MAKING YOUR PROOF OF CONCEPT A SUCCESS
Aiming to spot the fit between your inspection needs and our technology, a proof of concept will bring you valuable insights on how our drone could make your indoor inspections safer, faster, more cost-efficient.
For a successful mission, communication between Flyability and your inspection team needs to be flawless. When contacting us for a trial inspection, we will go through a preparation process developed through countless successful missions. We will start with a conference call to analyze your business case and define the best inspection method.
PROOF OF CONCEPT DELIVERABLES
All the data collected during the mission will be yours. During the data review, we will use our post-processing software to create a thorough report. However, our team does not include certified surveyors and we are not in a position to provide you with a complete inspection report.
COST OF A PROOF OF CONCEPT
A proof of concept is a real data acquisition and processing mission performed by an expert, who will provide you with a complete data set. We apply a flat rate of 2'000 CHF per day of data acquisition mission, excluding the cost of travel and accommodation and potential stand-by time.
ORGANIZE A TRIAL AT YOUR FACILITY