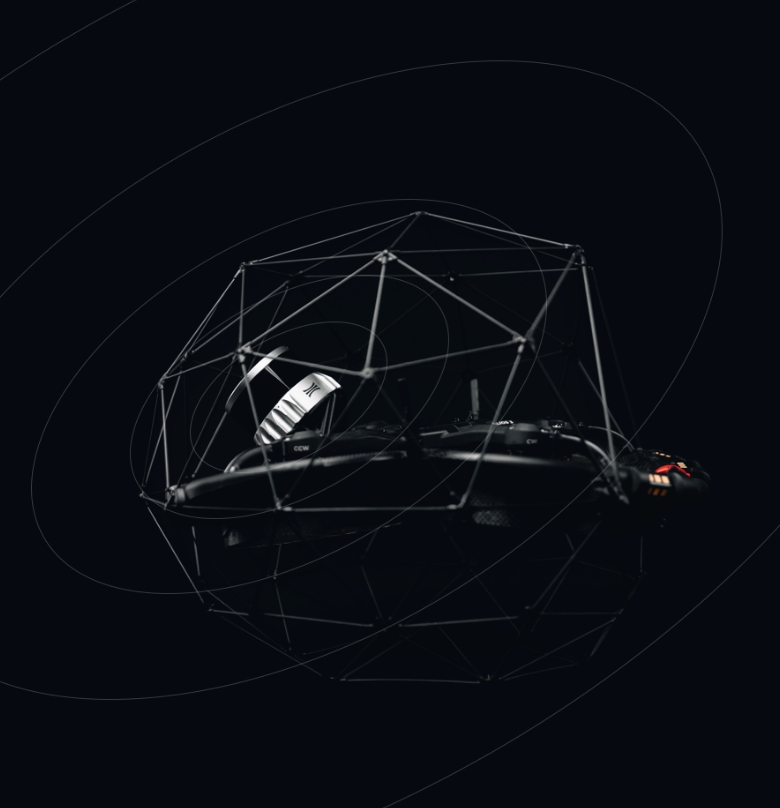 Assessing the Global Accuracy of the Elios 3 Surveying Payload
Download our free accuracy report that measures and analyzes the accuracy of the new Elios 3 LiDAR payload in several different environments. Use this resource to evaluate if the Surveying Payload suits your use cases.
Get your free PDF
Bridge data gaps in challenging environments
Comprehensive data is key to supporting operational decisions. Yet many hazardous environments are beyond the reach of existing data capture technologies.
Flyability's Surveying Payload turns the Elios 3 into a flying mobile scanner that can fit through openings as small as 50x50cm, and create high resolution scans beyond line of sight, allowing industry professionals to provide rapid insights that are not accessible with traditional tools or other UAV technologies.

Survey-grade accuracy
The high resolution Ouster OS0-128 Rev 7 LiDAR sensor in combination with the world's leading FARO Connect SLAM algorithm create incredibly accurate 3D maps and digital twins of the most inaccessible spaces with centimeter precision - for accurate measurements and greater insights.
Accuracy
From 0.1%
drift
Download accuracy report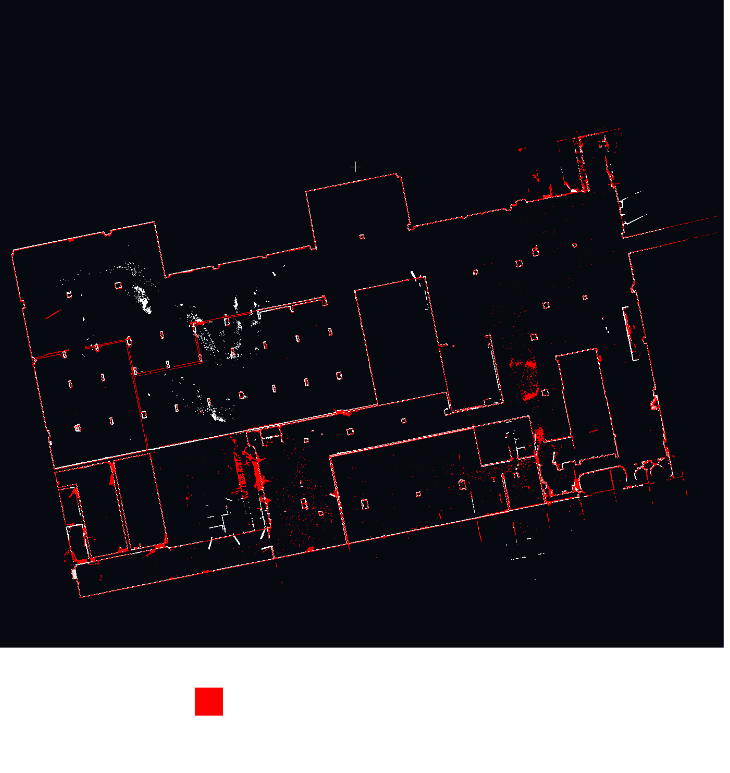 New mapping capabilities
Powered by the latest Ouster REV 7's supercharged L3 chip, the Elios 3 has the ability to capture points further apart and to detect more usable visual features. This maximizes the chance for the SLAM algorithm to converge when computing 3D models of cylindrical and symmetrical environments such as collectors, chimneys, culverts, or underground galleries.
Download accuracy report
*Accuracy may vary depending on the geometry of the mapping environment. Read our detailed accuracy report to further assess the technology fit for your use case.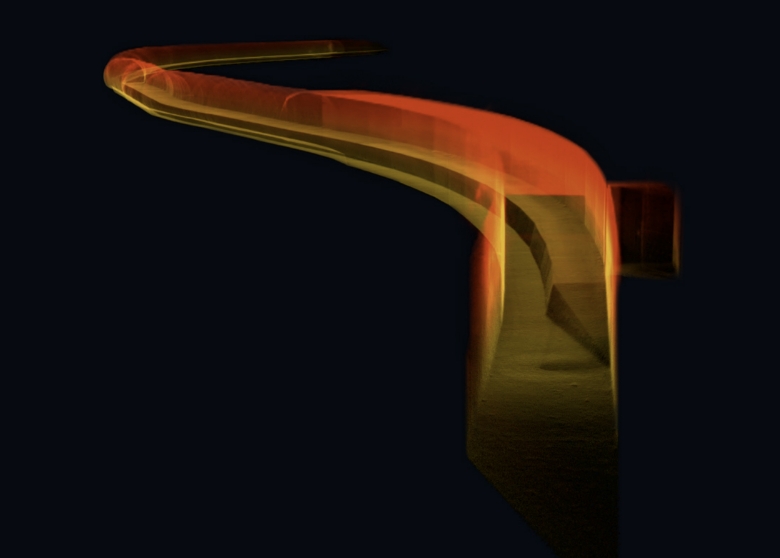 Stunning point clouds
Capture rich, detailed point clouds of the most complex indoors, operating from a safe location. With Elios 3's Surveying Payload you can effortlessly create comprehensive visual representations of challenging indoor spaces, allowing for precise mapping and analysis.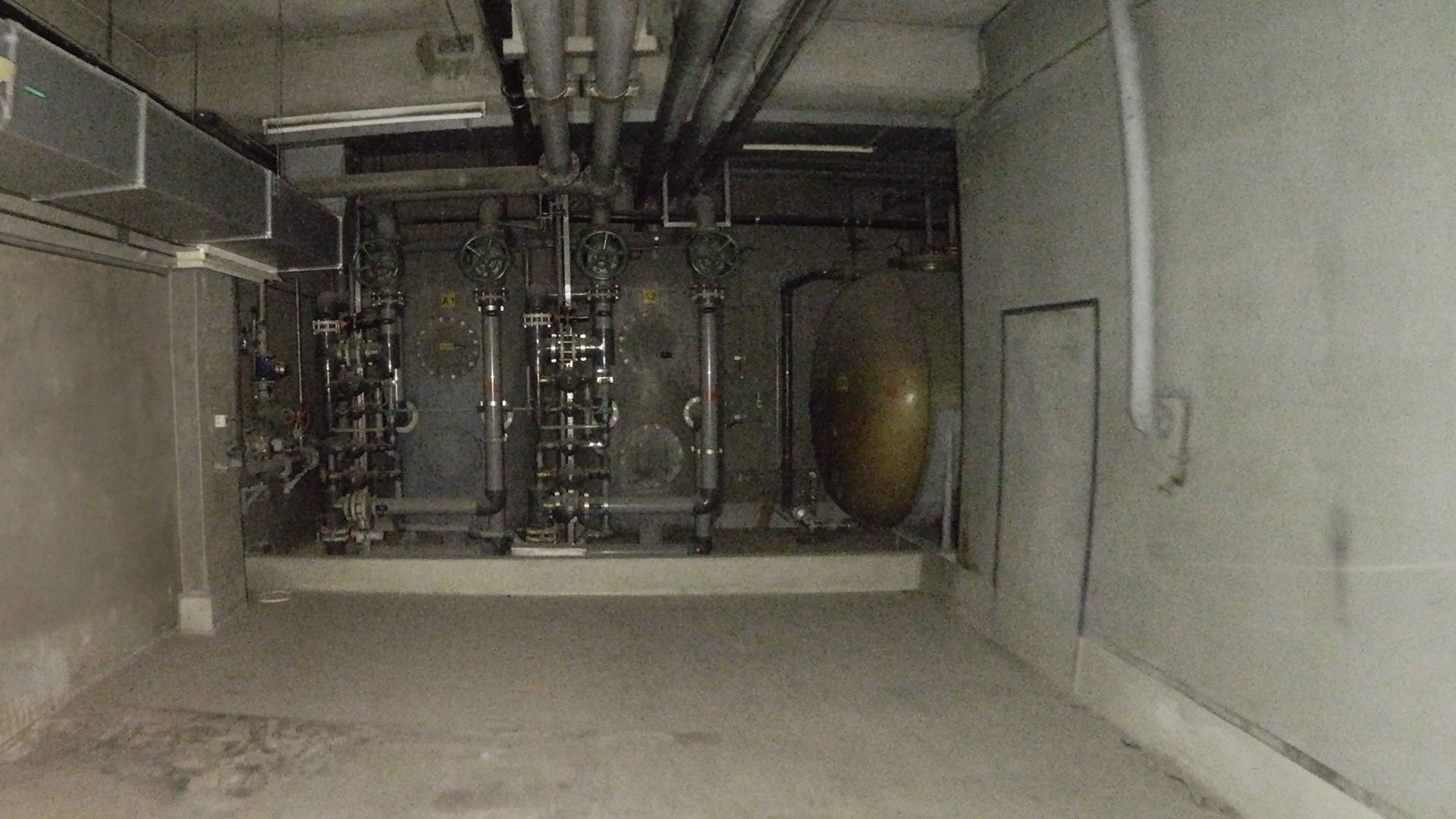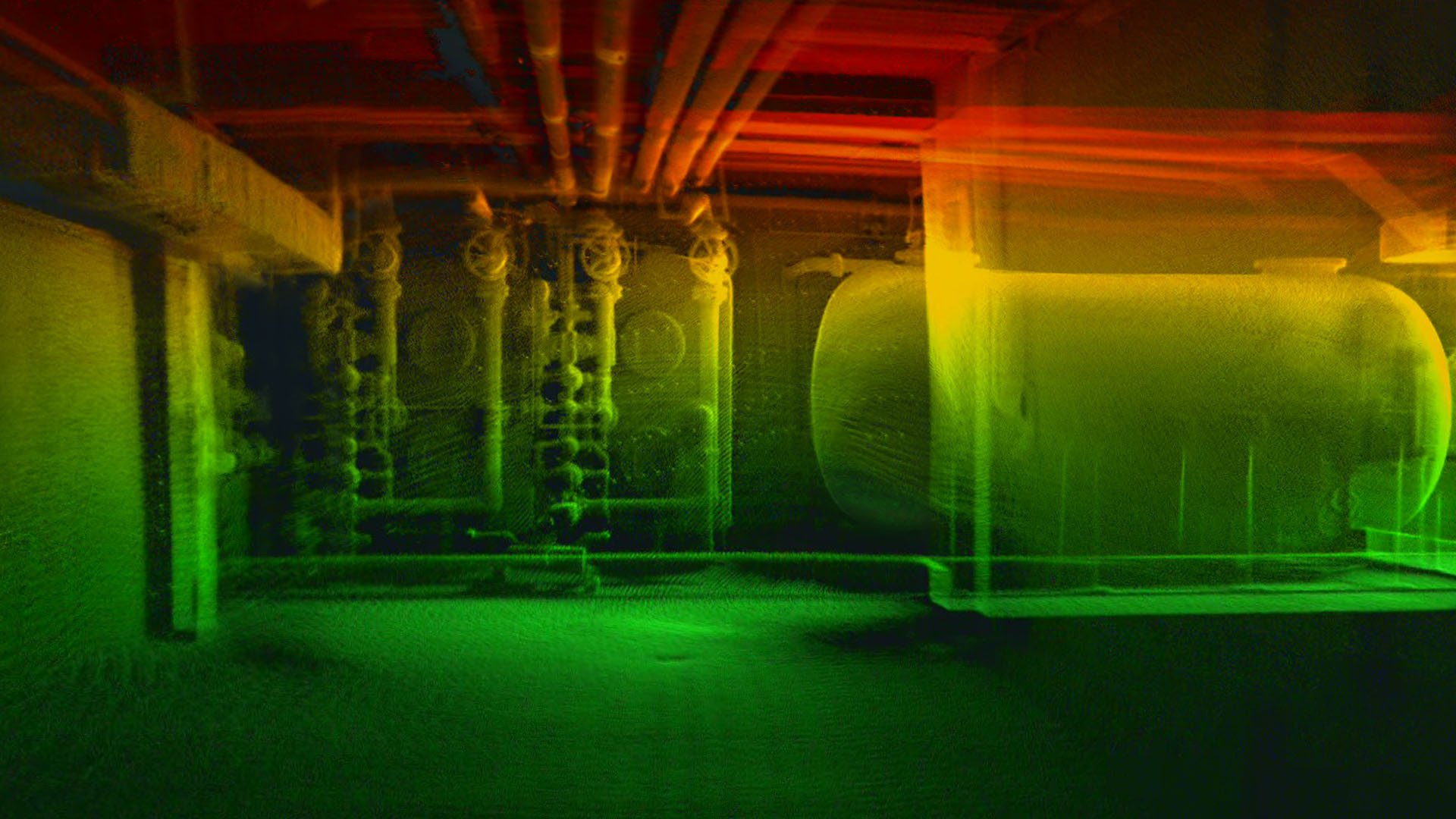 Uplifted mapping efficiency
For all applications where centimeter accuracy matters, mobile scanning is far more effective than traditional methods such as total stations or terrestrial scanners. With a range of 100 meters, a point density of 1,310,720 pts/sec and a capacity to cover a 300 meters tunnel (close loop) in a single flight, the Elios 3 Surveying Payload can turn days of mapping into a 10-minute job.
Scanning rate
1,3 M pts / sec
- Surveying of a 340 m tunnel in an underground mine -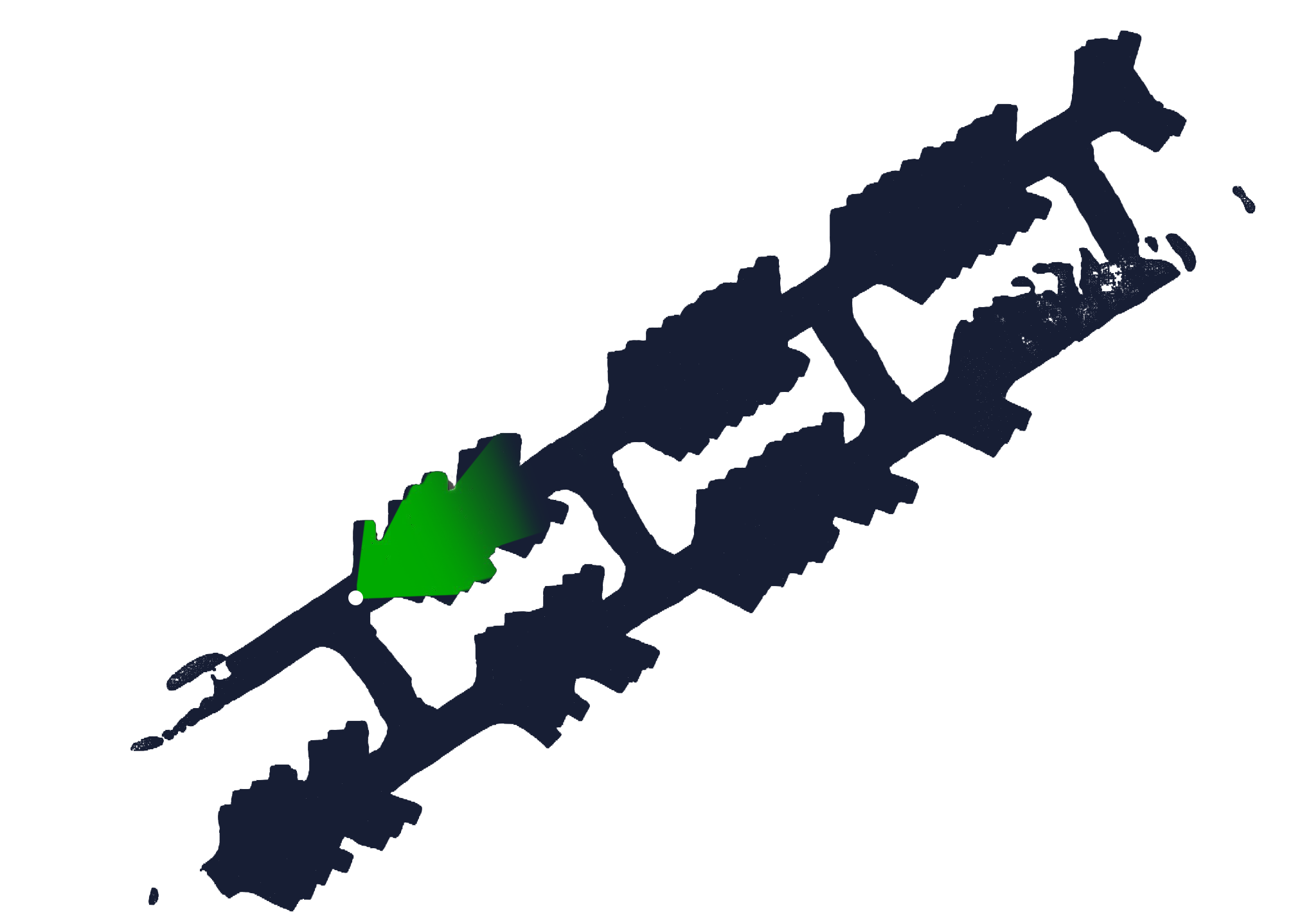 Terrestrial scan
Time: 18 minutes, Coverage: 15%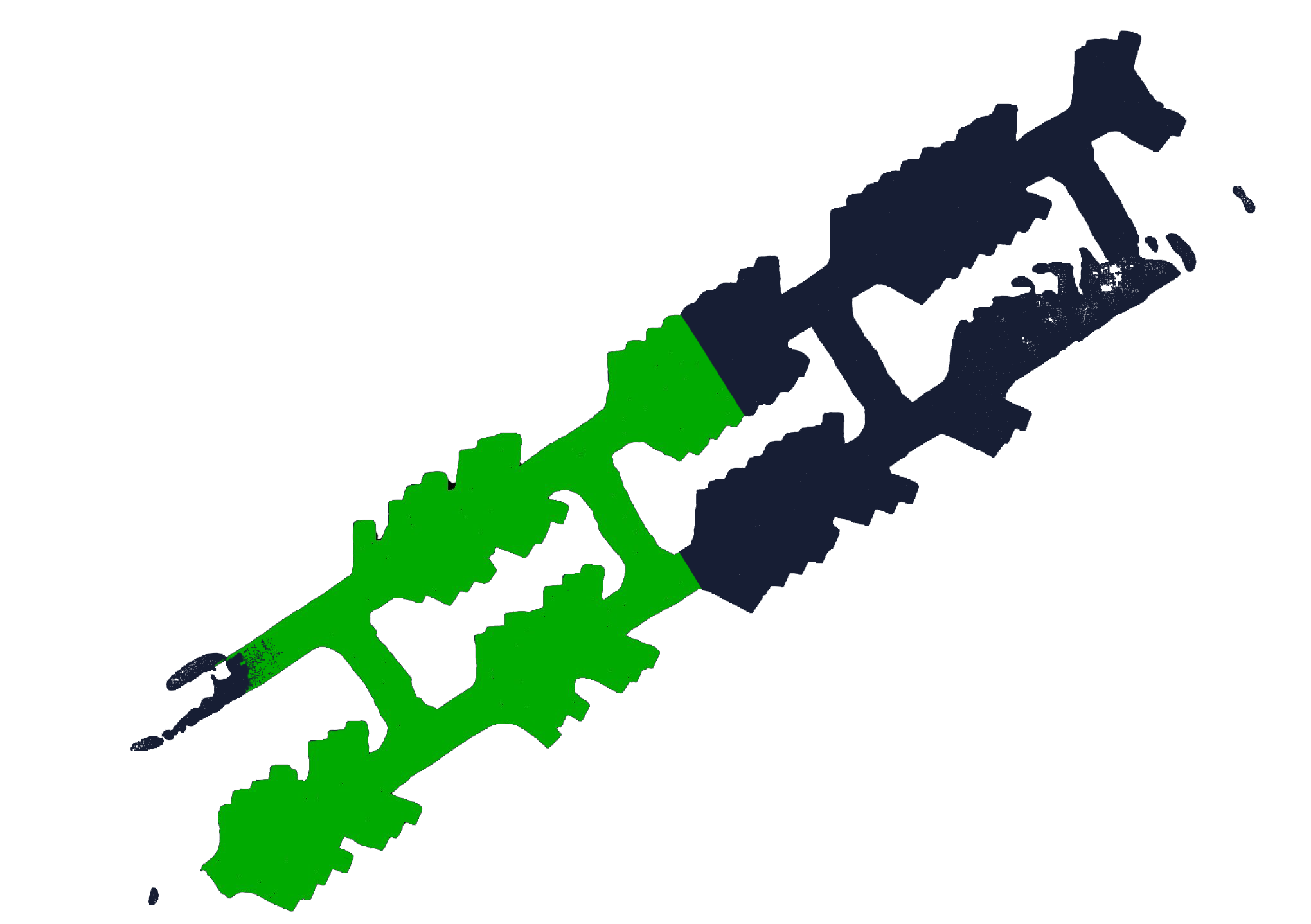 Elios 3 standard LiDAR configuration
Time: 18 minutes, Coverage: 50%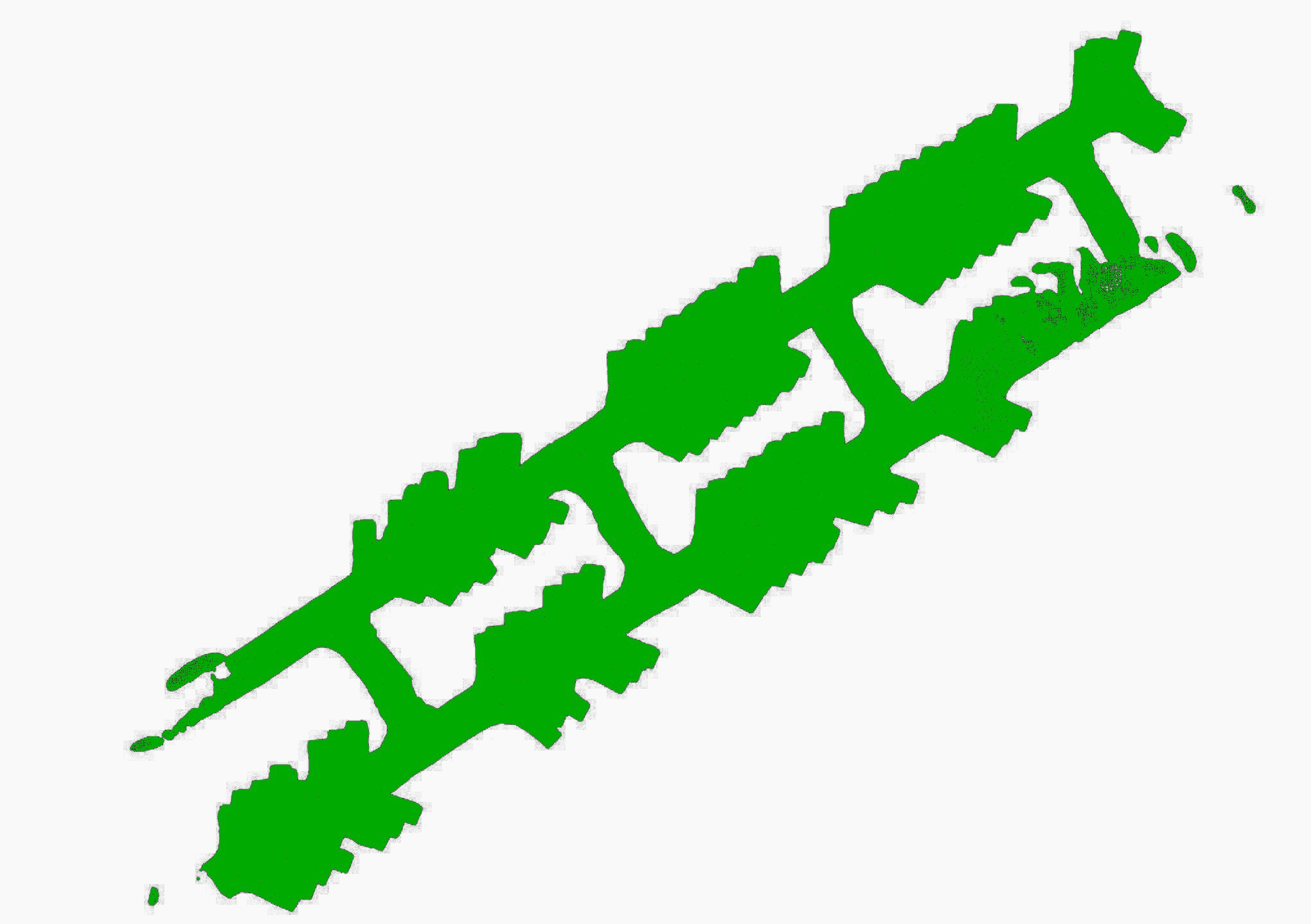 Elios 3 Surveying Payload
Time: 18 minutes, Coverage: 100%

Scanning beyond safe access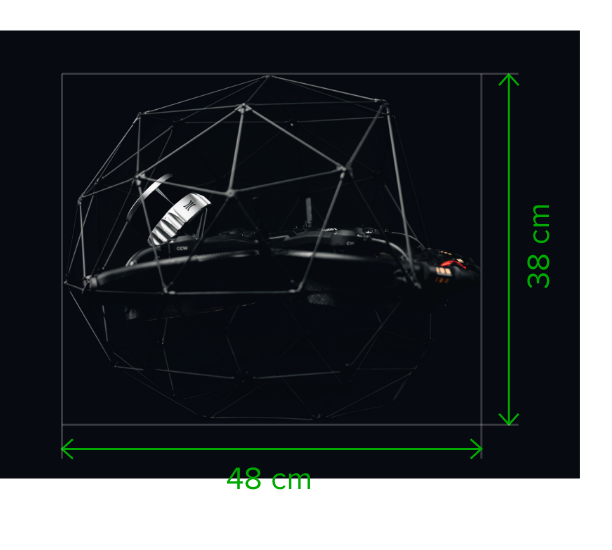 With its small form factor, the Elios 3 and the Surveying Payload can fit through openings as small as 50x50cm. It has a fixed cage that physically protects the hardware and a patented combination of flight controller and motor design that allows the drone to recover flight stability after a collision. This enables the drone to navigate through the most complex environments to capture high resolution scans where no other technology can.
Learn more about Elios 3
Software
Create clean, georeferenced point
clouds automatically
The Elios 3 Surveying Payload is bundled with FARO Connect, a powerful software solution to process and manage the Elios 3's LiDAR data. Powered by the world's leading SLAM algorithm, FARO Connect converts data from the Elios 3 into highly accurate point clouds and provides a range of SLAM presets, optimized for the most common data capture scenarios of the Elios 3. Features include:
SURVEYING PACKAGE
A one-stop solution
To get you started, the Surveying Payload comes as a comprehensive package, which includes:
This package is designed to maximize your field experience and accelerate your operational proficiency.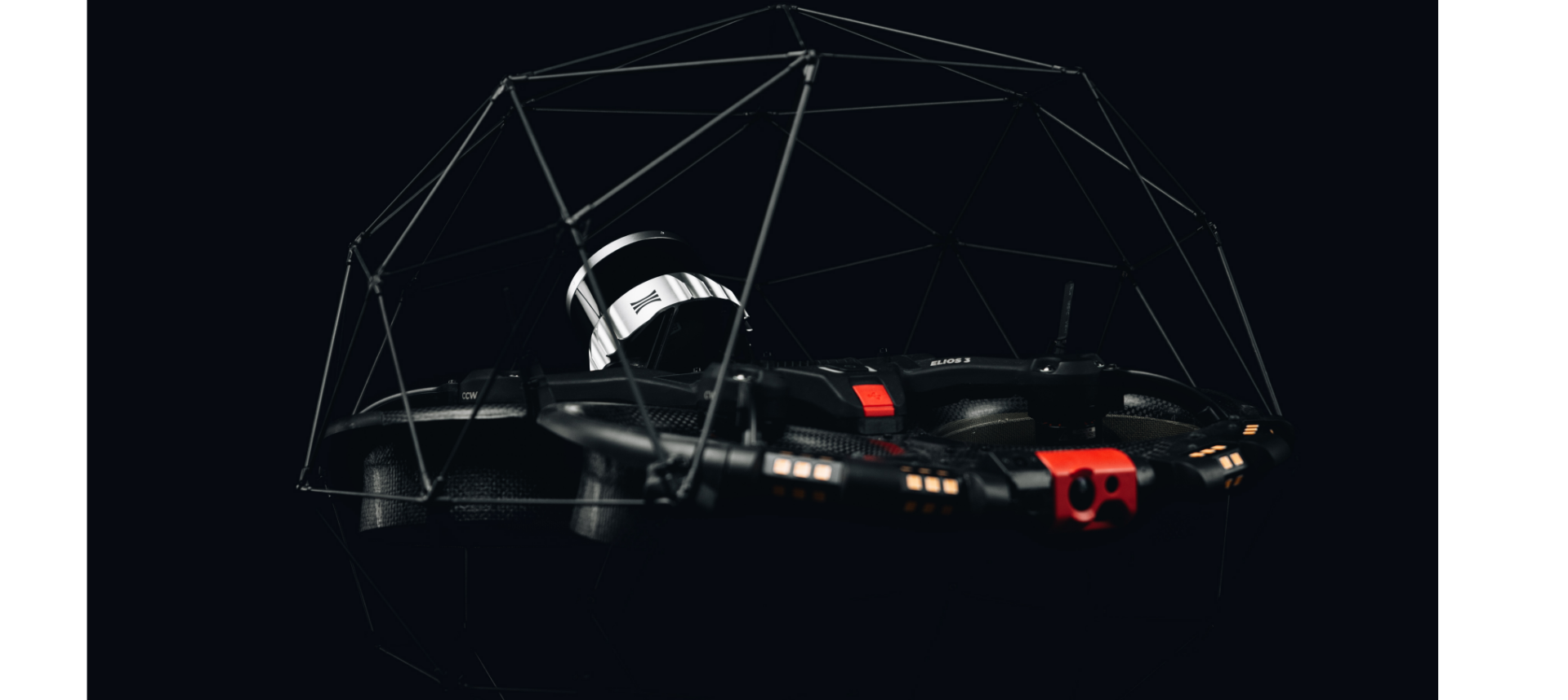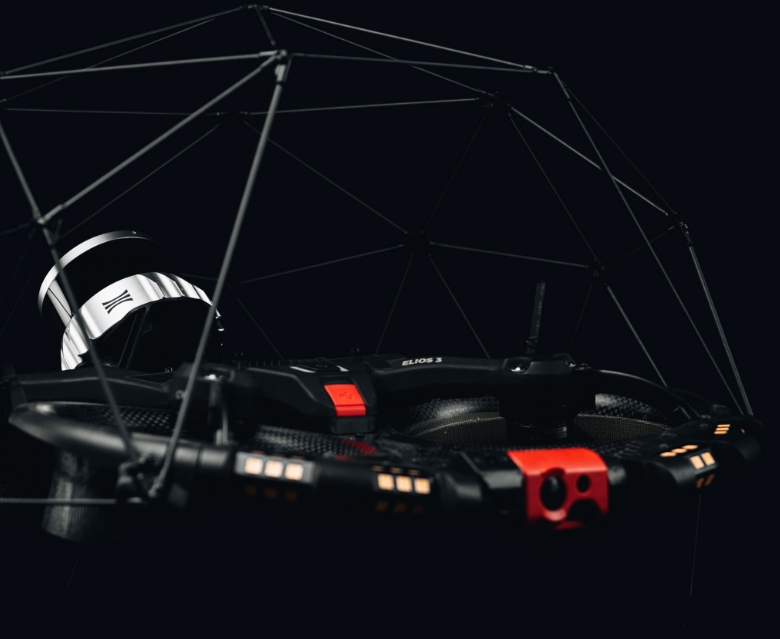 Elios 3 LiDAR configurations
The Elios 3 offers 2 LiDAR configurations. To help you determine if the Surveying Payload is right for you, you can refer to the table below, showing a concise overview of the key disparities between the two configurations.
Elios 3 Surveying & FARO Connect
When localizing inspection data matters
When the 3D model matters
1x
Up to 50m @ 80% reflectivity
Up to 15m @10% reflectivity
2x - 2.3x
Up to 100m 80% reflectivity
Up to 35m at 10% reflectivity
Some artifacts, like "wall collapses" or "double walls"
No artifacts as long as mapping guidelines are followed
in structured environments
in nominal symmetric environments (>2m diameter, enough geometrical features)
in challenging symmetric environments (>2m diameter, little geometrical features)
in very challenging symmetric environments (<2m diameter, enough geometrical features)
Real-time SLAM focused on robustness, running on drone
Post-processing SLAM, focused on high accuracy, on desktop PC
Inspector (for reporting and data localization)
Inspector + FARO Connect (for georeferencing, 3D manip., etc)
Flight time, max altitude
*FlyAware is Flyability's SLAM engine, used in both Elios 3's piloting app and Inspector 4.0
**FARO Connect is FARO's 3D mapping software designed for the seamless processing and management of Elios 3's LiDAR data.

The Standard vs Surveying Configurations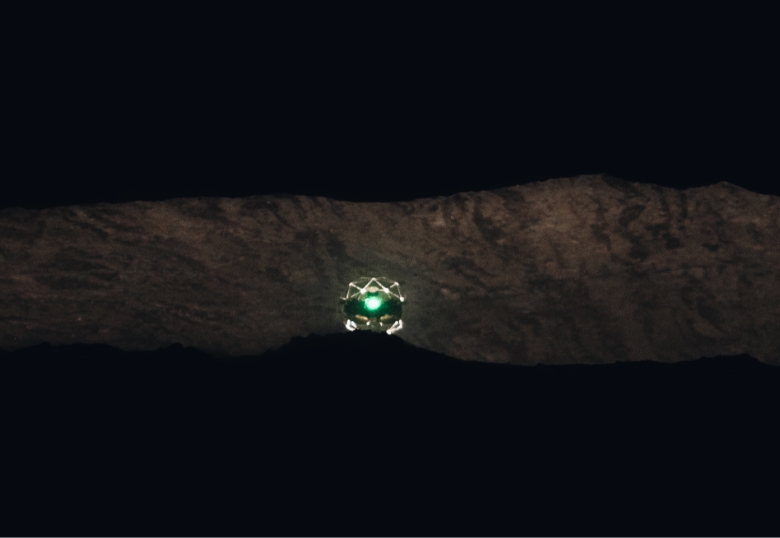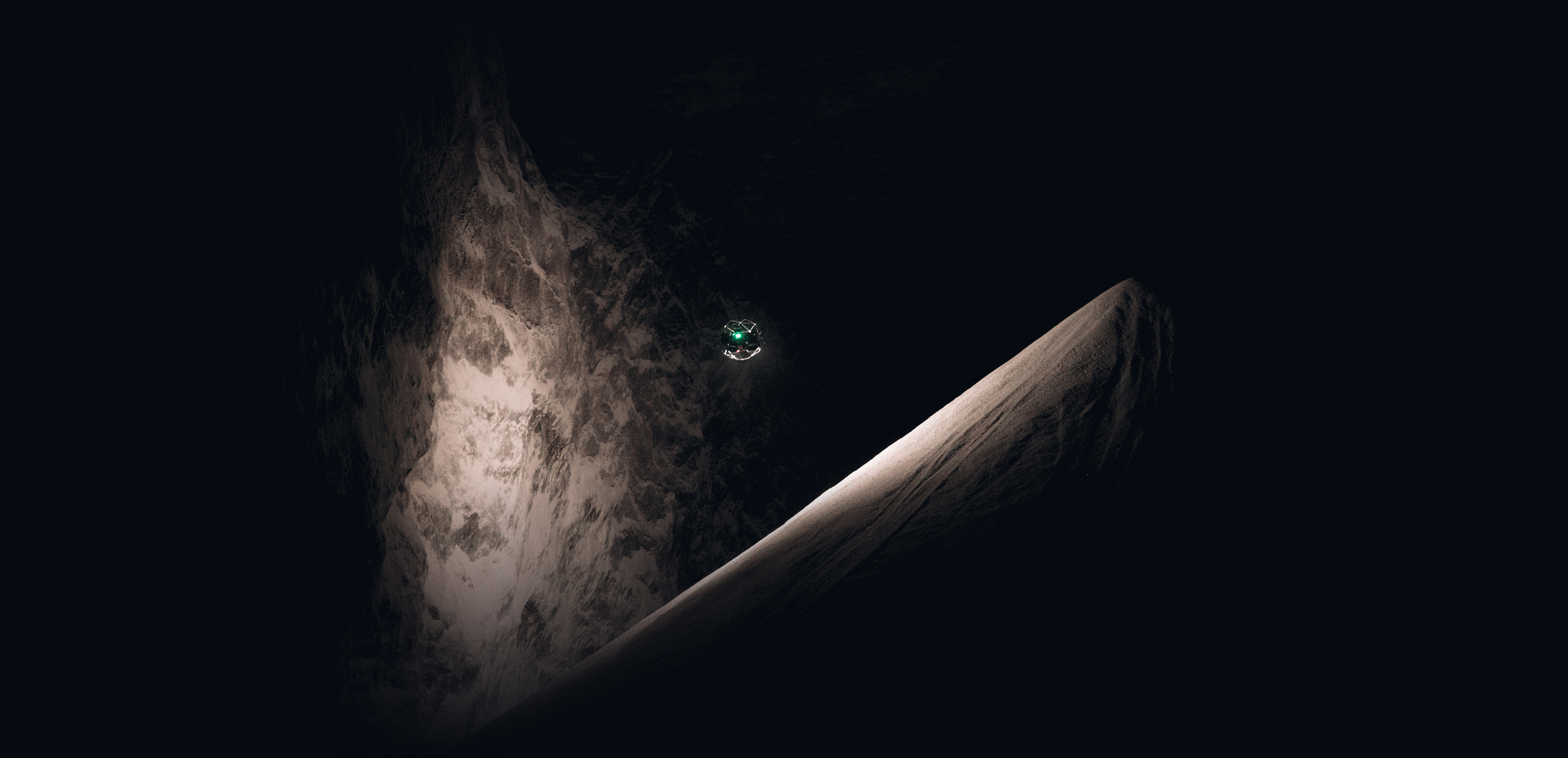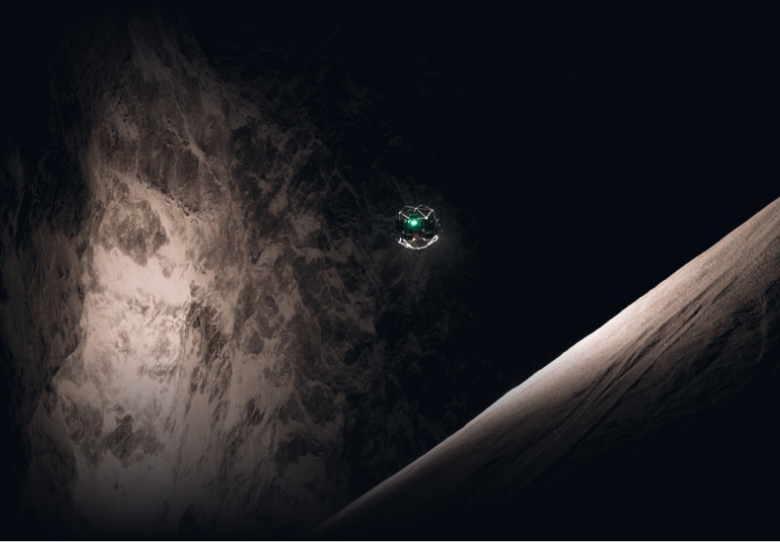 What our customers say about Elios 3 Surveying Payload
"
"The Elios 3 Surveying Payload is a game changer for our operations. It is a tool that we can depend on to capture accurate data day in and day out. We are very impressed!"
Simon Pollitt, Chief Surveyor, ICL Boulby