In mining, big blasts are used to open up cavities in the earth—called stopes—for ore extraction.
After blasting, a stope can be incredibly unstable. Loose rocks as big as cars could be hanging precariously within them, ready to fall at any moment.
Or not. The problem is, it's almost impossible to know.
If a borehole has been drilled into the stope, miners can lower an inspection camera into it, or use a pole to insert a camera.
[Related read: Mining Tools—A Complete Guide to Mining Industry Equipment]
These methods are limited, and can't provide enough data to perform safety assessments, locate ore that may have been missed in the first extraction, make determinations about the stability of the area, or determine the cause of an ore pass hang-up. This means that there is often a limited amount of information about the conditions inside a stope, making it difficult to know how to proceed with backfilling or other operations.
But indoor drones are changing all of this.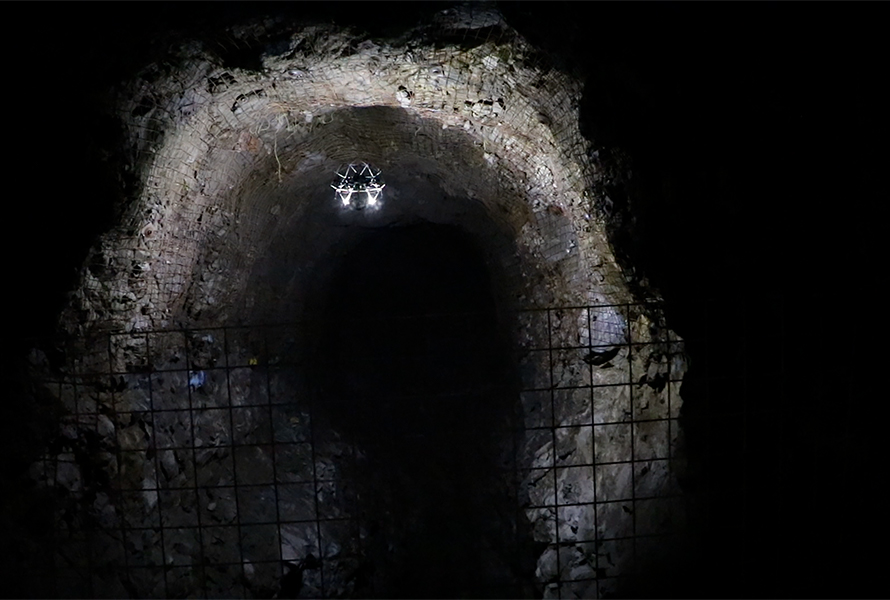 The Elios indoor drone flying in Barrick Gold's Golden Sunlight mine
Mining personnel are using indoor drones to collect high-quality visual data inside stopes and other unstable areas.
They're using this data to create 3D models and sparse point clouds of mines, which help them better understand the conditions inside the area and ultimately improve their ability to make determinations about safety, stability, and remaining ore.
These improvements represent a potential step change for the mining industry, allowing mining operations to become safer, more efficient, and much more cost effective.
Here are six key benefits that indoor drones are providing to mining operations today.
1. Safety
Here are the two main ways that indoor drones help improve safety in mining operations:
1. Extraction—Stope inspections
Previously, miners simply couldn't enter a stope after a blast.
But using an indoor drone like the Elios 3 to gather detailed visual data of the area, miners can now perform safety assessments that allow them to make an informed decision about whether a stope is safe to enter or not.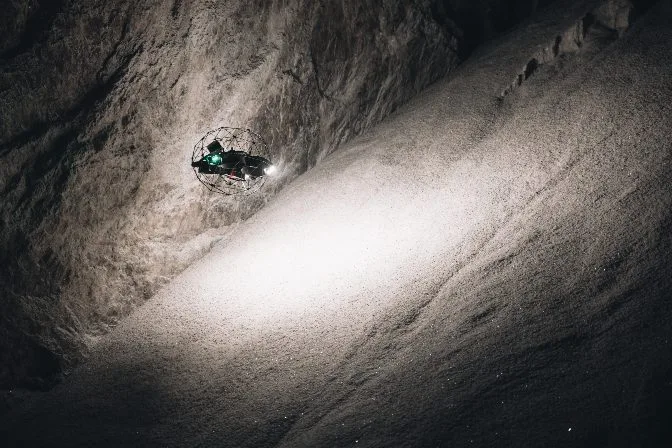 2. Processing—Mining equipment inspections
Extraction is only the first step in a mining operation. Processing raw ore is the important next step that follows extraction.
Mining operations rely on heavy duty industrial equipment for this processing work, and that equipment needs to be periodically inspected.
Common mining assets used in processing ore include:
Stockpile feeders. Ore drops through these holes in the floor (i.e., the stockpile feeders) onto conveyor belts, which carry the raw material to the mills for processing.
Ball mills, SAG mills, and crushers. These are all used to grind the raw materials for further processing.
Flotation cells. Large tanks where minerals are extracted using a process called froth flotation.
A traditional inspection of mining equipment begins with inspectors performing a security protocol and putting on protective clothing. (The environment is so hazardous that even the process of suiting up appropriately can take a significant amount of time.)
For the stockpile feeder and mills, inspectors work as quickly as possible because these areas might have falling debris and are very dangerous to be in.
For the flotation cells, inspectors have to enter a confined space and erect and stand on scaffolding, exposing themselves to both the dangers of confined space entry and the dangers of working at height. These tanks are used to store noxious liquids and chemicals, which can present further safety hazards to inspectors in the form of trace fumes.
For the crushers, inspectors have found that they are almost impossible to inspect using manual methods. Many mill operators will just wait until something breaks inside a crusher before performing maintenance instead of conducting preventive inspections and maintenance work.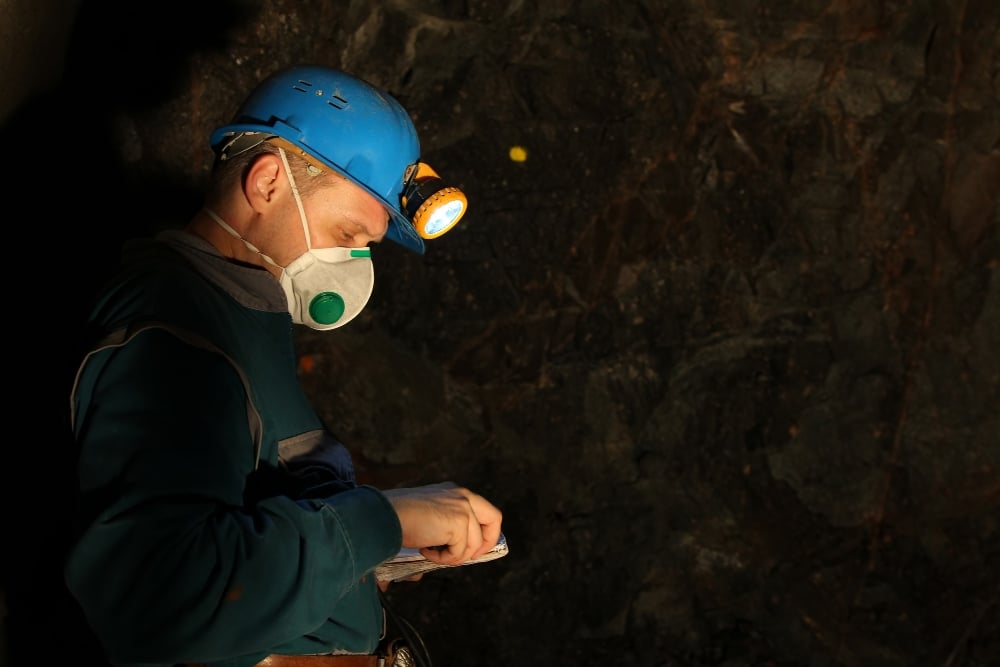 Using an indoor drone to inspect mining equipment removes all of these risks to the inspector.
By using an indoor drone to inspect mining equipment, inspectors don't have to enter confined spaces, be exposed to falling debris or traces of noxious fumes, or stand on scaffolding at potentially dangerous heights.
An indoor drone like the Elios 3 can fly through and around the stockpile feeder, mills, flotation cell, and even the crusher, collecting high quality visual data as it goes—data that is usually better than the data that could be collected manually.
This infographic shows you all the places where drones can help with visual data collection for mining operations: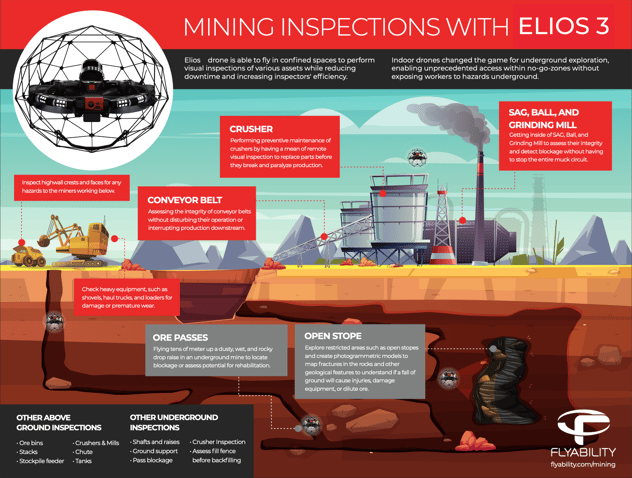 Download the infographic here.
2. Savings
Here are three ways that indoor drones help mining operations realize significant savings:
1. Extraction—Identifying remaining ore
By providing high quality visual data inside a stope, drones can help mining personnel identify remaining ore as well as other geotechnical areas of interest that might otherwise be missed.
These findings can represent huge savings for mining operations by helping them recoup more profit from an operation, as well as surfacing opportunities to expand extraction efforts.
2. Extraction—Protecting expensive machinery
Muckers are large, remote-controlled machines used to move rock and debris in mines. A single mucker can cost as much as a million dollars, making them incredibly valuable assets for mining operations.
By providing detailed insights into the conditions inside a stope, indoor drones can help keep muckers safe from falling debris, representing big potential savings for mining companies.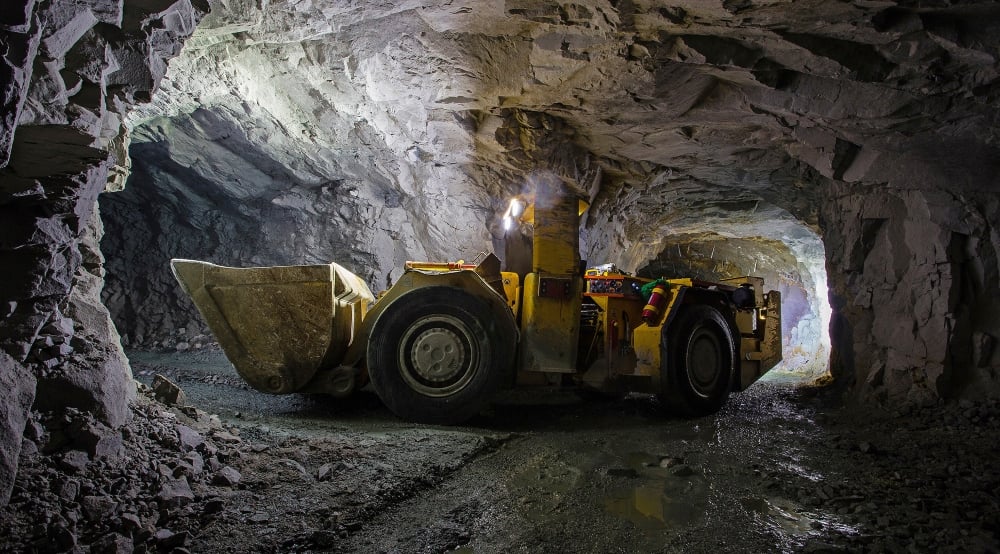 Photo credit: HARD-LINE
3. Processing—Reducing downtimes
Inspections of processing equipment used in mining operations are not only dangerous, they're also expensive, mainly because of the downtimes they require.
Eric Romersa, co-founder of a Chilean mining inspection company called WS Data 3D, estimates that one hour of downtime for a mine costs about $100,000 to $150,000 U.S. dollars.
But using an indoor drone to collect inspection data instead of having inspectors collect data in person can mean that operations don't have to halt while the inspection takes place, allowing the mine to realize the savings that come with avoiding that downtime.
"The economic benefits of using the Elios for mining equipment inspections are clear. Since the mine doesn't have to stop production for over an hour, the company sees an immediate savings of between $100,000 to $150,000 in production costs."

- Eric Romersa, Co-Founder of WS Data 3D
3. Reduced Downtimes
As we just covered, indoor drones can help mining companies save money by reducing the downtimes needed for inspecting their equipment.
But reduced downtimes also mean greater efficiency for mining operations in general.
Because indoor drones can quickly collect visual data inside of assets that are hard to access physically—like part of a mill, or the inside edge of a flotation cell—they can be used for quick spot checks.
Being able to quickly and regularly get visual data on the condition of an asset can lead to improved maintenance procedures overall, ultimately resulting in reductions not only of scheduled downtimes but also of unscheduled downtimes, which might take place due to equipment failure.
4. Access
Indoor drones can provide access to visual data collection that is almost impossible to achieve using any other tool or method.
[Related read—Indoor Drones in Underground Mining: Accessing the Inaccessible]
It's important to note that this kind of access can't be accomplished by just any consumer drone—indoor drones are made specifically for operating in rugged internal conditions.
For example, the Elios 3's unique cage design allows it to collide with objects inside confined spaces and continue flying. Drones that weren't made for this kind of work, on the other hand, run the risk of crashing and falling to the bottom of the mine.
"[The Elios is] something you can take off the shelf and fly underground in one of the harshest environments that we work in. You can capture quality footage with the Elios. It's safe to interact with, and it has a nice cage that protects it from hurting people, objects, or itself."

- Ryan Turner, Geotechnical Engineer for the Barrick Gold Corporation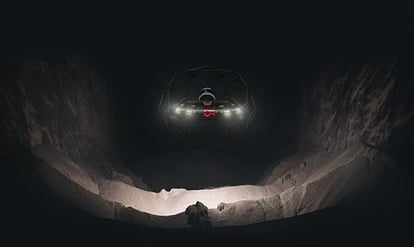 5. High Quality Visual Data
As we mentioned in the introduction, a common practice mining personnel use for collecting visual data inside stopes is to hang a camera through a borehole, or attach a camera to a pole and slide it through a borehole in order to see what is going on inside a stope.
These approaches aren't ideal, both because the coverage they provide within the stope is quite limited and because the visual data they yield is often of a relatively low quality.
But using an indoor drone, mining personnel can fly into a stope and take high quality images and video of anything they want.
The Elios 3, for example, provides high definition 4K video and high quality images, along with stabilization and unique lighting features to let pilots hone in on important details in the imagery they capture.
The Elios 3 is also equipped with a LiDAR sensor that creates 3D models in real time. These models are useful when identifying how much underground tunnels have eroded from machinery. The models are also beneficial when mapping out what equipment can fit in certain stopes.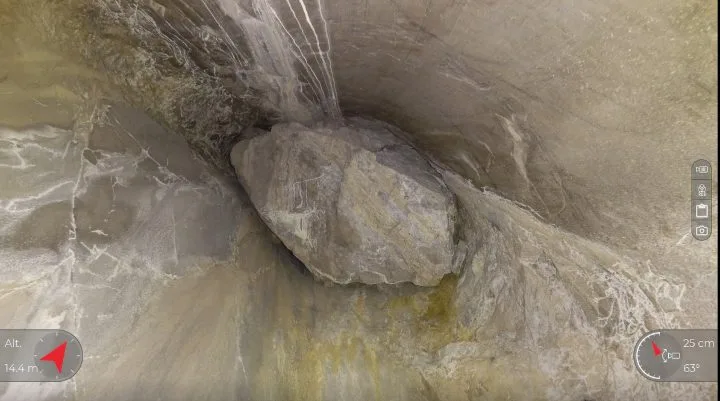 A hangup in an orepass
These images can provide insights for operations, engineering, survey, and safety departments within a mining operation, which can then be used in the ongoing development of the stope.
"The quality of the data from the drone is better than the quality that you get with a person. People need to get in and out quickly [but] with a drone you can stop and make a more detailed visual inspection."

- Eric Romersa, Co-Founder of WS Data 3D
Drone data can also be used to create 3D models, which can further help mining personnel to understand the conditions inside of a stope.
6. Data Localization
Inspector 4 is a new software from Flyability made just for inspection experts, which allows inspectors to localize their inspection data so they can know the exact location of a given point of interest.
For mining operations, data localization can be used to help personnel return to the specific place where remaining ore was seen during a flight, or to a geotechnical area of interest or a potential hazard that requires further investigation.
Watch this video to learn more about how Inspector supports mining operations:
Learn more about Inspector 4.0 now.