If the term "intrinsically safe" (IS) is new to you, it's important to understand how it relates to devices used in hazardous locations and classified areas.
Intrinsically safe is used to describe any device that is unable, in any condition, to ignite volatile materials and cause an explosion. Intrinsically safe equipment is intentionally designed to be used in spaces where combustible gasses are present in explosive atmospheres and hazardous areas.
These devices must have very low energy and temperature outputs and be guaranteed not to cause a spark under any circumstances. Using a device that could reach a high temperature or cause sparks could ignite the gasses and cause an explosion, so "accident-proof" technology is critical.
For a device to be considered intrinsically safe, it must be approved for use in hazardous locations, or HazLoc certified, by a certifying agency.
In the EU, the ATEX directives describe the requirements for equipment intended for use in explosive atmospheres. The International Electrotechnical Commission System provides standards for certification relating to such equipment as well.
The U.S. has different requirements and regulations, provided by OSHA. Equipment intended for use in potentially explosive atmospheres in the United States must have the specific mark of one of the Nationally Recognized Testing Laboratories that are recognized to test and certify this type of equipment.
In Canada, the Canadian Standard Association oversees similar regulations.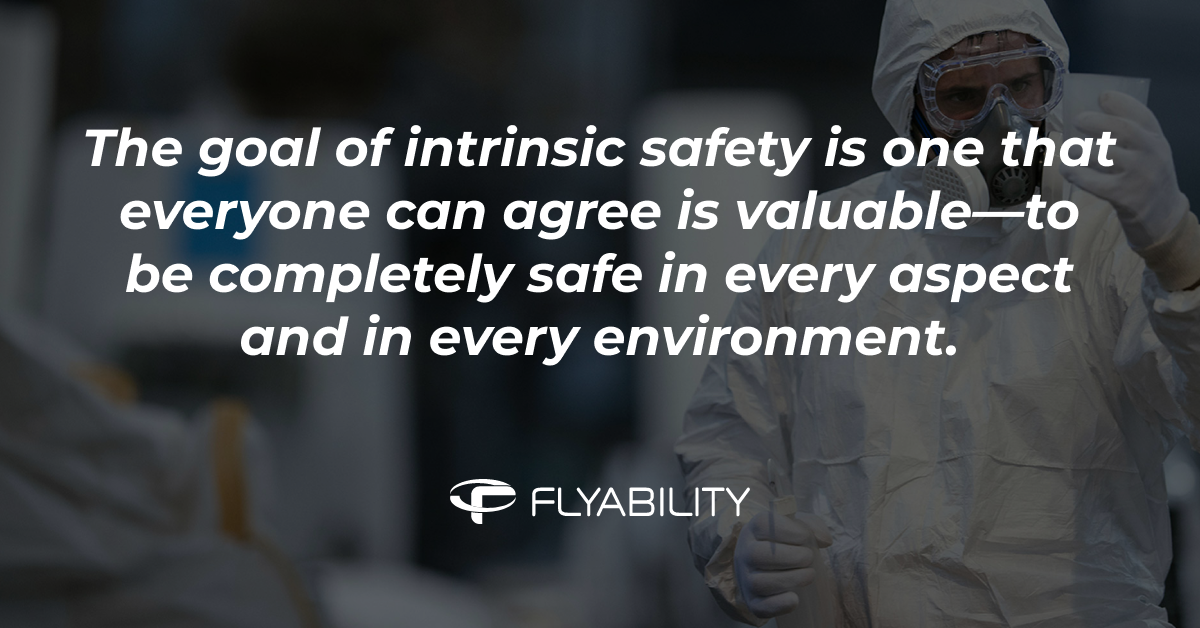 What is the history of intrinsically safe equipment?
Early coal mines were among the first industrial locations to be understood as hazardous. The mix of methane gas and coal dust in these mines created an environment just as dangerous as you might suspect.
At first, miners were tasked with igniting these gasses with a burning ember at the end of a long pole. When recruits ran short, water-soaked ponies outfitted with candles were sent through the mines.
The first protective measure put in place in these areas was to ventilate the mines with fresh air to dilute the dust and gas to safer levels. (This form of hazard reduction is actually still used today.)
Motors used in the mines were the first pieces of equipment to be made explosion-proof, and it was discovered that enclosing electrical equipment reduced the risk of explosion. When low-voltage signaling bells were discovered to have caused two devastating mine explosions in the early 1900s, the concept of "intrinsically safe" equipment was born.
Over time, regulatory bodies were formed with a focus on industrial safety, and today we rely on those organizations to test and approve devices used in hazardous locations.
What is the difference between intrinsically safe and explosion-proof / non-incendive?
At the root, the difference between intrinsically safe and explosion-proof is that one is based on explosion prevention and the other is based on containment.
Intrinsically safe equipment is incapable of creating an explosion.
Explosion-proof equipment, on the other hand, is contained and protected in the event of an explosion.
Equipment that is explosion-proof or non-incendive is enclosed and can withstand an explosion caused by ignited vapor or gas. The enclosures are constructed so that any energy in the device will be contained or dissipated if there is an explosion.
Both of these types of equipment are designed to minimize the risk of ignitions and explosions in hazardous environments.
How does intrinsically safe equipment work?
The goal of intrinsically safe equipment is to limit the amount of electrical energy in normal and abnormal conditions when that equipment is in an environment with explosion risk. These devices are carefully constructed to never have a risk of static electricity or heat discharge.
In most cases, the electrical currents are engineered to never reach a level where they could ignite a flammable environment (at a range lower than 29V DC and below 300 mA). Intrinsically safe devices also have an operating temperature threshold, typically not exceeding 135°C.
When the equipment is mounted in a hazardous area, protection devices like intrinsically safe barriers prevent excess energy from current surges from being a potential ignition source.
What kind of hazardous environments require intrinsically safe equipment?
Intrinsically safe equipment is appropriate for any kind of potentially explosive environment.
"Hazardous environment" is a term used to classify specific working environments in a way that allows appropriate safety standards to be applied.
Regardless of the characteristics of the area, it will include flammable or possibly explosive substances that could explode if ignited. Flammable substances can include liquids, gasses, and vapors, and volatile dusts and fibers.
Here are some examples of potentially explosive environments:
Gas lines
Fuel containers
Mining operations
Oil and gas facilities.
However, combustible materials might not always be what you think.
Other materials that could explode include fine powders like those found in pharmaceutical manufacturing and chemical factories, and dust from any kind of particles, including wood, plastic, and even grain dust in suspension.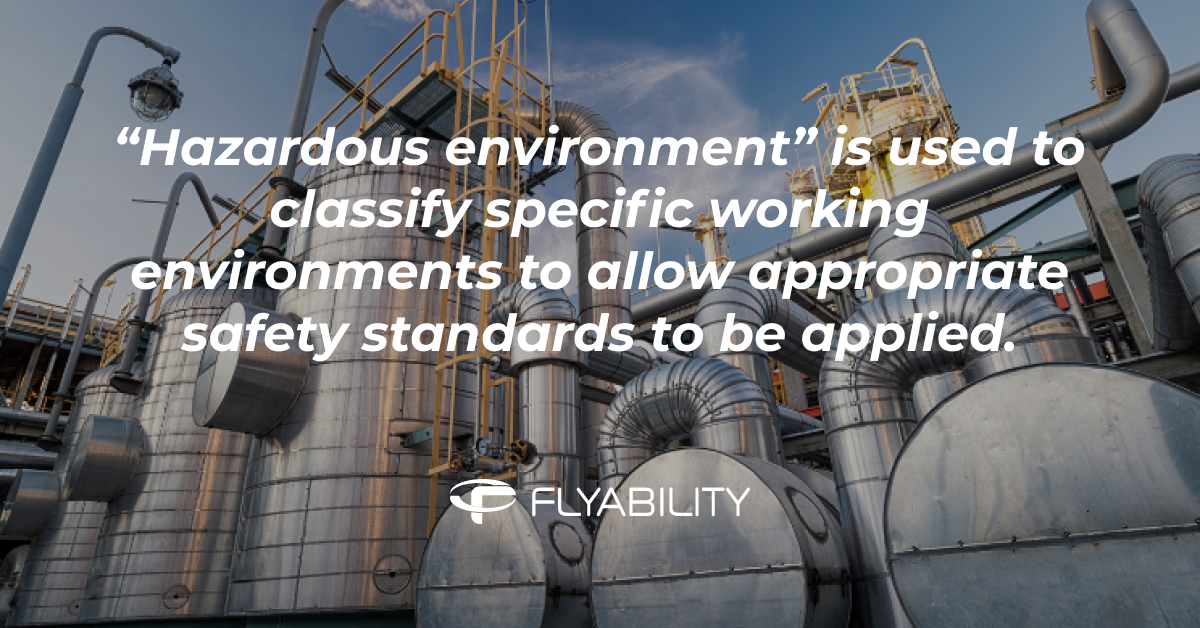 How do you know if equipment is safe to use?
Various regulations and requirements dictate how products are designed, developed, certified and manufactured before they can be certified as intrinsically safe. Any IS product will have been certified by an appropriate testing organization and will be labeled to show which guidelines it meets.
What about drones? Are they intrinsically safe?
The goal of inherent safety is to ensure the safety of human beings, and drones can be operated in places that are dangerous for humans, greatly improving the safety of industrial inspections.
Even so, there are no flying drones certified to be intrinsically safe on the market, and our understanding of physics tells us that it's unlikely there will be one in the near future. (Currently, the only intrinsically safe remote inspection vehicles are submersible robots used for chemical tank monitoring and inspections.)
Drones can, however, operate in nitrogen inerted environments, enabling them to be used for the inspection of assets which store or process explosive goods, including storage tanks, fluid catalytic crackers, and oil cargo tanks.
The goal of intrinsic safety is one that everyone can agree is valuable—to be completely safe in every aspect and in every environment. The continued evolution of intrinsically safe devices, hazard mitigation techniques, and unmanned vehicles may eventually remove human beings from industrial risks altogether.