Benefits in a nutshell
Speed

Time needed to perform the inspection was reduced from 6 weeks to just 2 weeks.

Reduced Work Hours

Number of qualified inspectors needed to perform the inspection reduced from 3 to 1.

Safety

Increased safety throughout inspection by lowering risk.
Introduction
Nuclear inspections are often fraught with complexity, in part because they come with the unique risk of potential exposure to radiation. But they are also incredibly important. The safe maintenance of nuclear facilities relies on periodic inspections, which help identify potential defects in nuclear infrastructure before they're allowed to develop any further.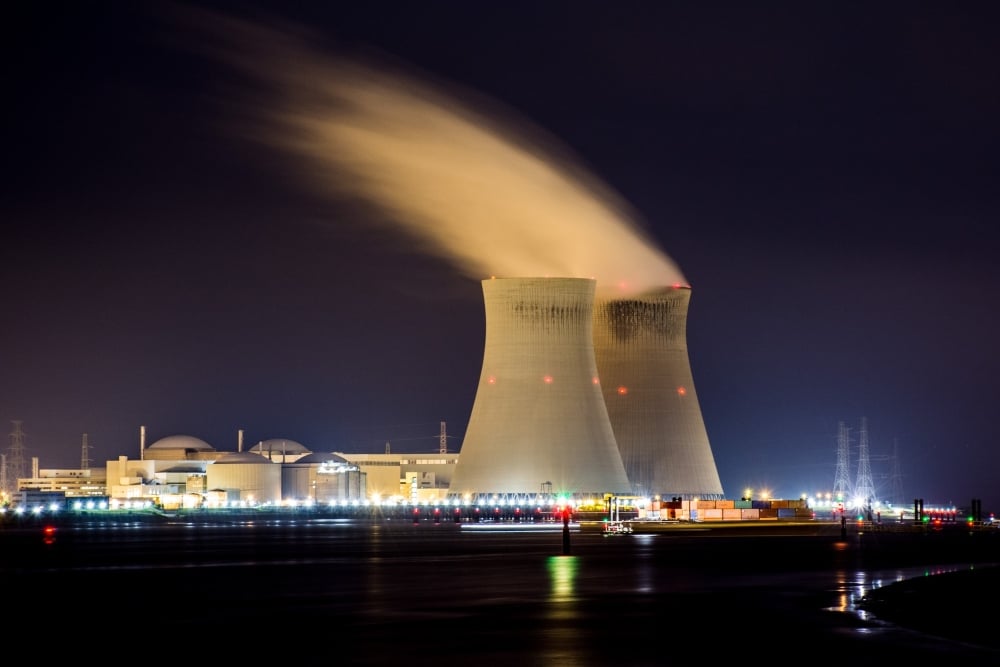 Like inspections in any industry, nuclear inspections have their own codes that must be followed. These codes lay out the specific guidelines and requirements for how the inspection is to be conducted.
One of the more complicated nuclear inspections that inspectors perform is of a nuclear site's containment building, which must be done according to ASME (American Society of Mechanical Engineers) code XI IWL. Containment buildings are made out of concrete, and the code requires that a thorough inspection be performed every five years to look for damage in the concrete.
ASME XI inspections are big, complex projects because containment buildings are huge structures with vaulted concrete domes for ceilings and lots of nooks and crannies. To comply with the code, every square inch of the structure must be visually inspected by a certified inspector with an eye for spalling, cracks, or degradation that may have developed since the previous inspection.
[Related read: What Is a Dosimeter?]
Given that a containment building might have as much as 40,000 or more square feet that needs to be inspected, using the human eye to collect visual data can take a month or more, even with a team of two dozen people working constantly.
The work is cumbersome, requiring inspectors to use several different methods to see everything they need to up close, including telescopes, binoculars, rope access (climbing and rappelling), scaffolding, and cranes.
While inspectors are standing on scaffolding or cranes, they are exposed to the elements, which can occasionally intensify the risk of falling.
In one instance, during an ASME XI inspection two inspectors were standing in a crane basket attached to a cable, which was located 20 feet below the top of the crane. The cable malfunctioned and failed to retract, and the two men were left stranded in the basket 280 feet in the air.
In the end, the only way to get them down was to get the help of the U.S. Coast Guard, who used a helicopter to rescue them.
Customer Needs
Following traditional methods for an ASME XI inspection, inspectors typically collect visual data within the structure by building heavy scaffolding and by using rope access to both climb and rappel within it.
But these methods are expensive, high risk, and resource intensive.
For these reasons, a manager at a nuclear facility hired inspection experts from Exelon Clearsight to conduct a containment building inspection by drone, instead of in-person.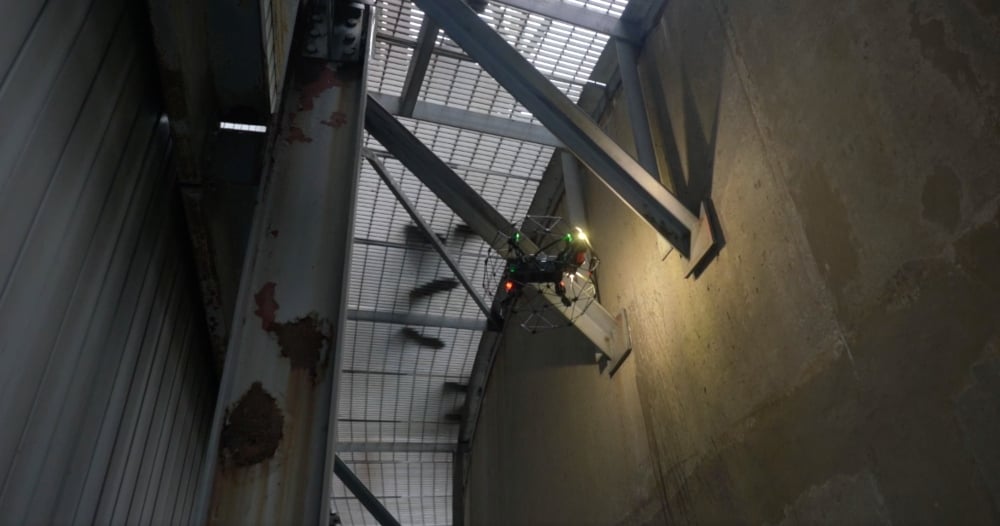 The Elios 2 flying outside the nuclear containment building
The potential benefits of using a drone were clear. By removing the need for inspectors to directly collect visual data, the inspection was cheaper, more efficient, and much safer: all because data is collected remotely.
This was a huge project: the containment building had over 40k square feet of surface and had to be visually inspected.
An additional layer of complexity was that this was only the third time this type of inspection had been done by drone.
Solution
Drawing from their in-depth knowledge of nuclear inspections and of robotic inspection technology, the Exelon Clearsight team chose the Elios 2 to perform this inspection.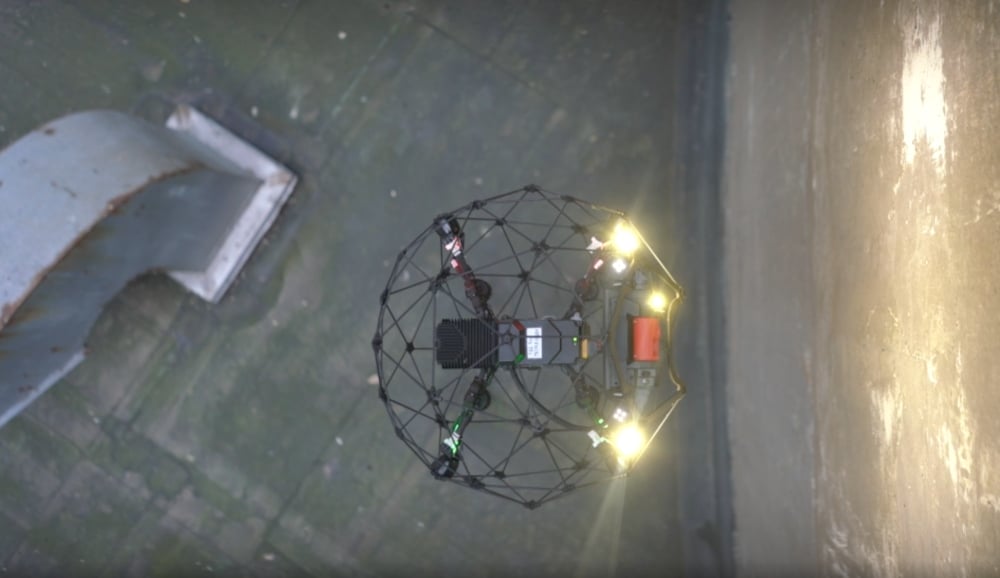 View of the Elios 2 from above operating outside the nuclear containment building
The unique case design and latest-generation technology of the Elios 2 enabled the team to get up close to the concrete walls and to collect the necessary visual data.
Results
So—was the Exelon Clearsight team able to conduct an ASME XI inspection by drone?
Yes, they were.
A video highlighting Exelon Clearsight's work conducting the ASME XI inspection
In two weeks using a team of just four people Exelon Clearsight personnel inspected all 40k square feet of the containment building by drone, taking identification and high-resolution photographs of more than 150 areas of interest.
In the end, they were able to ensure 100% coverage of the structure; that was no easy feat given its huge size.
Exelon Clearsight delivered a comprehensive report to the customer highlighting the data gathered, which included detailed categorization of all the suspected defects within the structure accompanied by photogrammetric measurements.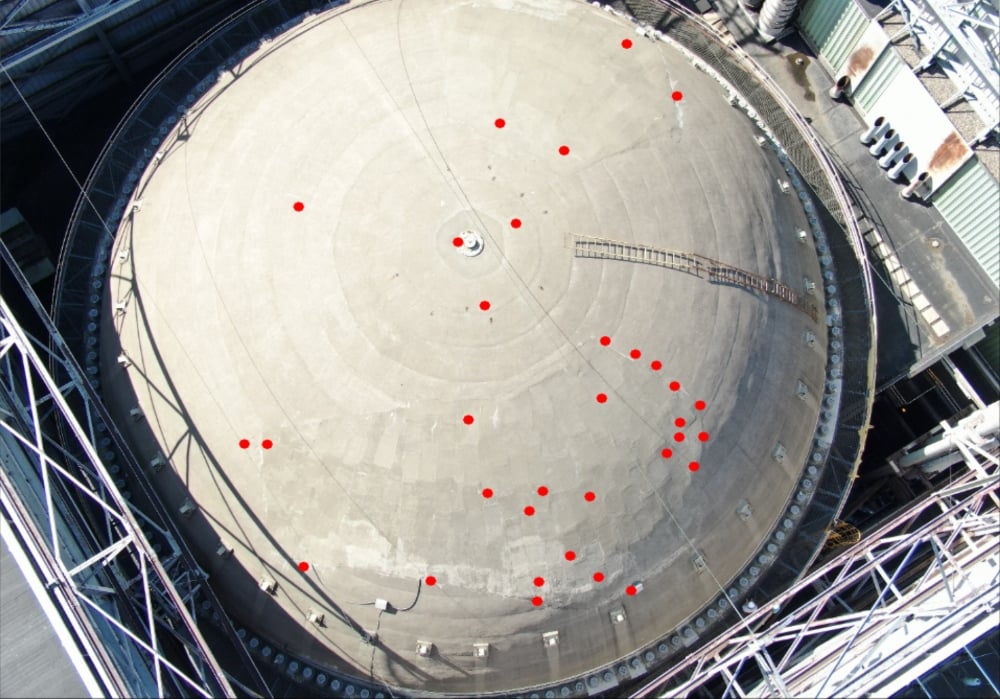 Benefits to Using the Elios 2
Here are all the benefits Exelon Clearsight helped its client realize by using the Elios 2 to perform this inspection:
Safety. A traditional ASME XI inspection requires inspectors to stand on scaffolding and cranes at significant heights as well as using rope access to rappel or climb within the structure. Using the Elios 2 removed the need to put people in harm's way.
Speed. A traditional inspection would have taken 6 weeks. The Elios 2 reduced the time needed for the inspection to just two weeks.
Work hours. A traditional approach would require 3 qualified inspectors. The Elios 2 reduced that number to just 1.
Access. The Elios 2 unique cage design allowed operators to have confidence when getting very close to objects within the containment building in order to collect visual data.
Improved data. Using the drone allowed inspectors to collect better, more detailed data than they would have been able to collect using traditional approaches.
Complexity reduction. A secondary benefit to using a drone is that it reduced the amount of people and supporting equipment that had to be on-site for the inspection, significantly reducing the overall complexity of the project.
Conclusion
Exelon Clearsight's work in this nuclear containment building inspection shows that the Elios 2 can be used to help inspectors satisfy the strictest possible requirements of the ASME XI code.
The Exelon Clearsight team now wants to take the processes it established for this project and apply them to more containment building inspections. For every single ASME XI inspection it conducts by drone, hundreds of man hours in dangerous situations are avoided, as well as hundreds of hours of downtimes for crucial assets.
Further, this inspection demonstrates that the Elios 2 could be useful for inspecting many other types of concrete structures for signs of aging and degradation.
The possibilities for taking the methods Exelon Clearsight developed for this inspection and applying them elsewhere are vast.
About Exelon Clearsight
Exelon Clearsight is a wholly owned subsidiary of Exelon, which serves more than 10 million customers through its six electric and gas utilities. Exelon Clearsight's deep, end-to-end integration in the utility industry gives them a balanced perspective and unique insights, which they leverage to offer new ideas and create new value for their clients.
Learn more about what Exelon Clearsight can provide you by visiting their website and following them on LinkedIn.