How Mine Drones Are Improving Safety and Optimizing Mining
A mine drone is an invaluable tool for work in underground and surface mining operations.
As drone technology continues to advance rapidly, the opportunities for integrating mine drones are endless.
In this guide on mine drones we'll take a deep dive into the following topics:
What Is a Mine Drone?
A mine drone is a drone that is specifically designed for or tailored for mining applications, like stockpile measurement, surveying, mapping, and inspections.
Mining is a hazardous profession, as worksite conditions can change instantly. Both underground and surface mining will present unique challenges and inherent risks.
While drones will not eliminate every danger associated with traditional mining practices, they can be deployed to collect data in areas where humans are not allowed to enter. A key aspect of a mine drone as compared to a typical consumer drone is that drones made for mining can fly without GPS, which is unavailable in most mining environments.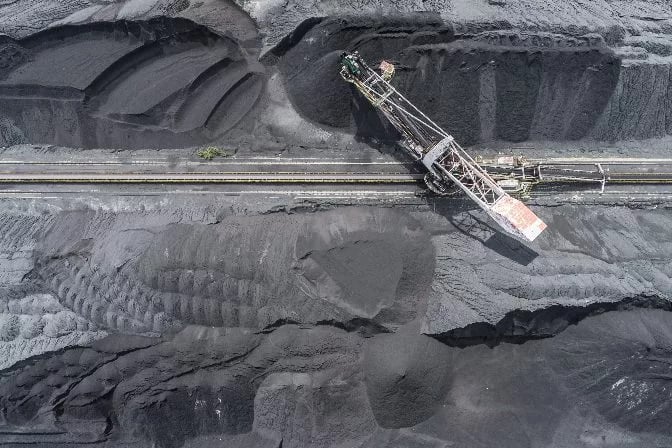 Aerial drone footage of a surface coal mine
6 Ways Drones Are Being Used in Mining
The mining industry has quickly adopted drone technology due to its ability to improve data collection, increase safety, and reduce operational expenses.
Here are six ways drones are used in mining:
1. Volumetric Monitoring
Volumetric measurement is the science of calculating how much material is left in a stockpile of overburden, ore, or other mining materials. Due to the sheer size of stockpiles, it's challenging to get accurate volume reports using manual methods.
However, the integration of a mine drone allows for quick deployment with inexpensive and reliable volume data. Tracking variations in stockpiles is cost-effective and helps reduce unnecessary waste.
Using advanced volume measurement software, mine drone photos are compiled to create a 3D model. The algorithms behind these apps calculate based on the volume between the base layer to the surface.
Mining drones can also track how much material has been excavated from a particular area and approximate how much backfill would be needed to fill a stope. As more 3D models are obtained, it's easier to analyze data and see changes over time.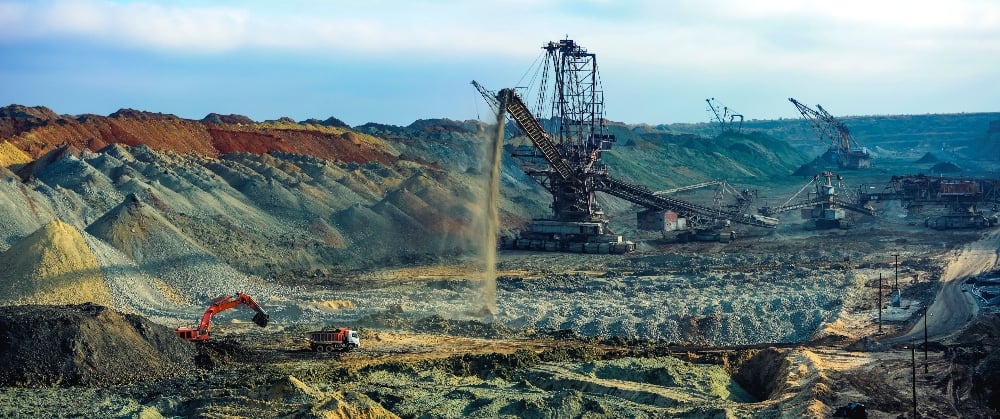 Processing overburden into stockpiles
2. Identifying Hazards
Crumbling rocks, gas leaks, dust explosions, chemical byproducts, and underground environments challenge even the best equipment and miners.
By using Uncrewed Aerial Vehicles (UAVs) in mining, surveyors reduce these risks by removing humans from the inspection process. Remote monitoring improves on-site safety, saving time and reducing operational expenses.
In surface mining, stockpiles create sloped terrain that requires continuous stability monitoring. This data allows mine teams to detect early warning signs of instability and mitigate the issue to keep everyone safe while maintaining maximum efficiency with mining operations.
In underground mines, drones like the Elios 3 can navigate dusty, wet, and rocky ore passes to locate blockages. In addition, the equipped sensors create 3D models to identify hangups, fractures, and other geological features.
3. Drilling and Blasting Assessment
3D models generated by mine drone collected data have multiple use cases, making them a cost-effective tool. Before drilling and blasting begins, a model can be created as a historical record check to analyze the after-effects of the work.
An updated version of the model allows miners to make data-driven decisions about potential hazards from drilling and blasting in the future.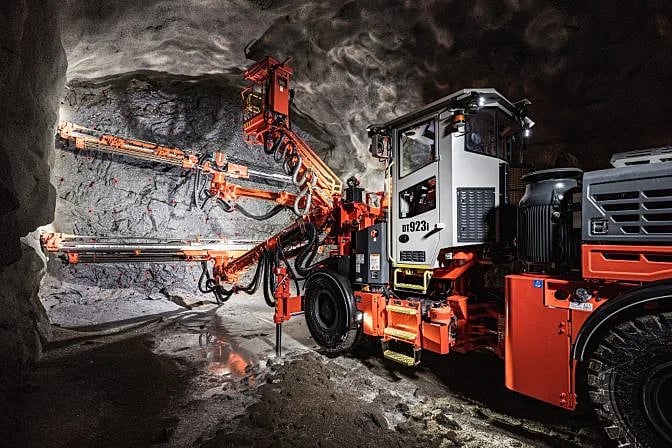 Drilling holes for explosives
4. Mine Monitoring and Planning
A mine consists of numerous moving components requiring systematic analysis and adjustments to achieve maximum efficiency and safety.
Mining drones are highly effective in the following areas:
Haulage road design. These roads are responsible for the transportation of mining materials from the worksite. The heavy traffic and equipment mean road conditions need to be assessed constantly. The data collected is also helpful in determining if improvements need to be made to the site infrastructure.
Equipment inspections. Keeping conveyor belts, crushers, grinding mills, and other vital components of the mine operation is crucial for low operating expenses and increased worker safety. Remote visual inspections via mining drones are a low-cost and safe tool for preventive maintenance. Some equipment, such as conveyor belts, can be visually inspected without disturbing the operation or production.
Worksite security. Security drones are becoming increasingly popular because of their quick deployment and the ability to cover a large area at record speed. The hazardous conditions at quarries, aggregate, and underground mines make mine drones excellent for protecting your investment. Having an aerial view is also helpful with coordination with emergency services if they are on the scene.
Environmental monitoring. Mining drones are a powerful tool in mitigating the environmental impacts associated with mining. For example, tailing dams at worksites hold hazardous chemicals. In the event these become unconfined, the effects could be devastating. Mine drones can monitor the stability of the dams to prevent leaks or runoff from the site.
5. Mine Development and Exploration
Developing mining operations is historically expensive and dangerous. Traditional methods required teams of miners to traverse into unknown conditions to conduct stability analysis, surface mapping, ventilation modeling, and detect hazardous gasses.
Instead of sending people into inaccessible areas, a mine drone can navigate tight spaces safely and more efficiently than any human could.
In underground mining, the Elios 3 is the only drone that can handle confined spaces with reduced visibility, poor air quality, and signal interruptions.
6. Processing Plant Inspections
Drones are used in on-site mining processing plants to inspect machinery. The benefit here is that drones can collect this data without stoping processing operations, keeping mining operations profitable.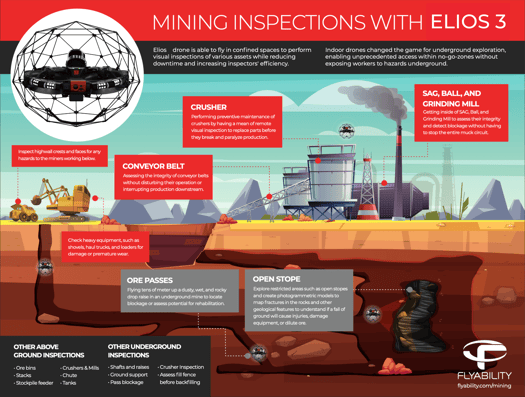 The Benefits of Drones in Mining
The benefits of UAVs in mining are increasing as drone technology advances. As the mining industry embraces mining drones, more use cases will become available, improving safety, reducing costs, and optimizing efficiency.
The following are key benefits of drones for mining:
Aerial data collection provides valuable data points used to build models and assessments.
Eliminates the need for manned aircraft to conduct aerial inspections and volumetric measurements.
Frequent inspections highlight potential issues before they become expensive and disruptive to production.
Reduce the margin of error in stockpile measurements.
Perform security patrols instead of having a large security team, saving time and money.
Surveys are easy to conduct and repeat on an as-needed basis.
Reduces the environmental footprint by monitoring all systems and potential threats.
Mining drones are 30 times faster than ground-based inspections.
Using UAVs for mining improves accuracy due to a large set of data points.
The unique perspective of mining drones results in data point collection that is not feasible with traditional inspection techniques.
Advanced drone sensors capture high-resolution images and videos compared to ground-based sensing technology.
Remote monitoring, mapping, and inspections keep workers from dangerous working conditions.
Watch the Elios inspect and map an obstructed ore pass:
The Best Indoor Mine Drone on the Market
There are many extremely capable drones on the market, but very few match the functionality, durability, and the beyond-line-of-sight transmission of Flyability's Elios 3.
The Elios 3 is built to keep humans safe while collecting data in areas that have been inaccessible in the past. Its unique spherical cage is collision tolerant which helps pilots to navigate dangerous, dark, and dusty locations.
The dual thermal and 4K camera sensor and 10K lumen dust proof lighting system allows the Elios 3 to collect all visual data needed for inspections. Navigate mine shafts with ease as the oblique lighting system highlights different textures and defects in the mine.
With included training, easy maintenance, and a dedicated support team, the Elios 3 is the best mine drone on the market.
Flyability Elios 3 Specs / Features:
Dual Thermal/Camera Sensor: 12 megapixels HD live streaming
Lighting: 10k Lumen dust proof lighting with oblique lighting
LiDAR mapping:

Real-time 3D view of the drone's trajectory and environment

Flight Time: 10 minutes
Flight Speed: 6.5 m/s
Transmission System: Beyond visual line-of-sight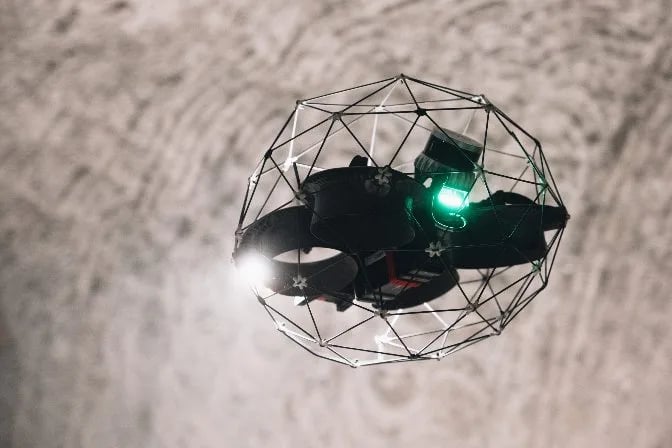 Elios 3
Best Fixed Wing Outdoor Mine Drones on the Market
WingtraOne GEN II
The WingtraOne GEN II and its fixed-winged design offer maximized flying time, performance, and flexibility.
Mapping mining operations has never been more efficient, with a flight speed of 16 m/s (36 mph) and 59 minutes of flight time. Capture stunning and precise details from the 42-megapixel camera.
In just one flight, the Wingtra can cover an impressive 272 acres. Its vertical takeoff and landing system (VTOL) ensures that you can operate this mining drone anywhere. The onboard high-precision PPK GNSS receiver only requires three checkpoints to verify your map, eliminating the need for ground control points.
WingtraONE GEN II Specs / Features:
Camera Sensor: 42 megapixel Sony sensor with a full-frame sensor and low distortion lens.
Sensing Capabilities: Compatible with various Sony and MicaSense sensors for any job.
Flight Time: 59 minutes
Flight Speed: 16 m/s (36 mph)
Transmission System: Direct line-of-sight up to 10 km (6 miles) of range.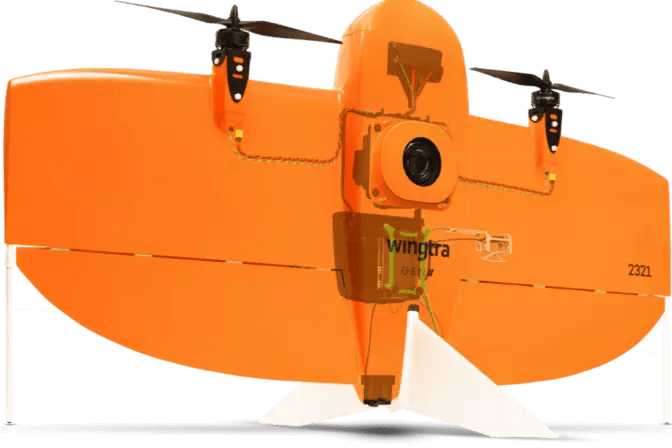 WingtraOne Gen II
SenseFly eBeeX
The eBeeX is an absolute workhorse that is fully autonomous, requiring little intervention and piloting skills.
It's as simple as programming the flight and lofting the drone into the air. The ultralight 3.6 pound frame allows it to cover an astounding 1200 acres per flight. With the ability to interchange the drone's camera with nine optimized cameras, the eBeeX is up for any challenge.
The advanced eMotion flight planning software is user-friendly for all experience levels. EMotion features mission planning modes for various applications with the ability to run more than one aircraft during a mine mapping mission. The 3D environment makes it easier to plan, simulate, and operate the drone, resulting in improved data quality.
SenseFly eBeeX Specs / Features:
Camera Sensor: Choose from 9 sensors, including aerial RGB, thermal, and multispectral imagery
Sensing Capabilities: Compatible with various SenseFly and MicaSense sensors for any job
Flight Time: 90 minutes
Flight Speed: 30 m/s (68 mph)
Transmission System: Flight range of 37 km (23 miles).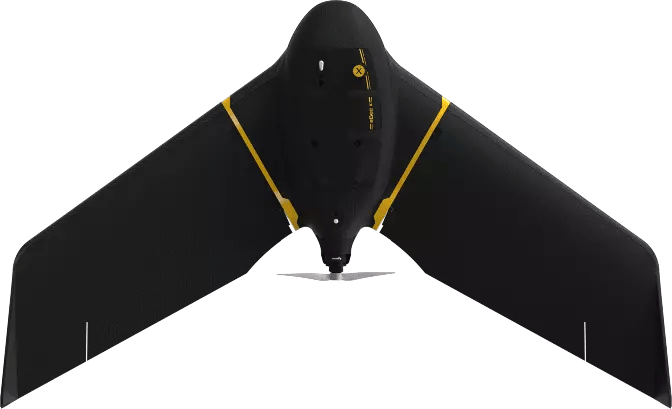 SenseFly eBeeX
Best Multicopter Outdoor Mine Drone on the Market
DJI Phantom 4 RTK
When it comes to outdoor mining drones, it's tough to beat the DJI Phantom 4 RTK. The 1-inch, 20-megapixel CMOS sensor features a mechanical shutter essential for accurate mapping applications.
DJI's GS RTK app and the smart remote controller optimize surveying missions with a streamlined control center.
The built-in OcuSync transmission systems range is 7km (4.3 miles), making this a great choice for medium sized mine sites. The built-in RTK module works with the D-RTK 2 Mobile Station to ensure centimeter-level accurate data with your Phantom 4 RTK in any environment.
DJI Phantom 4 RTK Specs / Features:
Camera Sensor: 20 megapixels with 4K video resolution
Flight Time: 30 minutes
Flight Speed: 13 m/s (31 mph) in P-Mode / 16 m/s (36 mph) in A-Mode
Transmission System: DJI OcuSync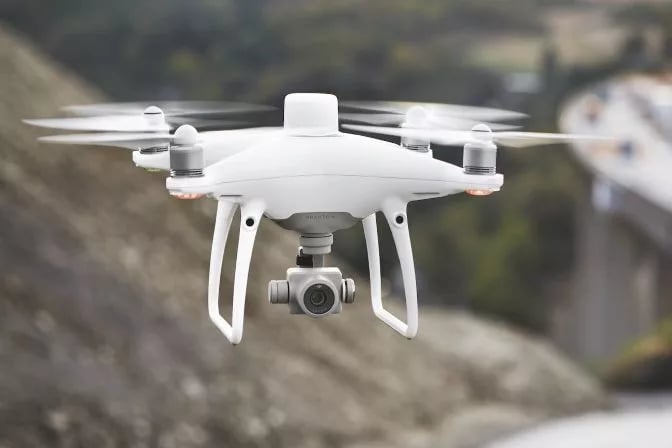 DJI Phantom 4 RTK
Best Mine Drone Software
DroneDeploy
DroneDeploy's mapping software for mining and quarries uses data to increase efficiency and accuracy of inspections, stockpile management, and numerous aspects of mining, all while keeping the mine team safe.
Top Features:
Stockpile Inventory Management
Mine Planning and Excavation
Safety and Compliance
Centralized Operations Management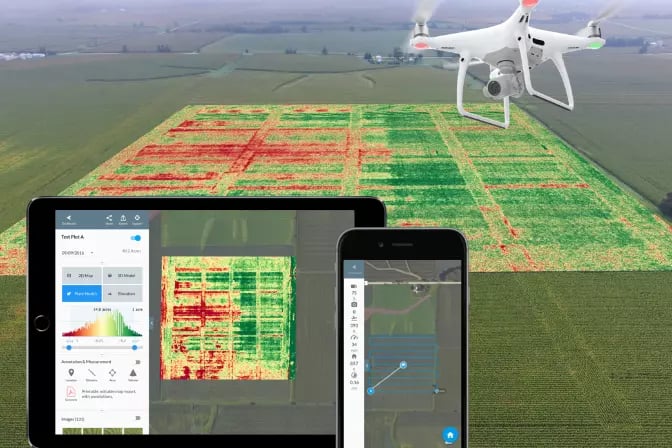 DroneDeploy software | Medium
Pix4D
Pix4D's drone mapping and 3D modeling mine software reduces risks and drives profitability through image-based solutions.
Top Features:
Forecast geotechnical hazards
Accurate and automatic stockpile volume calculation
Asset lifecycle management
Generate high-resolution interactive 3D maps
Pix4D software
Propeller
Propeller's drone software is designed to capture high-accuracy data to generate 3D models that are measurable and accessible to your entire team.
Top Features:
Quick and frequent drone surveys
Complete documentation of project lifecycle
Simplified inventory management
Collaboration and communication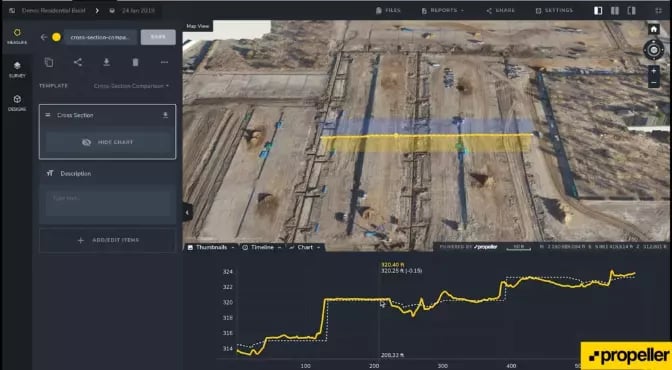 Propeller software
Skycatch
Skycatch's drone software features aerial data capture automation, processing, visualization, and analysis tools. They also include onboarding, training, and ongoing support.
Top Features:
Fastest time-to-data in the market
Eliminates GCPs for a safer data capture
Proven 5 cm accuracy across all axes
Process offline in the field or in the cloud
Precise, high-fidelity 3D models of vertical surfaces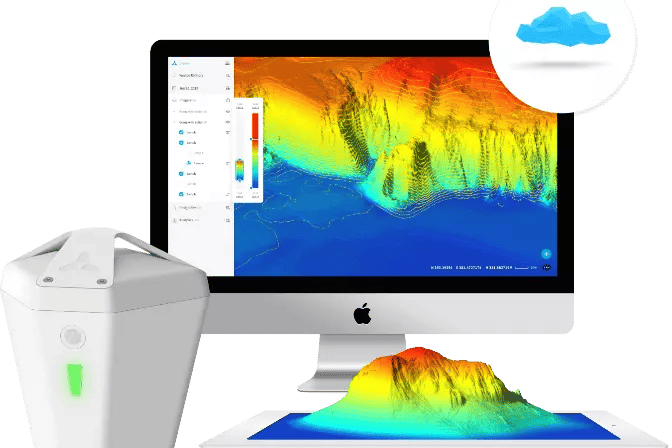 Skycatch software
Mining Drone Case Studies
Flyability Elios 2 — Inspection
Application: High-Altitude Underground Mining Inspection
Mission: Demonstrate the ability of the Elios 2 to cut down costs and improve safety in a high-altitude oxygen-depleted mine environment. The mine is located in Campamento Minero, approximately three miles above sea level.
Results: The Volcan team conducted 40 flights with the Elios 2 inspecting chimneys, ore passes, ventilation tunnels, and stopes. 3D maps of the various flights were created using Pix4D mapping software. All planned inspections were a success, and the drone met all expectations.
Mine Drone Significance: The Elios 2 was able to operate where no other drone can. Many mines are located in high-altitude locations where regular drone use is not feasible. By using a drone to navigate the mine, miners can let the Elios 2 do the dirty work while saving time and money.
[Read the full case study here: Testing the Elios 2 at at High Altitude Mine Located in the Andes Mountains]
Wingtra— Survey
Application: Mine / Quarry Monitoring and Operational Planning
Mission: Reduce operating expenses of terrestrial and manned airplane surveys by integrating a fixed-wing mine drone platform into surveying operations. Quadcopter drones are not efficient for larger mines.
Results: The Jellinbah Group found that utilizing the WingtraOne drone resulted in a significant decline in operational expenses and time. The fixed-wing platform also alleviated the inefficiencies of quadcopters that the company had tested previously. The ROI is immediately noticed as Jellinbah can now conduct on-demand surveys compared to the time-consuming logistics of manned surveying.
Mine Drone Significance: Large mining sites are no longer limited to multirotor drones that are inefficient and impractical. The vertical takeoff and landing feature is also a game-changer and allows surveys to be conducted anywhere.
SenseFly— Survey
Application: Quarry Monitoring and Operational Planning
Mission: Survey the largest limestone quarry in a day. The quarry measures a whopping 13.7 km2, and it usually takes two months to survey.
Results: The quarry was split into three large segments; upper, middle, and lower. Four drone pilots were divided into two teams to cover the site efficiently. The team decided to use senseFly's eBeeX fixed-wing drone. The eBeeX's ability to fly for longer durations made it the perfect choice. Within a few hours, the drone's took over 6,000 high-resolution images that were converted into orthomosaic images and 3D models.
Mine Drone Significance: Surveying a site of this size used to take up to 2 months. Not only does that cause delays, but it also increases the risks for surveyors. The benefit of using mine drones is quick turnaround time, resulting in a safer and more cost-effective operation.
DJI— Survey
Application: Quarry Drilling and Blasting
Mission: To identify how a customized drone solution for mining can deliver the safest, controlled, and cost-efficient execution of a scheduled blast operation in a quarry mine.
Results: The customized DJI Matrice 300 RTK drone and Zenmmuse H20t cameras functioned well regarding control and operational decision-making.
Here are some areas the drone excelled in:
Checking for compliance with minimum withdrawal distances

Correcting the locations of lookouts.

Replacement of the inspection vehicle bypass

Observation of blind spots

Overall survey and recording of mass explosion
Mine Drone Significance: The purpose of using drones in mining is to mix the miners' knowledge with the drone's digital intelligence. An operation becomes safer and less expensive to run overtime by having actionable data.
DroneDeploy— Stockpile Measurement
Application: Stockpile Volumetry
Mission: Improve the accuracy of volumetric stockpile measurements to increase safety and reduce expenses for Granite Construction.
Results: Using DroneDeploy, the company achieved accuracy comparable to traditional methods in a fraction of the time. For this site, all volume calculations were within 1% of alternatives.
Mine Drone Significance: Using aerial volumetric software is faster, safer, and half the cost of the traditional ground-based stockpile calculations.
---
We are hosting demonstrations throughout the world to showcase our new indoor inspection drone.

Sign up to see the Elios 3 live in a location near you.