Flyability is proud to announce its partnership with the ROBINS Project (ROBotics technology for INspection of Ships) to help fill gaps in the technology used in ship inspections.
ROBINS is a collaborative project co-funded by the European Commission within the Horizon 2020 EU Research and Innovation Program. The project's goal is to fill technology and regulatory gaps that hinder the adoption of Robotics and Autonomous Systems (RAS) in ship inspections.
How Was the Elios 2 Tested by ROBINS?
The main type of operational scenario for which the Elios 2 was used and tested in ROBINS was in very irregular, narrow, obstacle-rich spaces, like ballast tanks, forepeaks, cofferdams, etc.
[Related Reading: Shipping Inspections Smooth Sailing with Drone Technology]
Technology Gaps
On the technology front, ROBINS aims to demonstrate the capability of RAS to provide outcomes at least equivalent to those obtained by traditional procedures. In the case of the Elios 2, inspectors found that it met this requirement, and was capable of capturing high quality visual data equivalent to what could be captured using traditional methods.
"We have tested the Elios 2 many times . . . in the framework of the ROBINS project, and we had really amazing results."
- Enrico Carrara, Senior Technical Officer at RINA Services, S.p.A.
ROBINS team members found that using the Elios 2 for ship inspections can help:
Improve safety, by removing the need for inspectors to enter dangerous confined spaces.
Reduce costs, by removing the need for building expensive scaffolding to allow inspectors to access confined, hard-to-reach places in order to collect visual data.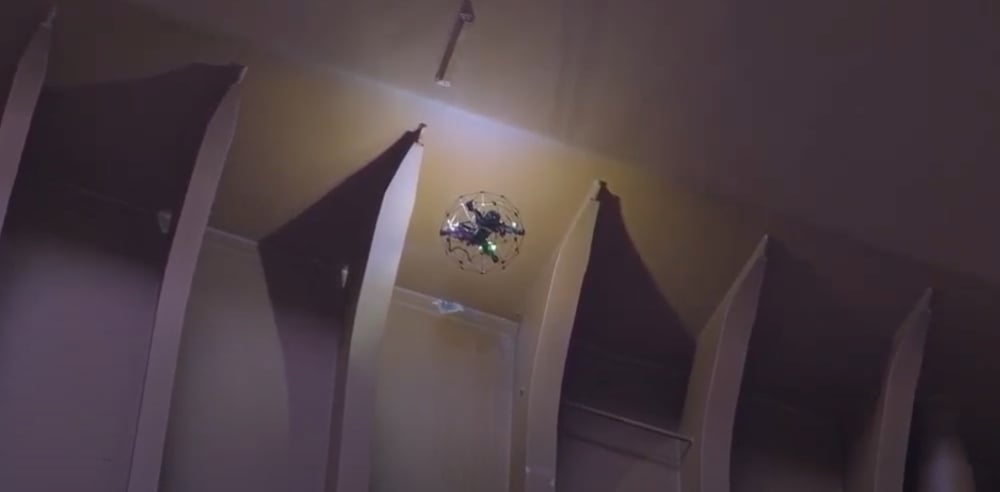 Picture of the Elios 2 collecting visual data inside a ship
Regulatory Gaps
On the regulatory front, the ROBINS project aims to verify the equivalence between using RAS and traditional methods for conducting ship inspections.
To do this, ROBINS has tested RAS platforms in a controlled and easily accessible environment, where repeatable test protocols and field trial campaigns can be implemented.
These tests have been conducted in a manner that provides a framework for tests, procedures, criteria, and metrics that can easily be used to create a common, objective, widely accepted regulatory framework for the assessment of RAS for ship inspection (in accordance with the International Association of Classification Societies Recommendation 42).
ROBINS expects these tests and the data they produce to help streamline wide scale adoption of RAS technology in the maritime industry.
Learn more about how Flyability's collision-tolerant drones can help in ship inspections on the ROBINS website.

This project has received funding from the European Union's Horizon 2020 research and innovation programme under grant agreement No 779776.