Benefits in a nutshell
Safety

This team used the Elios 3 to safely access complex assets in the power generation industry, including areas at heights and confined spaces. They also avoided using scaffolding or rope-access technicians by performing all inspections from a safe distance.

Efficiency

The Elios 3 empowered VZÚ Plzeň to inspect 16,000 points of interest at a cooling tower in just 10 days. By using the drone, VZÚ Plzeň completed inspections in the scheduled downtime and provided results quickly.
Accuracy

Even when working with cooling towers that can be over 100 meters tall, the Elios 3's data can be localized so that any points of interest are accurately identified and located, making it easy to complete maintenance work.

Business Development

VZÚ Plzeň has unlocked new clients and projects by using drones for detailed asset inspections and NDT. The quality of their data and results has set them apart from competitors and provided more value to their clients.
What is NDT?
Non-Destructive Testing (NDT) is a type of inspection technique that allows inspectors to collect data on an asset or material without damaging it. NDT is a catch-all term covering a huge variety of operations, but a key aspect of this technique is conducting inspections to provide asset management with the correct information and practice.
NDT is present across many industries, including mining, infrastructure and utilities, cement, and power generation. Through NDT it is possible to ensure that critical assets are properly maintained and help prevent breakdowns or event accidents. This makes it a vital procedure for the power generation industry, where an asset breakdown can mean a lack of electricity supply to the community and can cost the plants hundreds of thousands in lost revenue.
Bringing NDT to power generation sites
VZÚ Plzeň provides a wide range of NDT methods for power generation sites in the Czech Republic and has kept up with breakthroughs in robotic technologies to help them improve their NDT processes and stay ahead of the competition. They started using the Elios 2 drone for aerial and confined space inspections in late 2022 after having taken part in a Flyability training course in Lausanne, and since then have upgraded to an Elios 3. VZÚ Plzeň's main drone inspector, Filip Schmidt, said "With the introduction of the Elios 3, our operations have become remarkably smoother. We've seen significant improvements in piloting, inspections, defect localization, data collection, and the overall process of flights."
As with many new technologies, professionals within the power generation industry were unsure about adopting drones for inspections and wanted concrete proof of the added value that drones could bring them. Across multiple sites and projects, VZÚ Plzeň have now demonstrated the benefits of using drones by providing high-quality results with significant cost and time savings while also improving the safety of their inspectors. This helped them earn a positive reputation among their clients.
Filip also mentioned that "We've been utilizing the Elios 3 for the majority of our indoor inspections in various power generation environments." VZÚ Plzeň now boasts an inspection portfolio with the Elios that includes boilers, evaporators, burners, superheaters, cyclones, air ejectors, flue gas tubing, cooling towers, steam turbine condensers, desulphurization equipment, piping hangers, vessels, and wind turbines; with many more to come.
How the Elios 3 streamlines boiler inspections
Boiler inspections present a challenge as they typically require scaffolding to be erected, which in turn means increased asset downtime as well as additional safety precautions to follow due to the work at height. This is all necessary even before knowing if maintenance - and further access - will be required. An aerial inspection with an Elios, on the other hand, can provide visual and LiDAR information about the boiler's condition within a few hours and without having to erect any scaffolding or putting inspectors at serious risk. This means that if the inspection shows that no maintenance is needed, the plant will avoid all the costs connected to scaffolding, labor, and other equipment. If, however, the maintenance team is required to intervene, they will know exactly where to act which allows them to build the scaffolding only where it is needed and thus reduce the asset downtime and increase efficiency.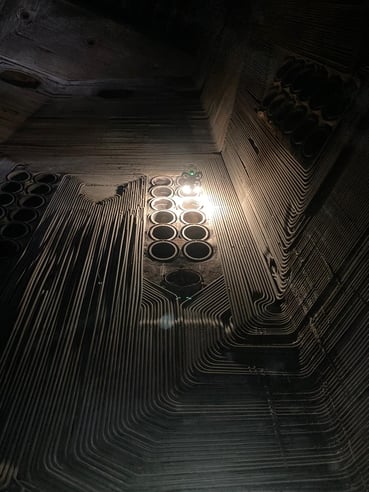 This boiler inspection was done using the Elios 3 to access the asset from the inside
In these cases, VZÚ Plzeň has found that drone inspections provide most of the critical data while enabling the inspection teams to stay safe and without disrupting the asset's operations. The boilers at power generation sites are capable of producing hundreds of MWe (Megawatts electric) - and any unexpected downtime or prolonged maintenance presents a major challenge for energy production and can cost the plant thousands in lost revenue. Thus, a drone inspection of a boiler with the Elios will help plan maintenance work and make overall operations more efficient without any scaffolding or work at height needed.
Confirming the condition of flue ducts with drones
VZÚ Plzeň faces many challenges as they inspect inaccessible areas. At one site, they were tasked with finding out the condition of flue gas ducting, to assess the system's overall integrity. Flue ducts can experience high levels of decay due to the presence of ash particles in the pipes that can cause abrasion to the structure.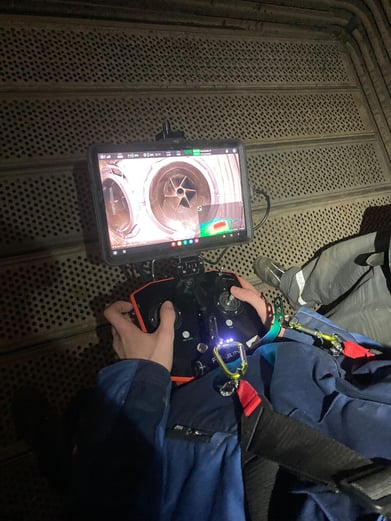 The Elios 3 makes it possible to inspect assets at-height from a safe location on the ground
At this site, engineers had installed steel guiding plates to protect the duct. This was expected to mitigate the impact of damage to the system. However, the site managers found that the steel plates had already been reduced in thickness which ended up creating a sharp, razor-like environment. This meant a rope-access inspection was impossible and thus, the Elios 3 was the perfect solution. VZÚ Plzeň's pilot flew through the environment and found that the steel supports had been entirely eroded in some spots, meaning the overall duct was at risk of further abrasion and potential breakage.
Thanks to the Elios drone, VZÚ Plzeň provided an alternative solution to typical rope access inspections while still gathering all the critical data that was needed.
Completing 300 Elios 3 flights inside a powerplant cooling tower
In 2023, VZÚ Plzeň were asked to inspect the cooling towers of a powerplant. They visited the plant twice in 4 months, coinciding with pre-planned downtime. This was the first aerial inspection of such nature on the site, and the plant managers were not sure that a drone could gather data on the entire area. However, over 10 days, VZÚ Plzeň proved their capabilities.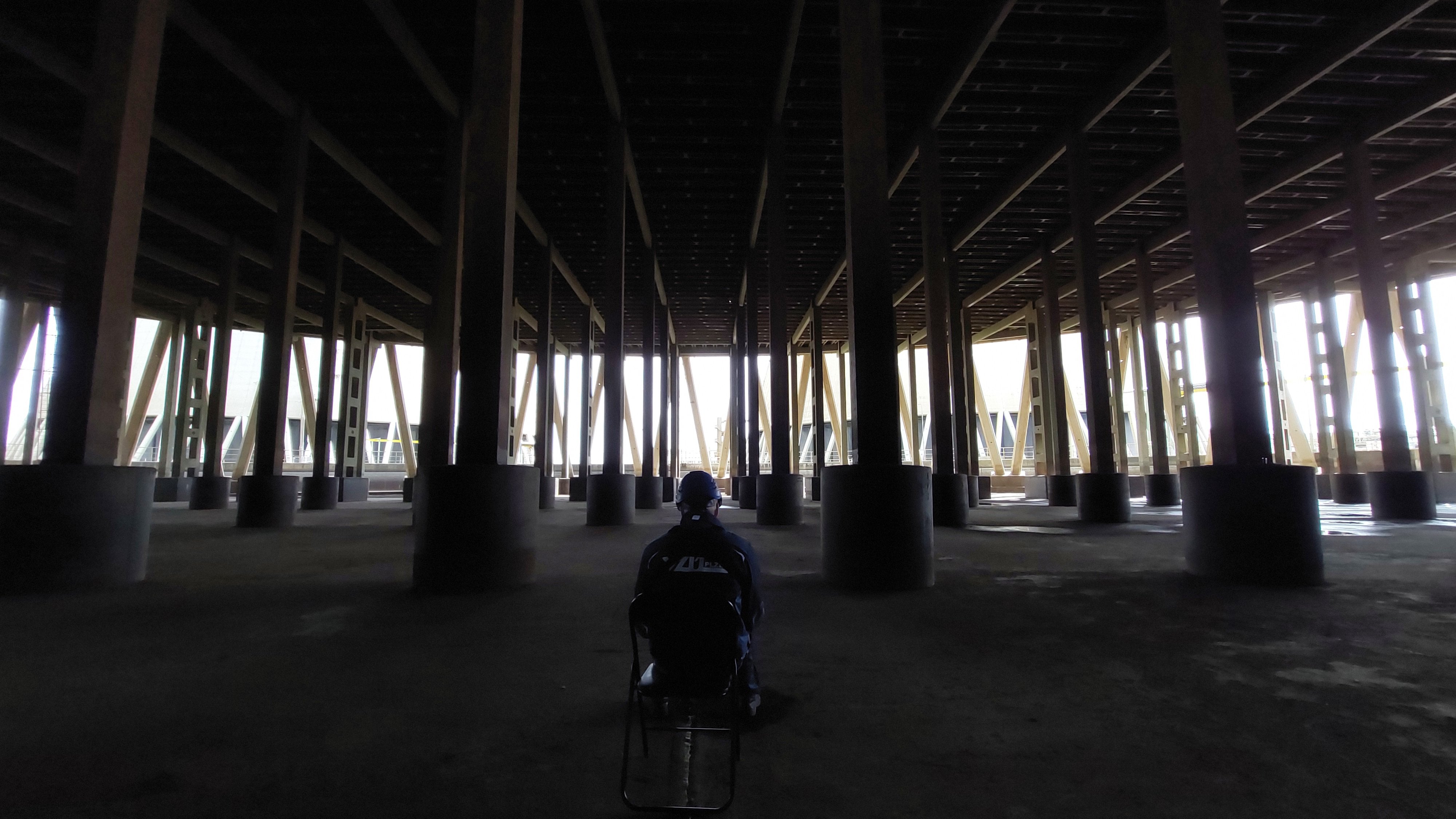 The cooling tower bases had many structures that were inspected with the Elios 3
Using Elios 3, VZÚ Plzeň inspected altogether around 16,000 spots across 4 cooling towers, totalling 300 flights. Due to the size of the asset, there was a huge amount of data. To ensure the results were correctly analyzed, VZÚ Plzeň identified any defects and localized them in the model before also cataloging the local coordinates and a severity assessment. This ability to evaluate the data added significant value to the plant managers as they had clear visualizations and detailed analyses of any problems identified by the VZÚ Plzeň team.
Creating confidence in drone inspections
VZÚ Plzeň's work across power generation sites with the Elios drone proves the value of drone inspections in this industry. Through their efforts, they have eliminated in most cases the need for costly equipment and scaffolding, while also improving site safety.
When talking to Flyability, VZÚ Plzeň highlighted how working with the Elios drone has uplifted the way they operate.
"Our journey into the world of drone inspections has not only revolutionized our services but elevated our and our clients' perceptions of safety and efficiency. As we continue to explore the new possibilities in the power generation space, we remain committed to delivering value, improved safety, and excellence in every mission we undertake." - Filip Schmidt, drone pilot at VZÚ Plzeň
VZÚ Plzeň are already conducting NDTs with drones across the Czech Republic, and have helped their clients achieve major savings through improved inspection safety, reduced downtime, and eliminating the need for costly scaffolding or similar equipment. Moving forward, they hope to continue inspections at other sites where the ease of access of the Elios drones will empower faster and safer inspections.
Discover more about the Elios 3 and its applications