0 human life at risk
visual inspections are all performed from a safe distance
40% cost reduction
in average, behind FTE reduction and pipe cleaning efficiencies
900M/day inspected
in average vs 400m using the conventional methods
Successful maintenance of sewer systems requires regular inspection to stay on top of the developing deterioration
In some of the world's largest cities, underground systems are aging and reaching maturity. Extreme weather patterns put repeated stress on our infrastructures. As a result, many municipalities have enforced strict maintenance schedules and requirements.
With Flyability's indoor drones, effectively perform full assessment of sewers systems and be proactive with the need for potential repairs.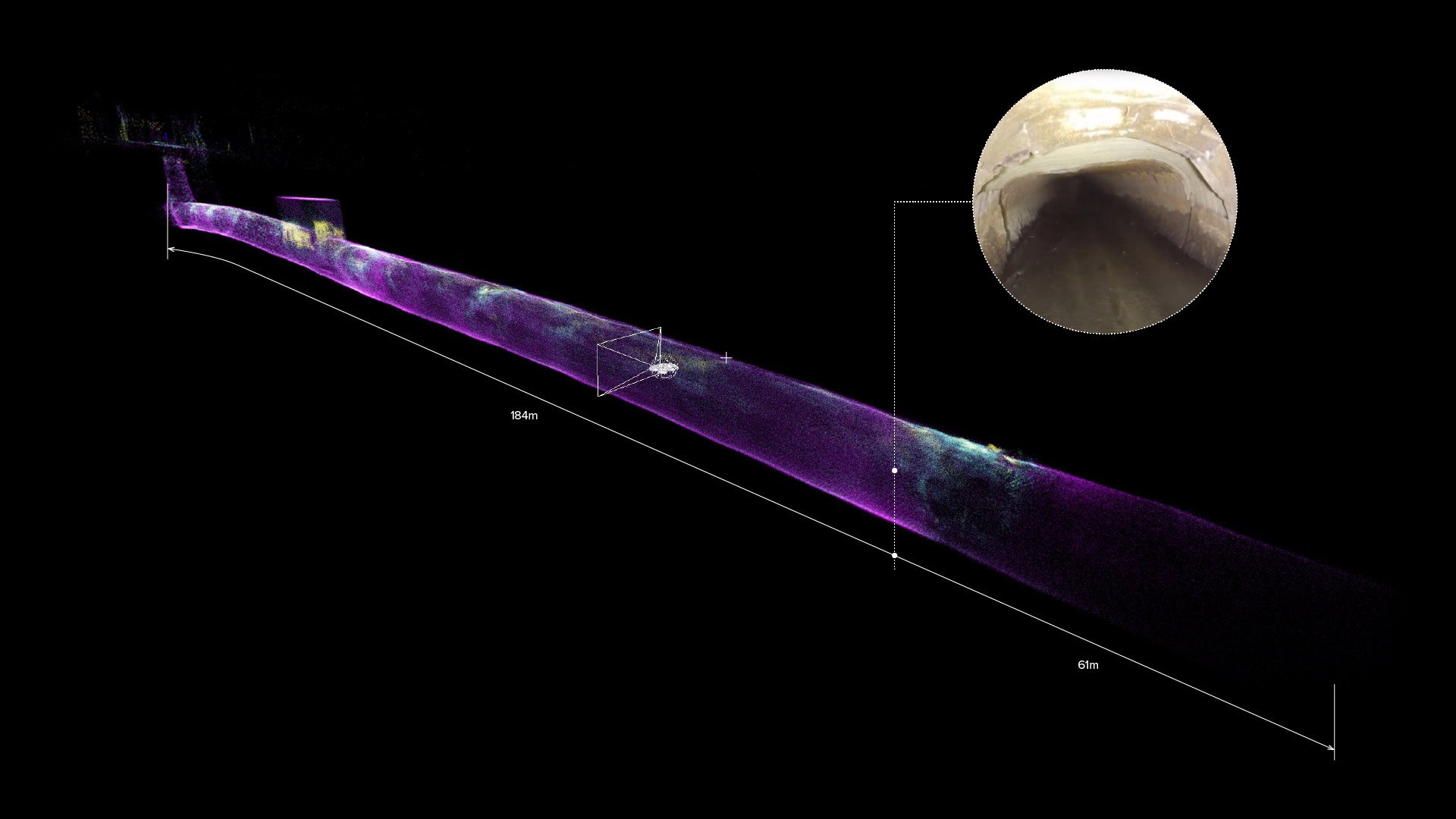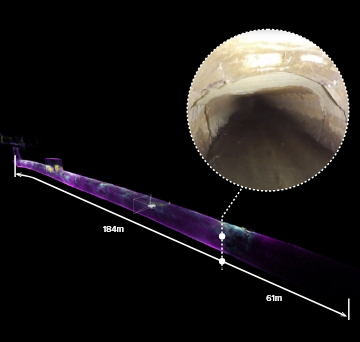 Close the gap vs. traditional inspection methods
The quick deployment time and the ability to either screen a whole area or quickly get details of specific sections make drone inspection ideal for time-critical inspection.
Inspect inaccessible places
Pinpoint & document the location of defects
Collect high quality visual data
Reduce emergency response time
Improve inspection capabilities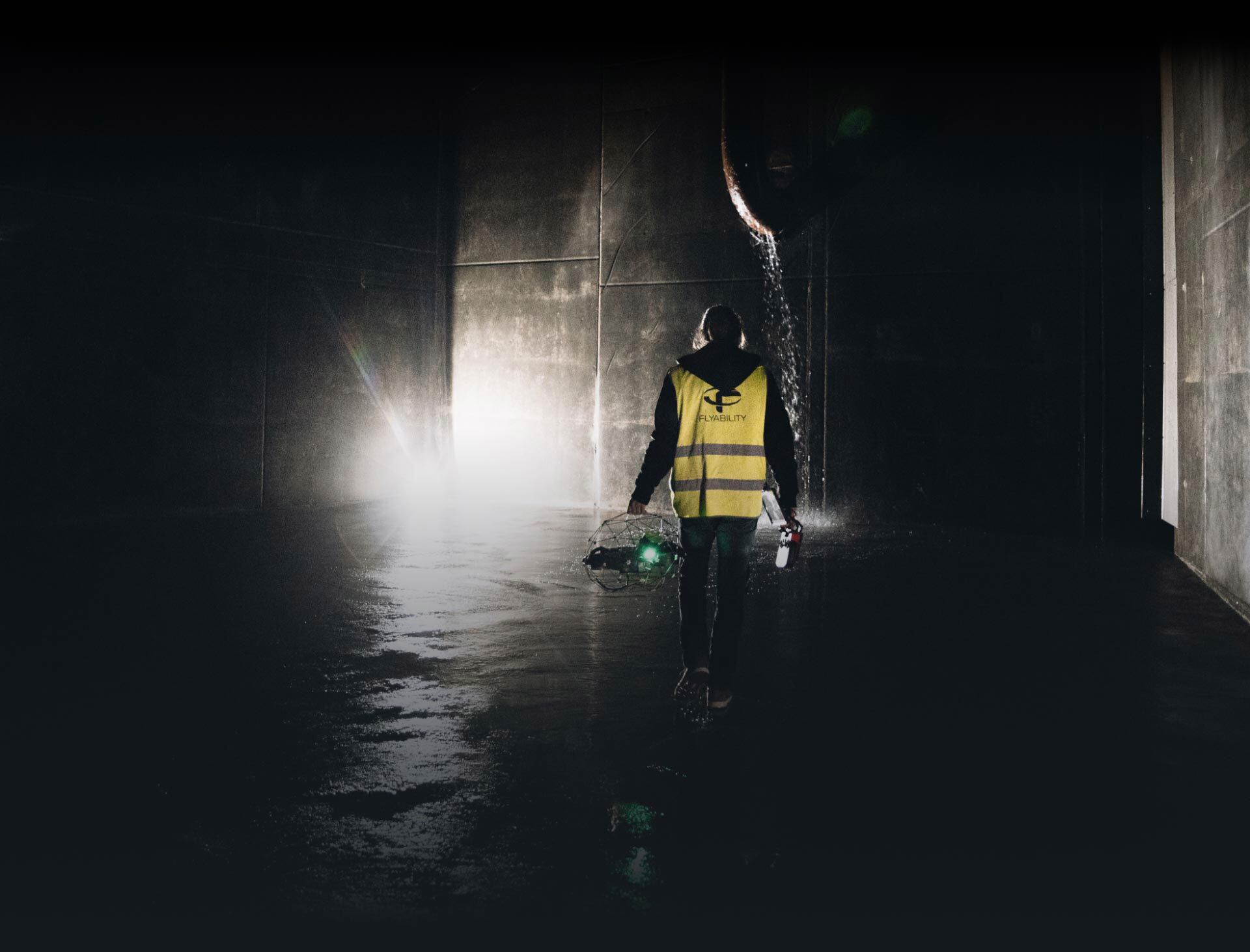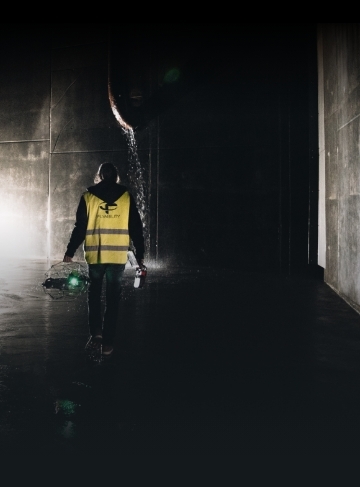 How to plan drone missions for sewer inspections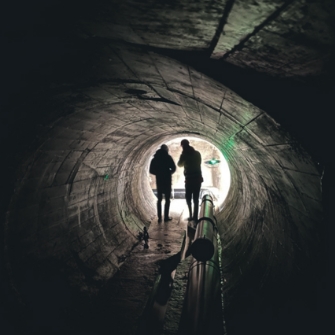 01
Upstream work & planning
To start out, pilots plan the flight with local inspection teams, including considerations about access points, sewer geometry and diameter, security, and the extent or need of aerial equipment (i.e., drones).
02
General inspection flight
When conducting an inspection flight, the drone pilot works closely with the wastewater inspector overseeing the inspection, ensuring that they're getting all the visual data they need. During the flight, our drone quickly travels a length of sewer pipe capturing point clouds data, 4k video in RGB with thermal overlay and 12Mpx still Inspection images.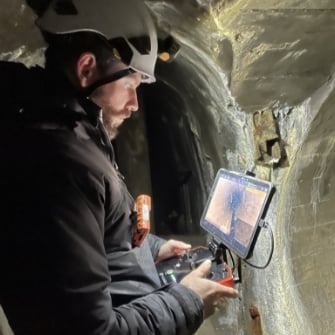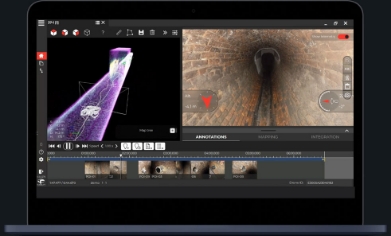 03
Downstream work & reporting
Afetr the inspection, the data collected can be reviewed and analyzed. This includes localising points of interests, categorizing and commenting them, extracting pictures and video sequences. This data can also be used to draft official reports, compliant with EU norms (13508-2).
Data enabling creation of official reports, compliant with EU norms (13508-2)
High resolution pictures and 4K videos of point of interests recorded during the mission
Point clouds and 3D maps enabling centimeter accurate distance measurements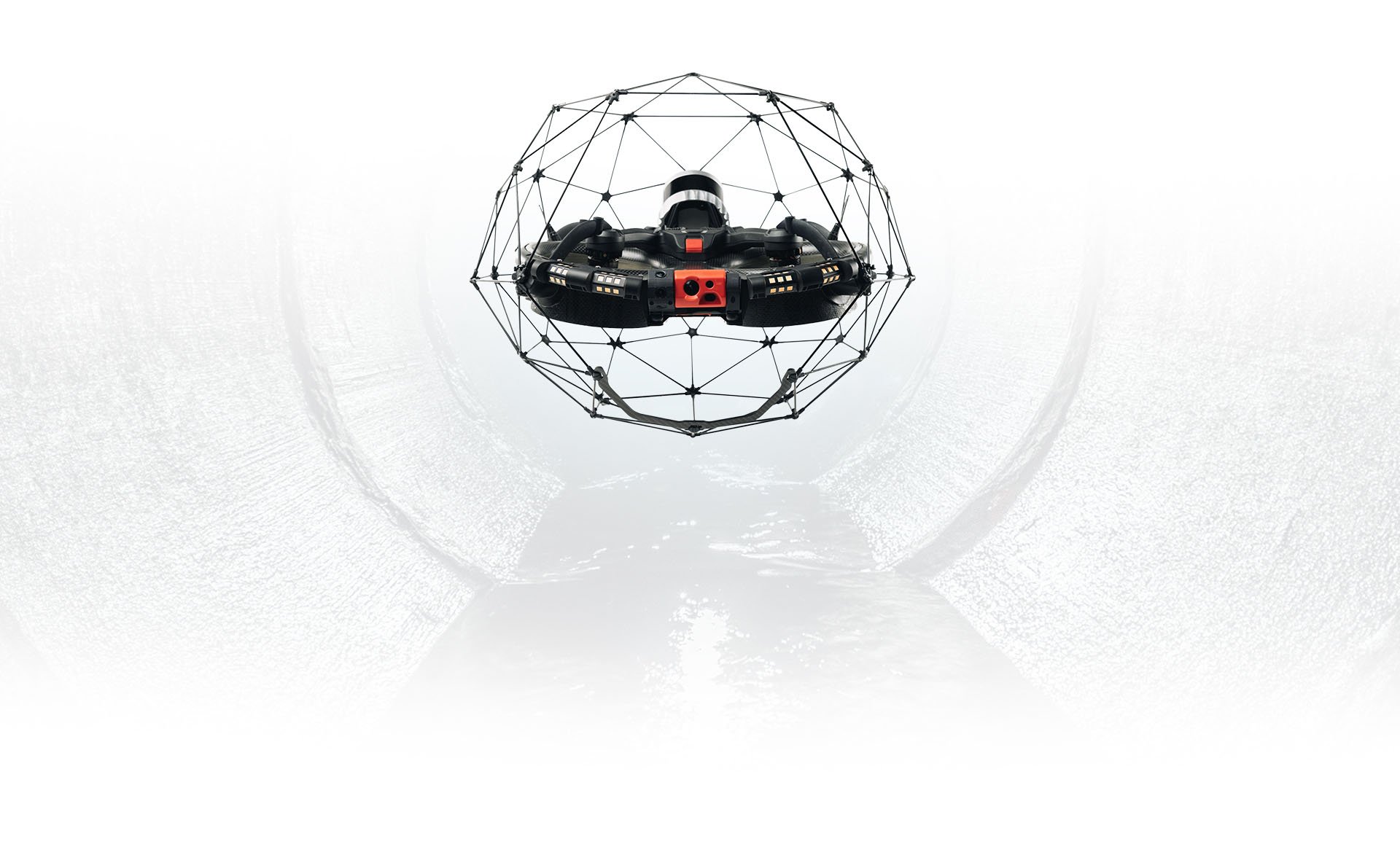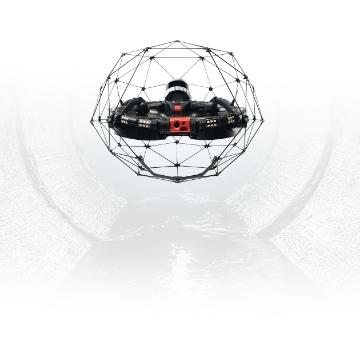 Capture every corner of the most confined sewer systems, from a safe location
Our drones have proven effective in identifying accumulated rocks, mud, or silt-creating clogs; assessing the functionality of networks; and exposing potential structural problems like root intrusion that could cause masonry to collapse, provoking the failure of the sewer system.
Testimonials
See how Elios has changed the way Veolia
performs water and wastewater inspections
"
"Thanks to Elios 3, we've effectively eliminated most of the risks associated with these confined spaces."
Julien Maj
Local Service Manager at Veolia Water
They already trust our products
Learn how municipalities or inspection companies are using our drones across the world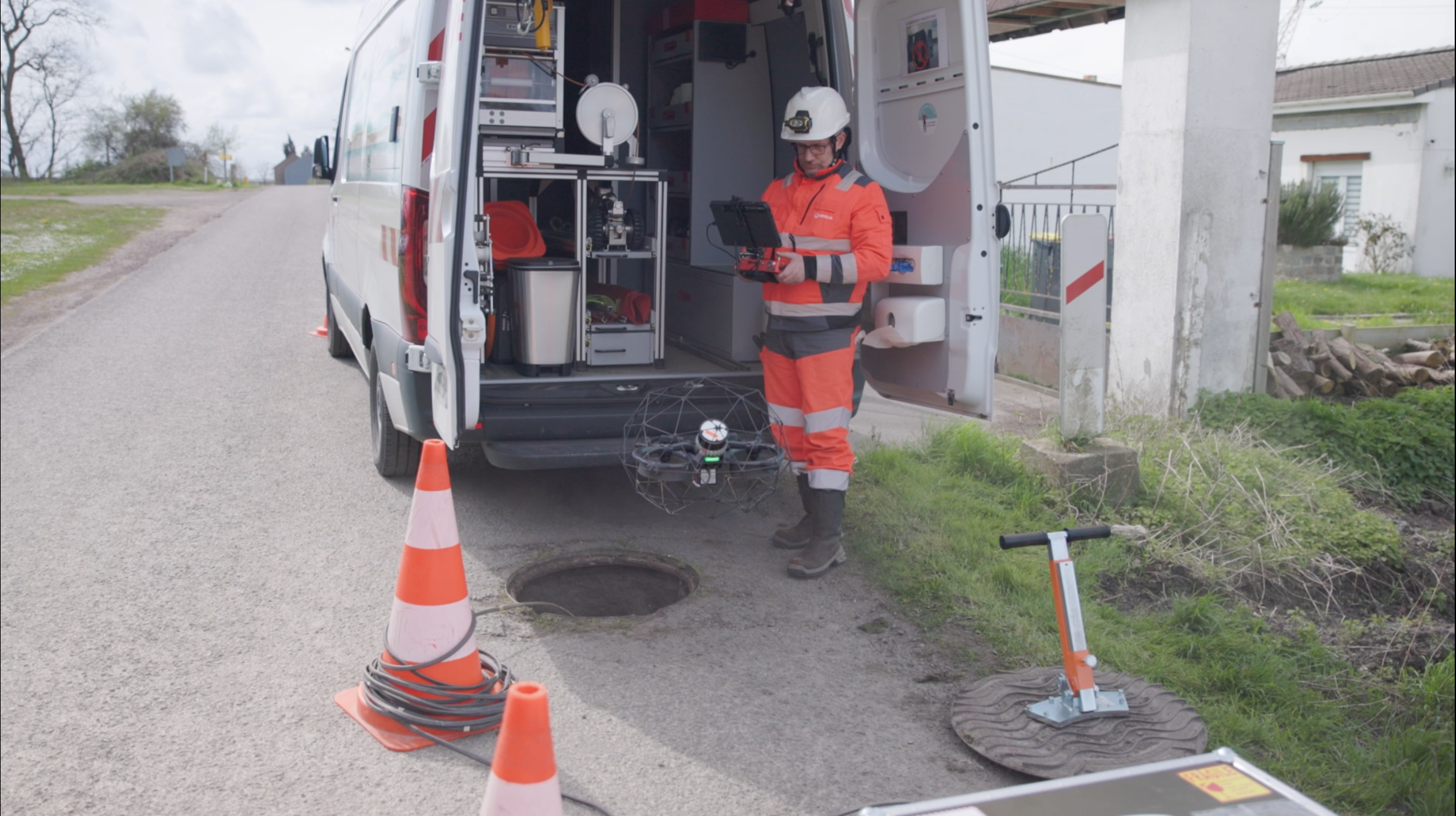 Sewer
123756979336
Veolia Water increase safety and efficiency of their inspections with Elios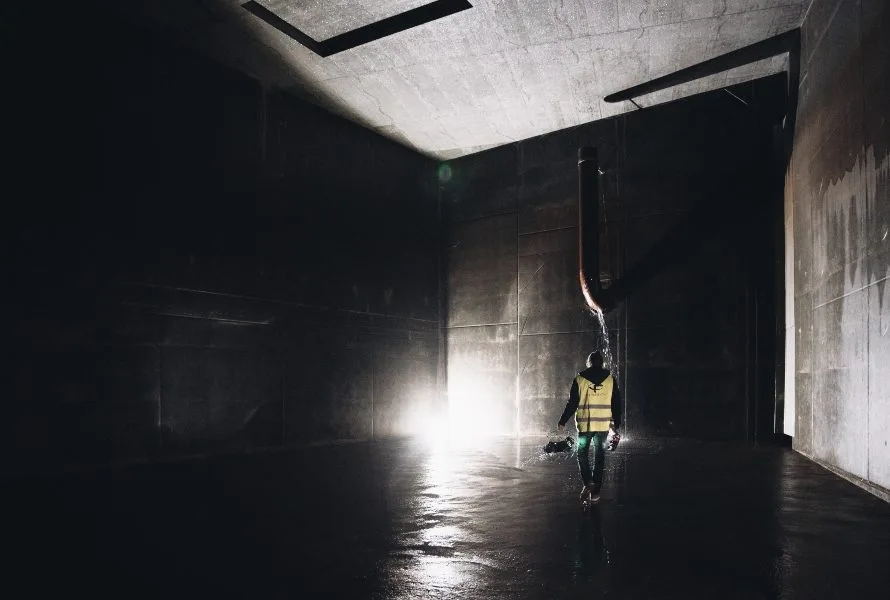 Sewer
72486101850
Elios 3's Indoor 3D Mapping Helps City of Lausanne in Water Department Inspections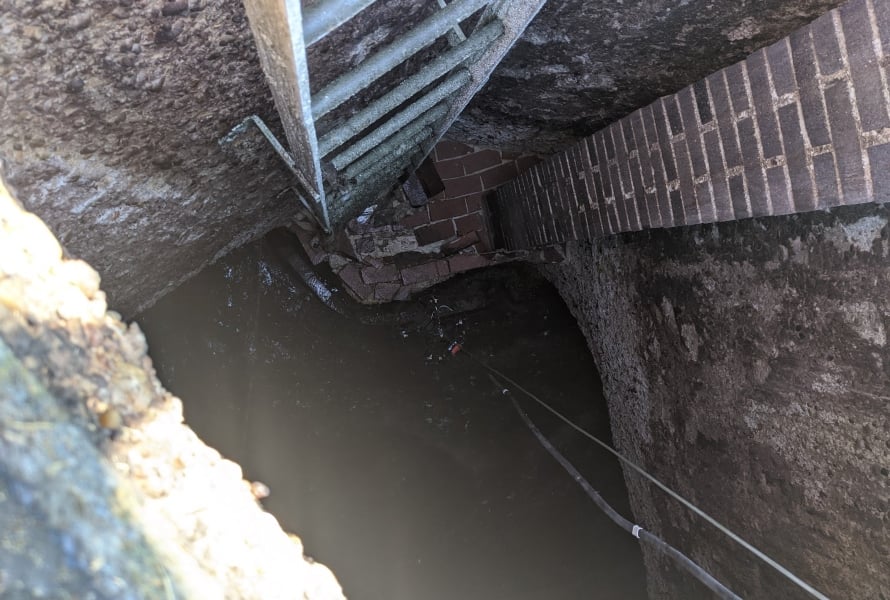 Sewer
35374501881
WSSC Water, AECOM, and Flyability Collaborate to Deploy Elios 2 for Inspection of Critical, Large Diameter Sewer
Frequently Asked Questions
In order to operate a drone, do you have to be an engineer, an NDE inspector or a piping inspector?
No, it is not required but you should always be aware of the regulations concerning commercial drone operations in your area before flying). Piloting Elios drones is accessible to everyone who has completed the introductory training. Traditionally our clients work in teams of two when running inspections, one pilot and one inspector who can analyze the data on the spot. With this approach, each person can focus on their area of expertise.
How do I train my team?
Flyability has put in place a complete certification and training program that takes drone pilots from discovering the particularities of piloting a drone indoors BVLOS (Beyond Visual Line of Sight), to being able to perform the most difficult indoor inspection missions. The certification tests the pilots on their ability to assess the difficulty of a mission and puts their own piloting skills into perspective. Our training courses are defined and provided by professional pilots with extensive mission track records using Elios drones. Every bit of theory you will learn is backed-up by practical exercises directly applicable to your everyday job as a pilot. Operators following our training courses receive a valuable professional certification, acknowledging their proficiency at using Elios drones.
Do I need to adapt my Standard Operating Procedures?
Asset owners are responsible for deciding whether to modify their SOPs to accommodate the use of drones. Nevertheless, SOPs provide a method to communicate the process changes to employees. As they no longer rely on humans to enter confined spaces for inspection, most of our customers update SOPs to take the drone into consideration.
Can a drone be used as a formal inspection tool?
Several clients have conducted formal inspections using our products that have been approved by classification societies. You can read more about an example in this article: https://www.flyability.com/articles-and-media/can-a-drone-be-used-as-a-formal-inspection-tool
The thing to note is that drones can't permanently be recognized as a formal inspection tool, since inspectors are agnostic to specific tools. Rather, inspectors can approve a given tool in a specific inspection when they see the data it can produce.
How to process inspection data?
Once your mission is complete, you can simply connect Elios 3 to your computer using the USB 3.0 port fitted on the top of the drone to import all your work in Inspector, our companion software.

After retrieving the flight data, you have immediate access to a high resolution point cloud of your assets that you can visualize using Inspector. You can then review your POIs and document your inspection by taking notes in the POIs, making measurements, and exporting your data as a report.
Does Flyability keep your data safe from cyber attack?
As long as the user does not manually connect to a WiFi network, there is no physical link between the Elios system and the internet—ensuring complete data safety.
In addition, Flyability only collects data in one instance: when the drone is armed while the tablet on the GCS is connected to the internet. In these cases, we collect the unit ID — which is encrypted and can only be read by Flyability —, the time of flight, and the firmware version. Operators are notified of this and have the option to opt-out.

For more information on the data safety, please consult the following link:
Cyber Security With Flyability Drones
Are Flyability drones intrinsically safe?
ATEX is the European certification given to equipment tested and approved to be intrinsically-safe.
The Elios drones are not ATEX rated / intrinsically safe. It is hardly possible for a drone to be intrinsically safe (none to date).
You will need to perform a procedure to neutralize the environment of the asset you want to inspect like you would do when doing a manned inspection. You still have a lot to gain when performing the inspection with a drone instead of a human. For example, you can use nitrogen to neutralize the asset and send in a drone right away. If you do the same for a manned inspection, the inspector would have to carry a breathing apparatus and you would need to deploy bystanders, which is much more complicated and dangerous.
For more information on this subject, please follow the link: https://www.flyability.com/articles-and-media/are-drones-intrinsically-safe
Can I fly Elios drones outdoors?
Flyability drones can fly outdoors in ATTI mode to inspect outdoor assets. However, it is not recommended to do so as it is much harder to control the drone in ATTI mode. This use case is reserved to experienced pilots only. Keep in mind that flying outdoor is subject to airspace regulations, unlike indoor flights.
Should I insource or outsource drone-based inspections?
What is the size of the smallest defect that Elios drones can spot?