For asset owners, deciding to embrace drone technology usually starts with understanding the benefits that drones are going to bring to their business. Once this is clarified, the next step is to figure out how to proceed with the integration of drones in their processes and workflows. It is also the moment when a critical question comes in; should this drone program be insourced or outsourced? This question is an essential one which shouldn't be overlooked. Embracing drones, besides providing tremendous benefits comes with a lot of hurdles when it comes to its implementation. At Flyability, we continuously exchange with our customers to learn from their experience and in turn share it with the drone community. If choosing whether you will insource or outsource your done program is precisely the stage of your reflexion, you may be interested in reading what we've learned from our customers; those who have decided to insource their drone program and those who haven't. Each case is different, and by asking yourself the right questions, you will be able to draft your very own answer.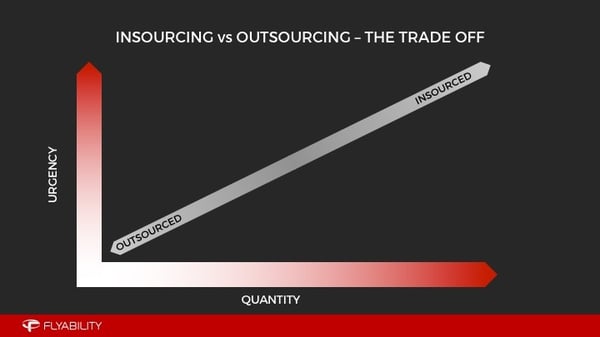 Quantity - Do you have the critical mass of inspection work?
Do you have the critical mass to start your own drone program? This is the first important question to ask yourself, and the reason behind it is that internalizing drone activity is far from being straightforward. It requires a skill set that is rarely found in the initial structure of a company.
Drones are airborne vehicles, like airplanes.
Drones are airborne vehicles which evolve in the same airspace as passenger and cargo airplanes. Starting to operate drones requires knowledge about the legislation that rules the use of national airspaces. One exception, however, is the case of indoor inspection, i.e. using the Elios drone, which is not subject to Civil Aviation Authority in the vast majority of countries around the world. Depending on your use case, you will be more or less exposed to regulatory constraints. Knowing how you can use the airspace, what's allowed and what's not, is mandatory and requires a specific set of skills which you can either learn through training or acquire by hiring the right people.
Drones are not "one size fits all" tools.
Each drone has specific features that make it more appropriate to a particular application. Using one drone may require dedicated training which does not necessarily apply to another drone. Technology evolves rapidly and keeping up with innovation requires some time to look after new aircraft and payloads and test them. This effort is necessary to sort out the good from the superfluous innovation and to make sure that you limit your investment to the technology that is beneficial to your business. Continuous learning and experimentation is clearly part of the functions of a drone program.
You will have to drive change in your company.
Involving drones in the visual inspection of an asset may require some adjustments and a fresh eye on your processes until you start observing savings. Taking a helicopter view of the problem and accepting to re-engineer your methods might be necessary. You will have to go through a hard time of demonstrating that drones can do the job as well if not better than humans. Dedication and persistence will pay-off in the end.
Don't let these considerations discourage you. It can be easily justified, if you have the critical mass of inspection work, to keep one or more people busy with your drone program. Depending on the size of your company, the cost of building this team can be insignificant. You should take the time to look at the equation of drone benefits in its entirety. How much will it improve the safety of your employees and affect your loss time incident? How much will it improve your bottom line by combining the thorough knowledge of your assets to the thorough knowledge of drone operations?
Urgency - How long can you wait before knowing what's going on?
When something goes wrong in your asset, and you need to inspect it to have a visual answer, how long can you wait for the information? Do you need the data in the next hour or can it wait for another week or month?
Is your drone service provider sufficiently close and reactive?
From your experience, what is the mix between event-driven and regular scheduled inspection across your asset base? What is the lead-time requirement for both? Are you able to meet these by outsourcing this activity to service providers? By outsourcing, it may be difficult to have the right people on the spot when you need them. So, if your lead-time requirements are short, insourcing might be the right solution for you.
What's your cost of downtime?
Downtime, in general, is the nightmare of all manufacturing industries. It is even worth when this downtime is unplanned. Despite the investment, it can be worth keeping a minimum of drone operation knowledge in your company to cope with this sporadic situation where using drones uncovers what's going on in your asset and saves you hundreds of thousands of dollars. Here are some example illustrating the cost of downtime in the energy industry and how the usage of commercial indoor drones was salutary for asset owners.
It is very hard if not impossible to train everyone in your company to be a drone expert. But, by insourcing your drone program, you can put in place basic training which allows technicians or standby maintenance teams to react to anomalies and collect data on the spot. This data will help you plan the following course of actions to minimize the loss of production that is inherent to downtime.
Using an external company to guide you
There are many ways to get started and sometimes it may be beneficial to turn to consulting companies to help you implement the right things right from the start. Some service providers will be happy to play this role in your company. You will learn from their mistakes and jump-start the hurdles of the beginning.
It is not black or white.
What we have observed among our customers is that the answer is not black or white. For example, one of our customers active in the mining industry is helping his customers to insource drone operations for use cases subject to the highest level of urgency. By providing regular training to their personnel, he helps them maintain a minimum knowledge of drones among the technicians. On the other hand, he provides them with inspection services for the most difficult inspections. We've also seen some of our enterprise customers insourcing the acquisition of drones to save on costs but outsourcing their operation so that can get up to speed really quickly without having to become drone experts.
A look at the future.
As mentioned above, technology evolves rapidly, and two of the hot topics in the drone industry are automation and artificial intelligence. In the near future, automation and artificial intelligence will simplify drone operations, and the goal of outsourcing operations will change as no piloting will be required. Investing in technology and education early enough can save you a lot of troubles of catching up with drone technology when it becomes mainstream. It may even be a matter of remaining competitive or even outperforming your competitors.
Drones have proven their case in many applications to bring tremendous savings on top of increased safety. With that in mind, we hope that it will be easier for you to decide if you will outsource or insource your drone program!