Benefits in a Nutshell
Cost Effectiveness and Ease of Deployment

Inspection activities of multiple pipe segments and access points were able to be conducted within one working day, including mobilization and setup, completion of inspections, and demobilization. No confined space access was required to deploy or retrieve the system, and no additional site access was needed for setup or operation.

Stability

The Elios 2 was able to maintain stability and consistent speeds while flying in an active sewer with a high rate of flow, with an average velocity of approximately 26 feet (8 meters) per second.

Data Localization

Using Inspector 3.0, the inspection team was able to create point clouds that provide high resolution, high accuracy 3D data. This data can be used to perform detailed measurements on the assets or on specific defects found during the mission and, when draped with imagery, can be a powerful tool for evaluating condition, developing recommendations and supporting rehabilitation efforts.
Introduction
Sewer condition assessments of large diameter assets are notoriously difficult, especially when performed in active sewer systems with high flow velocities and accessibility challenges.
To conduct a successful sewer inspection, inspectors need to capture detailed data about the condition of the assets comprising the system, which typically consists of a pipe or series of pipes, as well as appurtenances such as manholes, vaults and other structures.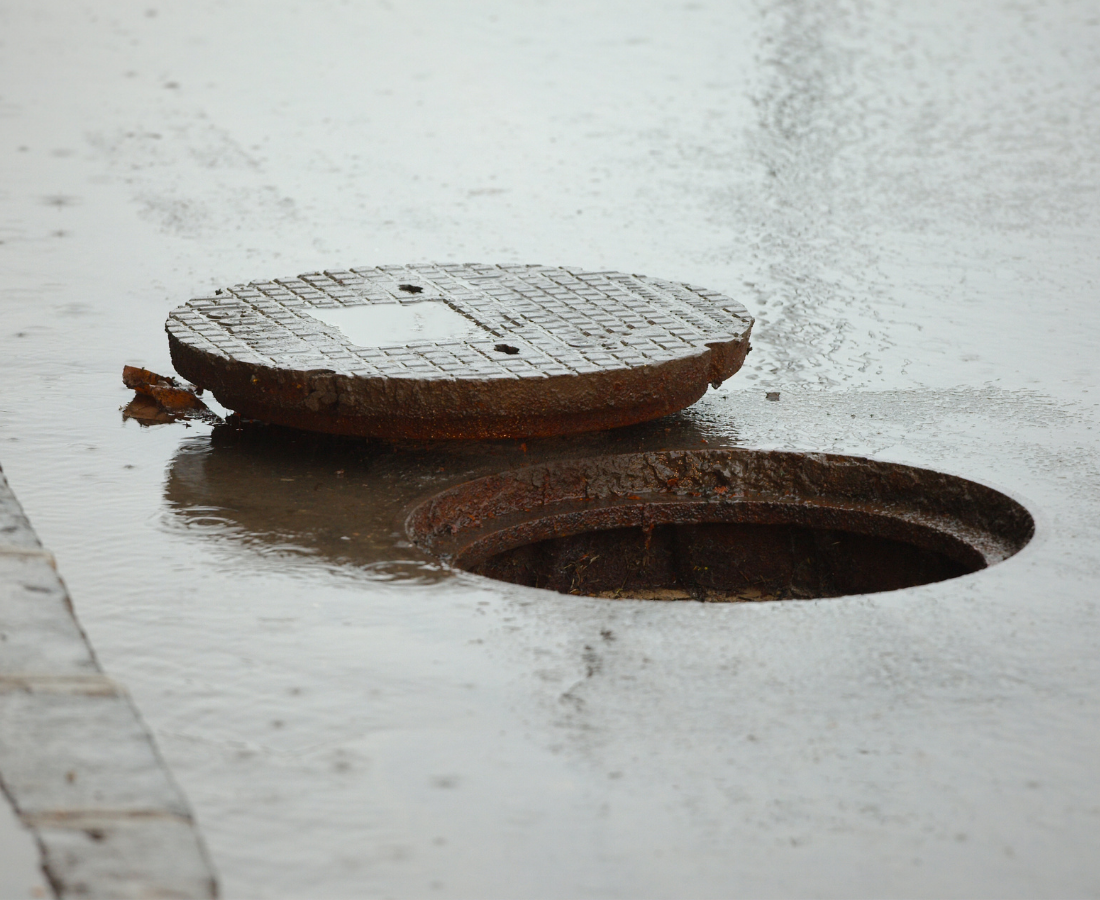 There are several methods traditionally used to conduct inspection of large diameter sewer systems, which include:
Man-entry inspection
Raft or sled-mounted inspection, typically using CCTV cameras
Robotic inspection, using CCTV cameras and/or other types of sensors
In practice, each of these approaches provide benefits as well as tradeoffs which must be considered when identifying the best approach to conduct condition assessment activities.
Although physically entering a pipe in order to conduct a walk-through inspection can help inspectors visually assess the system and collect detailed data on asset condition, it can also present safety concerns. In some instances, man-entry may not be feasible due to access requirements and the potential need for temporary bypass of flows, which may be particularly cost prohibitive in large diameter or trunk sewers.
CCTV inspection is the most frequently utilized approach for sewer condition assessment but can be difficult in high flow or high velocity conditions due to challenges with camera stability, control of inspection speed and media quality.
Another approach is to use sophisticated, robotic solutions with a multi-sensor platform, which may include some combination of CCTV, LiDAR, SONAR and laser profiling. This method can provide a tremendous amount of data due to the ability to gather information through multiple sensors, but also presents other inspection challenges.
Robots made for large diameter sewer inspections are typically so big they may need to be lowered into the system with a small crane, a need that creates issues for access in confined or unstable areas. The utilization of these types of systems can also be costly and require significant advance planning for mobilization and operation.
Customer Needs
AECOM is one of the largest global engineering firms, with about 55,000 employees providing infrastructure consulting services for clients across all sectors, including water and wastewater utilities such as WSSC Water (WSSC).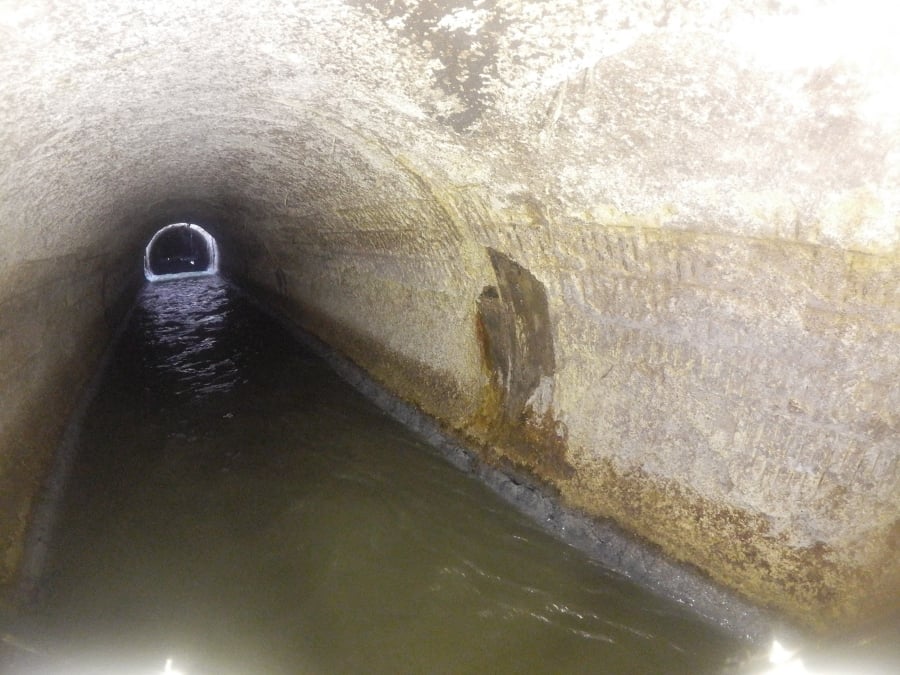 Given the challenges inherent in specialty sewer inspections, AECOM is continually working with clients to identify and evaluate new sewer inspection solutions and technologies that can help perform condition assessments more safely, efficiently and effectively.
One of AECOM's clients is WSSC, a bi-county, governmental entity that provides water and wastewater service for approximately 1.8 million residents of Prince George's and Montgomery Counties in Maryland in the suburbs of Washington, D.C.
Under their current Consent Decree, WSSC is required to inspect any pipe 15 inches in diameter or larger at least once every five years. The frequency of inspection is often even higher for high risk assets, which includes the largest and most critical asset in the WSSC wastewater conveyance system, a 102-inch diameter Reinforced Concrete Pipe known as the Anacostia Trunk Sewer (ATS).
The pipe was built in 1977 and, with an average dry weather flow of 45 million gallons a day, it carries approximately a third of all of WSSC's wastewater, ultimately to the Anacostia Pumping Station.
Inspecting this specific portion of the system presents many unique challenges for each of the sewer inspection methods that we covered above:
Manned entry is costly due to the bypass pumping needed to take the pipe out of service and presents safety concerns associated with Hydrogen Sulfide (H2S) gas, which is toxic to people.
Traditional CCTV inspections are conducted to provide video and still images above the waterline, however the size of the pipe, as well as volume and velocity of flow, present issues that can prevent complete or high-quality inspections.
Multi-sensor robotic solutions have also been utilized by WSSC as a means of capturing CCTV, SONAR and LiDAR simultaneously, along with H2S measurements. While successful, the use of these systems require advance planning and significant effort related to mobilization and deployment.
AECOM wanted to find an alternate solution for WSSC to use when inspecting the ATS and other sewer assets, with the long-term goal of identifying approaches that can be used to supplement or, in some instances, be used in place of, the traditional inspection options that are utilized by WSSC..
"Inspecting sewer systems like the Anacostia Trunk Sewer can be incredibly challenging, which is why we're always on the lookout for new tools and technologies that can help provide better data more safely and efficiently."
- Anthony Dowell, Associate Vice President at AECOM
Solution
WSSC and AECOM have been collaborating to leverage Unmanned Aircraft Systems (UAS) and sensors to support various activities related to asset inventory, inspection and condition assessment over the past several years.

As part of this effort, personnel from AECOM had been researching drones as a possible alternative approach to performing internal sewer inspection, and in their research they came across the Elios 2, a drone designed specifically for flying in confined dangerous spaces, and decided to test it for sewer inspections by using it to help WSSC personnel collect visual data at the ATS.

"We've investigated several UAS solutions for sewer inspections, and we've found that only the Elios 2 can fly reliably in these conditions."

- John Delp, DCS North America Chief Unmanned Aircraft System (UAS) Pilot at AECOM

Results
The Elios 2 test within the Anacostia Trunk Sewer (ATS) was the first time a drone had been used to inspect a sewer system in that part of the U.S. The location presented several challenges, including the pipe's high flow velocity, the presence of several siphons that carry the pipe under the Anacostia River, and the degradation of access points due to corrosion caused by H2S gas.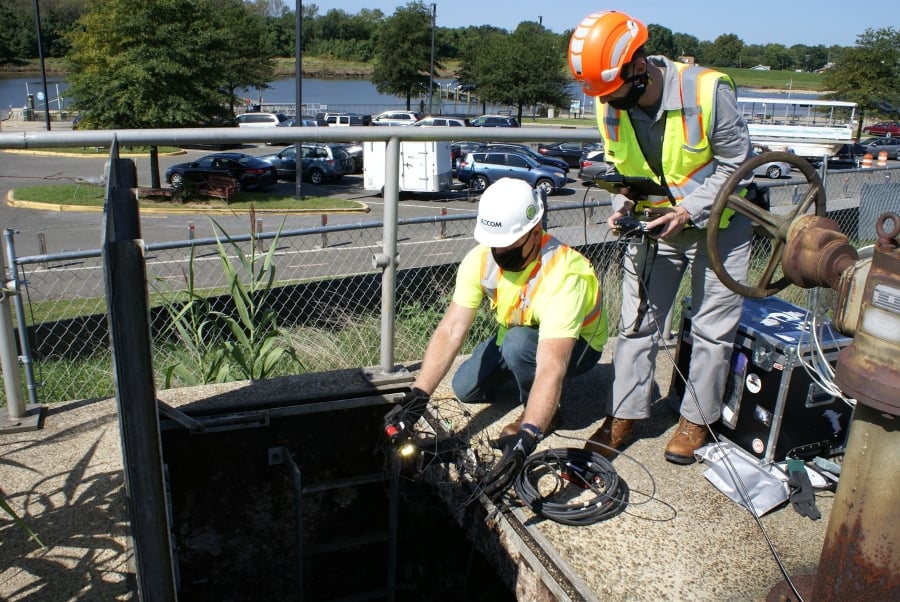 In total, almost twenty people from both AECOM and WSSC were present to observe the mission.
The goal of the mission was to visually assess and collect data on the conditions in the ATS, looking for any possible defects in the pipe segments and associated vaults and other structures.
To collect the visual data needed for inspection purposes, the drone pilot on site performed several flights, live streaming video through the entire flight:
One upstream flight inside the ATS for manholes 101T and 054M*
One downstream flight inside the ATS for manholes 101T and 054M*
Additional flights were made at manhole 018J to collect data to support the development of a 3D model*
*See map below for information on the location of these access points.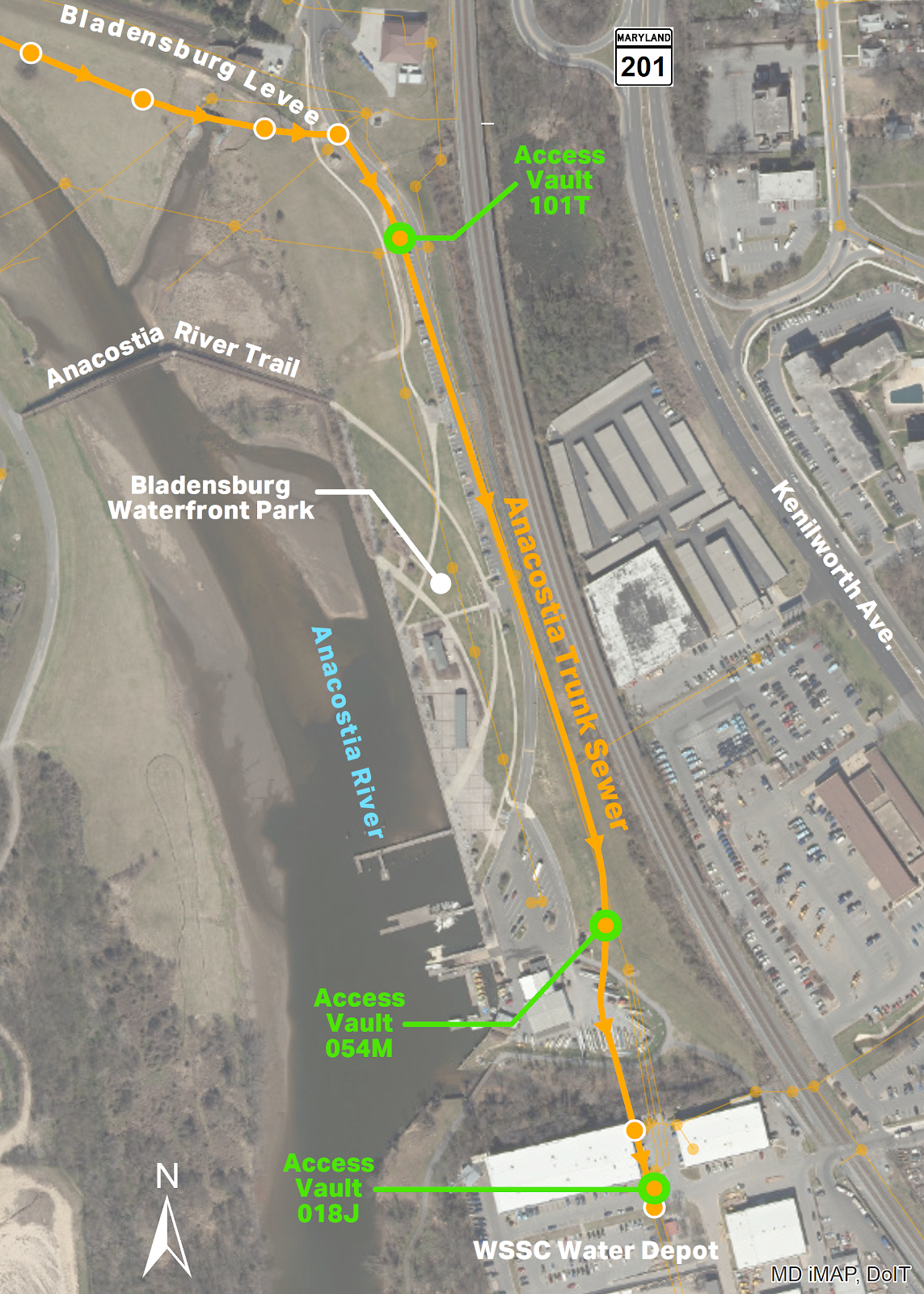 Entering each access point with the Elios 2 was challenging, as the space for entry was narrow and the raised, concrete platforms provided limited workspace.
Once the drone was inside, flying was difficult because of the turbulence caused by the high flow velocity. Clearance was also a concern, as there wasn't always clear information about how much clearance there might be between the water line and top of pipe. This was especially true of the siphons, which go under bodies of water and are used to regulate the flow of water.
"Flying so close to such powerfully rushing water was one of the most challenging things I've done with the Elios 2. But it remained stable in the air and performed even beyond my own expectations as a regular Elios 2 pilot."
- Alexandre Meldem, V.P. of Sales at Flyability USA and pilot during the mission
The Elios 2 flights provided inspectors with the ability to visually assess asset condition and to collect high resolution data that could be used for more detailed evaluation. Among the most notable findings were high levels of corrosion in the concrete due to the sulfuric gases emanating from the sewage; for example, in some places, the concrete was so heavily corroded that the steel rebar reinforcement had become visible.
Personnel from both organizations were impressed by the results obtained with the Elios 2, since it was able to fly inside the ATS and collect some of the best visual data they had ever seen for a sewer inspection.
Benefits to Using the E2
Stable performance in high flow.The water flowing through the ATS pipe was moving at a roaring 26 feet (8 meters) per second, a current so strong that the power of the water moving generated airflow in the space between the water and the pipe, creating turbulence for flying. Despite these extreme conditions, the Elios 2 remained stable in flight, capturing clear images and video of the asset.
Lighting. Inspectors were impressed by the lighting provided by the Elios 2, which was more than bright enough for them to see everything inside the asset.
Quality of media. The quality of the images and video provided by the Elios 2 while flying in the ATS was much higher than what the WSSC team was used to being able to capture via CCTV or robotic system. Not only was the media "crystal clear" according to a WSSC employee, the drone also enabled inspection personnel to control the speed and angle of the camera, providing them with exactly what they needed for inspection purposes.
Safety. In the past, inspectors have sent people into the ATS in scuba gear outfitted with PPE (due to the presence of raw sewage), but using a drone meant that this kind of dangerous confined space entry could be completely avoided.
Access. Because of its small size, the Elios 2 was able to access the ATS through a manhole and through other small entry points, which would not have been possible with a larger robotics solution.
Cost effectiveness and efficiency: With ease of mobilization and deployment, the use of this technology can represent a significant cost savings over alternative approaches, with a reduction of daily inspection cost rates of up to 80%.
Data Localization with Inspector 3.0
Using a just-released feature from Flyability's new Inspector 3.0 software, AECOM inspectors were able to create a point cloud that showed them exactly where defects were located in the ATS pipe from visual data collected by the Elios 2.
Data localization provides a crucial benefit for sewer inspections.
Data collection is only half the job of the inspection—inspection data also needs to be evaluated and analyzed to to be able to tell their clients where defects are located in a way that can be shared with others, so that the defect can be evaluated and maintenance can be performed quickly and efficiently.
Airspace Considerations
In addition to the challenges posed by the ATS itself, the location of the WSSC test mission made it difficult to fly a drone.
The ATS is located in close proximity to Washington D.C., fully within the FAA's Flight Restricted Zone (FRZ), which is a 15-mile ring around the District.
Despite the fact that the majority of flight operations for the test were conducted underground, the drone was still launched in open air and therefore required a waiver from the FAA to fly in the area, which was obtained by AECOM. This process included background checks for all personnel (pilots and visual observers) associated with the drone operations. Notifications had to be made to the FAA prior to the start of flight operations as well as check-ins every two hours during the missions.
An additional requirement from the FAA is that any drone operations that occur closer than 7 miles to Reagan National Airport (DCA) must include the presence of a police officer to be onsite during the duration of the flight operations. WSSC Police provided an officer who monitored all activities throughout the missions.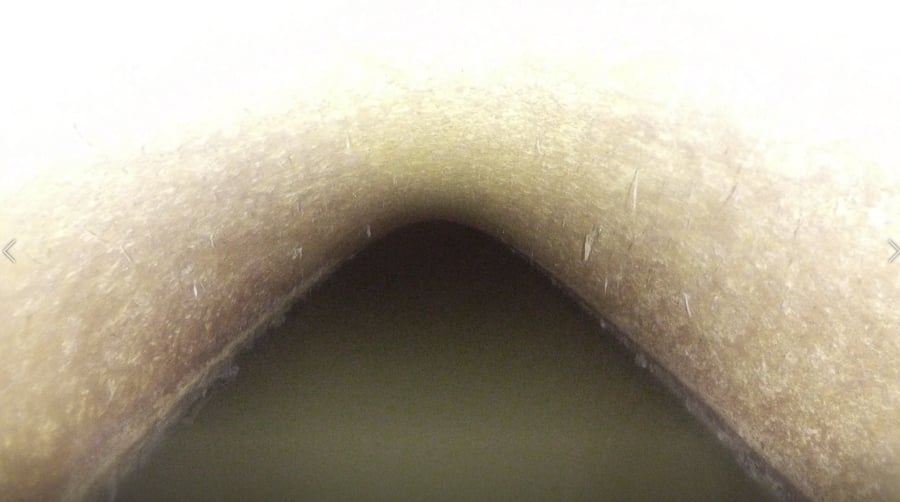 Conclusion
Overall, both AECOM and WSSC were very impressed with the results obtained during the tests performed at the ATS.
The goal of the mission had been to demonstrate the efficacy of using the Elios 2 for a sewer inspection, and the results far exceeded expectations. The drone demonstrated that there is a reliable, cost effective and efficient way to perform an unmanned inspection in sewage lines—even one as big and challenging as the ATS, with high flow velocity and accessibility issues.
According to team members from both organizations, the Elios 2 presents a promising solution for collecting visual data inside wastewater systems, and they are working to find ways to implement its use more regularly in their sewer inspection workflows.