September 21st, 2023— Flyability, the market leader in confined-space drones, announces a User Conference to be held in Lausanne, Switzerland from March 6-8 2024.
The event will bring together industrial asset managers, inspection professionals and surveyors from around the world to share ideas, network, and meet Flyability in-person. It is the successor to the User Conference hosted in the USA in 2023.
Flyability's 2024 User Conference will be hosted at the Hotel Alpha-Palmiers, in central Lausanne. The Conference will include keynote speakers from a range of industries, including industry leaders from Bureau Veritas, Cargill, and Holcim. The conference agenda will incorporate presentations on real-world applications of confined space drone inspections in different industries, the development of the Elios 3 and Flyability's roadmap, as well as networking opportunities.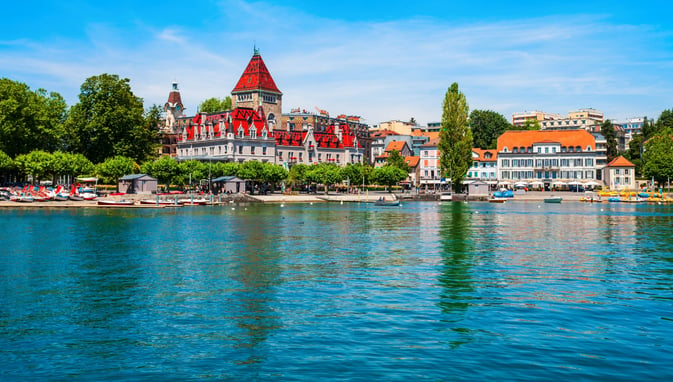 Lausanne is connected by train to Geneva Airport, and overlooks Lac Léman and the Alps
The keynote presentations will cover a range of industries comprising of power generation, nuclear, mining, oil and gas amongst others, and focus on how Elios drones are empowering safer, more efficient workflows. Flyability will also share the latest news and updates to their products and host specialized in-person training sessions. With this event, Flyability aims to foster a sense of community between indoor drone professionals from around the world while sharing the range of capabilities of the Elios drone.
"We look forward to welcoming our customers and partners in person for our 2024 User Conference. The previous editions proved very valuable to exchange best practices and identify new applications across the numerous industries where indoor drones are being used; and we can't wait to introduce some game-changing new innovations in March!" - Patrick Thévoz, CEO and co-founder of Flyability.
The Flyability User Conference will take place in Lausanne, Switzerland on March 6-8 2024. Registration is currently open, with early-bird pricing available. The event is designed to inspire attendees with the capabilities of the Elios drones and connect users with the creators of the drone.
---
About Flyability
Flyability is a Swiss drone manufacturer with one goal in mind: no more humans doing dangerous jobs. Their drones are built to operate indoors, in complex and confined spaces. Their latest drone, the Elios 3, was launched in 2023 and an additional radiation detection (RAD) payload was released later in the year. Flyability's headquarters are in Paudex, Lausanne, alongside offices in China, Singapore, and the USA.
More information on www.flyability.com
Contact: media@flyability.com, +41 21 311 55 00