A damaged or incorrectly screwed propeller may seriously damage the aircraft
If any damage is noticed on one of the propellers, it shall be changed. To do so, unscrew the nut and replace the propeller. Be careful, the robot has two kinds of propellers. Propeller 5040R shall be placed on the front left and bottom right motors, propeller 5040 on the front right and bottom left motors. The propellers' labels must be facing up when Elios is in an upright orientation. Screw on and tighten a new motor nut.
Elios is shipped with a Dynamometric screwdriver which is pre-set to the correct torque of 1.4Nm. Using this tool eliminates the risk of overtightening the motor nuts and damaging the threaded motor shafts.
Only use propellers recommended by Flyability.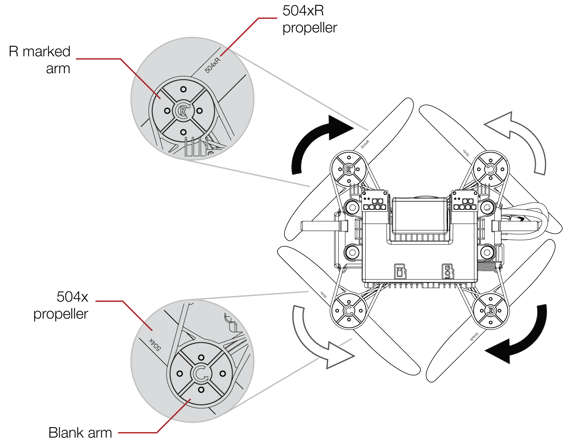 Note: If correctly tightened the propeller should not have any play on the motor shaft, nor should it be possible to rotate the propeller in relation to the motor shaft. An insufficiently tightened nut can cause a crash and might result in serious damage to the robot and injure people or infrastructure.
Do not use pliers or other tools to hold the rotor. It might bend the motor shaft. Gloves should be used instead.
Never use the same motor nut more than once, as the nylon locking ring will no longer be effective when re-used.