Benefits in a nutshell
High Quality Data

Elios gathered high quality visual data of hard-to-reach places, allowing the identification of specific burners and openings that needed closer inspection and possibly maintenance.

ROI

$20K USD saved by not having to build a scaffold.

Access

Elios allowed inspectors to closely view burners, tubes, and openings that are usually difficult to access using manual methods.

Overview
Valmet is one of the top providers in the world of industrial technologies and services for the pulp, paper, and energy industries.
In their work, they deliver big, complex equipment, like boilers, tanks, and digestors. They also provide ongoing maintenance and services for this equipment, and an essential part of the maintenance work they do is to inspect these assets at regular intervals to identify potential problems before they affect the performance or reliability of the plant.
Inspections can often be costly and last several days, since there is a need to build scaffolding that will allow the inspector to see every part of the boiler or tank being inspected. During inspection and maintenance periods these assets have to be shut down, and this can mean a daily cost of as much as a million dollars for a single boiler.
Customer needs
Since inspections are a key part of their yearly maintenance work, Valmet is always looking for ways to make the inspection process more efficient.
In their search to find new ways to conduct boiler and tank inspections, Valmet decided to test the Elios to see how its unique collapsible cage, which allows it to collide with objects and continue flying, might be used to improve inspections in boilers and other tight, hard-to-reach places.
Valmet inspectors in Mörrum, Sweden needed to conduct a scheduled inspection of a recovery boiler, and decided to use the Elios for the inspection.
The boiler is a giant cuboid that stands sixty meters high. The walls are built up by pipes, filled with circulating water, resulting in a cooled construction. Black liquor is fed into the furnace through nozzles and burnt at high temperature.
Shutting the boiler down for an inspection costs one million dollars a day, so every single minute that can be saved for the outage is crucial. To conduct the outage as quickly as possible, staff work in back-to-back shifts, usually starting at night and handing off the work to a new team in the morning, until the outage work is complete.
Building a scaffold that allows inspectors access to every part of the boiler is challenging, since there are so many small elements on the top and bottom, and so many tight spaces to navigate. Given all of these complexities, building the scaffold can take two to three days, time in which the boiler has to be shut down. The scaffold is also expensive—it costs $20,000 to build it for each individual inspection.
solution
The Elios was used to inspect the boiler, which allowed inspectors to show up and conduct an inspection immediately without having to build a scaffold.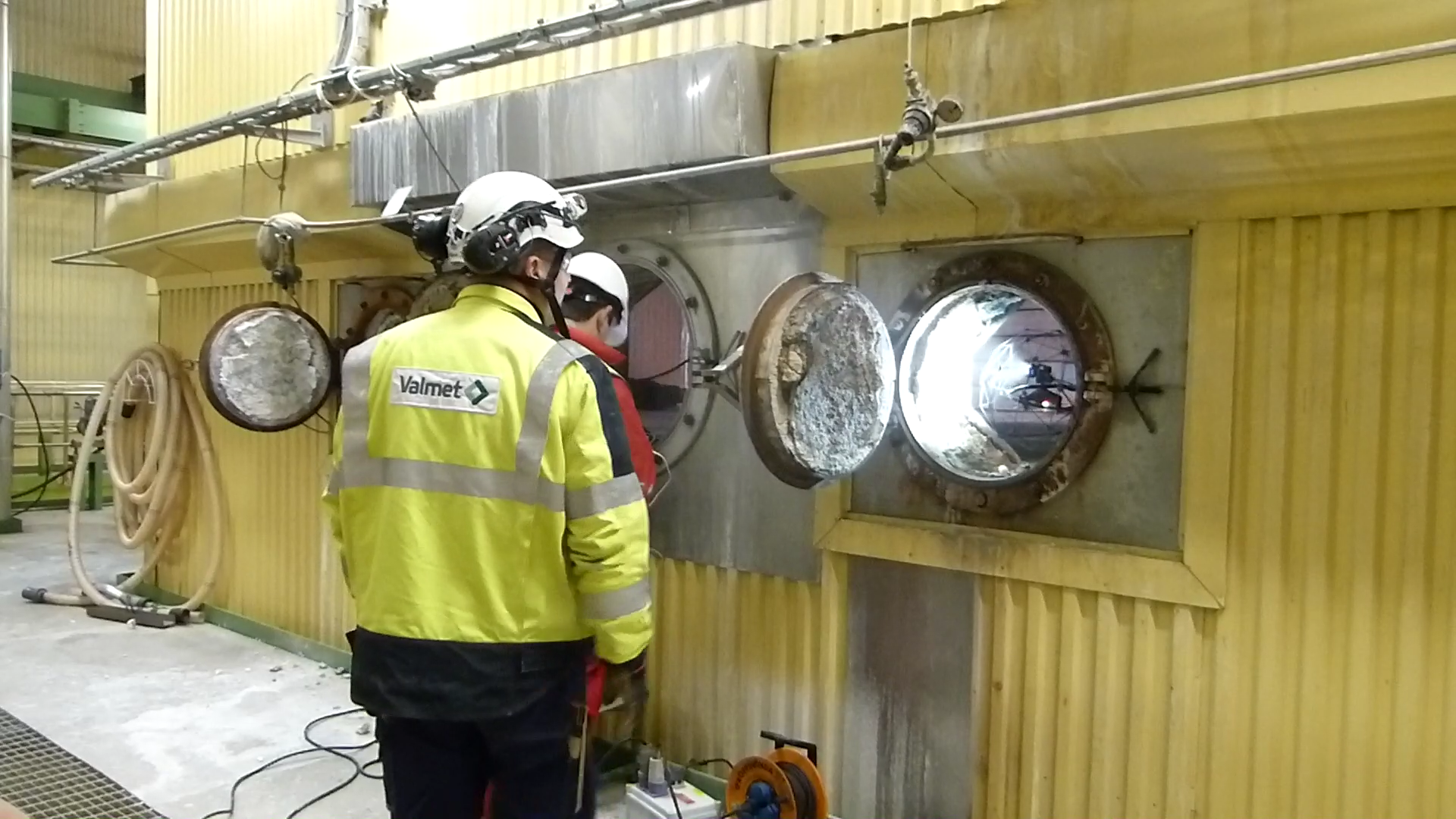 Using the Elios, inspectors were able to fly into tight areas around the top and bottom of the boiler and get insights into their condition without having to stand on a scaffold or crawl through narrow spaces with a flashlight.
results
The boiler inspection was a success, and inspectors reported being impressed by the quality of the images captured by the Elios.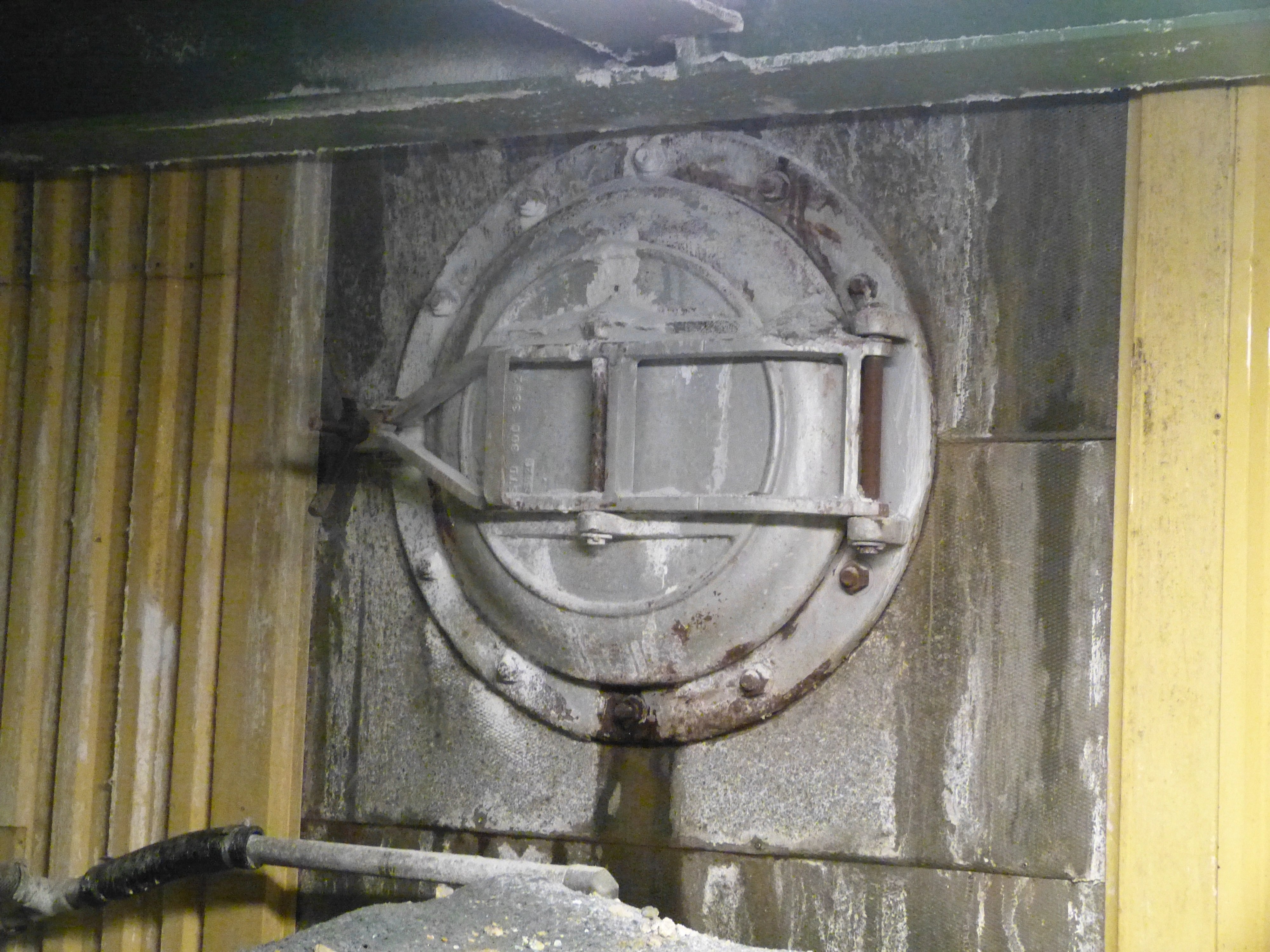 Inspectors worked with the Flyability team during the night shift to create and follow an inspection plan that would collect visual data of the entire boiler.
The Elios was flown for two hours within the boiler, collecting video footage of every single burner and pipe, as well as the entire surface area of the asset. The visual data was then put through post-processing to extract valuable insights, which were included in the inspection report.
This report was given to those working the morning shift, allowing them to identify the specific burners and openings that needed to be inspected more closely. The report also helped identify areas that needed immediate repairs so that Valmet personnel could start doing that work immediately, helping to improve the efficiency and speed with which the entire maintenance process took place.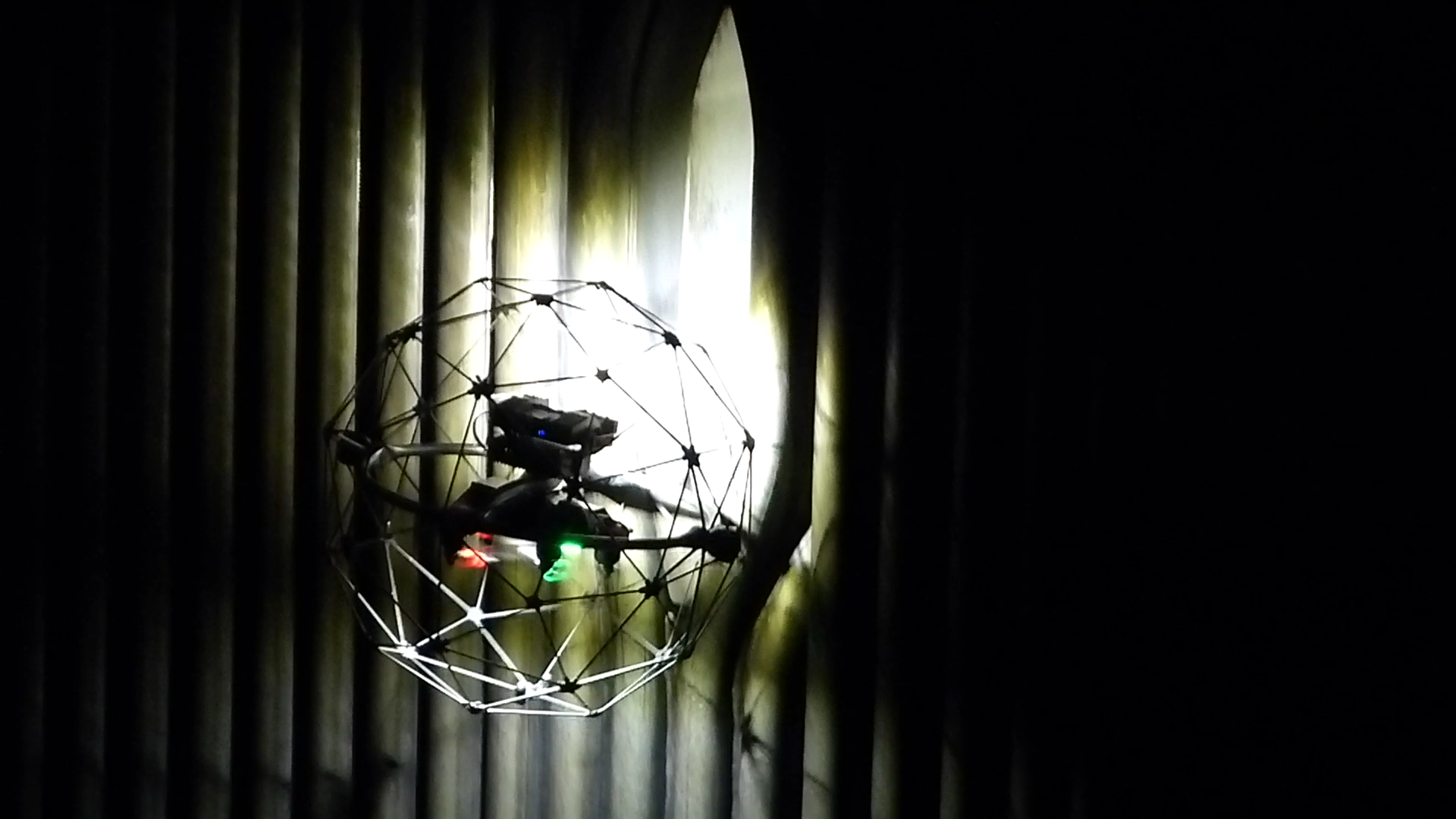 conclusions
Valmet personnel are already imagining other inspection scenarios in which the Elios could be used. Here are a few of the types of assets they have mentioned as places where the Elios could support a manual inspection:
Recovery boilers can collect large amounts of deposits in the top of their furnaces, which can make them very dangerous to enter. The Elios could be used to do an initial review of conditions inside a recovery boiler to make a safety assessment before entering.
Power boilers of type circulating fluidized bed use a cyclone to recirculate bed material, which can make them challenging to inspect because it is difficult to access. Flying the Elios within these boilers could help avoid the need for a manual inspection in these areas.
Ash hoppers can be very dangerous places for manual inspections. Using the Elios, there might no longer be a need for a person to climb into a hopper to perform an inspection.