Drones are formidable tools to perform indoor Remote Visual Inspection (RVI). When safely and efficiently deployed, drones allow for reduction in inspection cost, increase in safety, and reduction in downtime. Deploying sUAS inside of assets has a few differences to doing so outdoors. We have developed a rigorous methodology over the years which we summarized on the following infographic.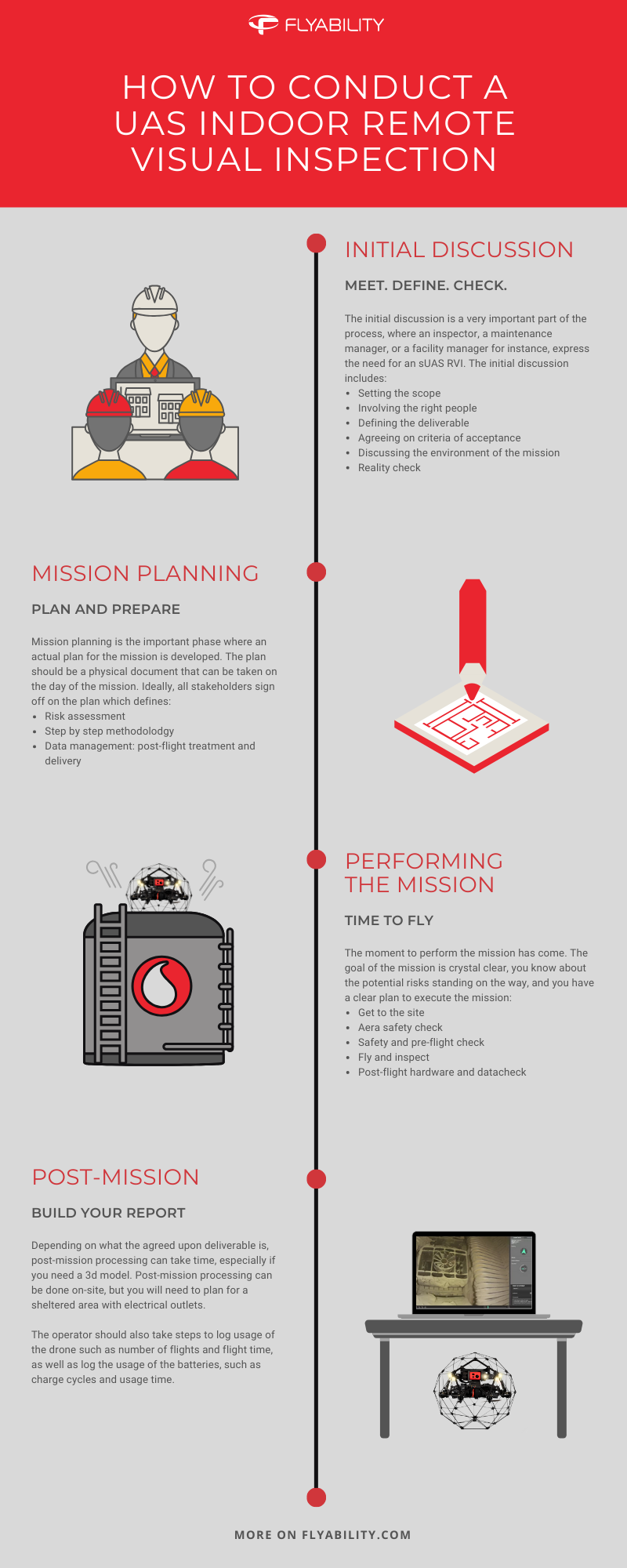 Share this Image On Your Site
1. Initial discussion
The initial discussion is a very important part of the process, where an inspector, a maintenance manager, or a facility manager for instance, express the need for an drones Remote Visual Inspection (RVI). The reasons can vary from needing to get a quick visual on a meter in a high dose-area, to needing to inspect every burner in a boiler, to an emergency response to a fire or a collapsed scaffolding. Regardless of the urgency of the need, the initial discussion should take place to clearly define the mission to be accomplished. Ideally, all the involved parties are present to this discussion and notes are taken for future reference. Whether the operator of the sUAS is an inspector, a corporate pilot, or a third-party service provider, it is good practice to at least have a conference call with all stakeholders.
2. Mission Planning
Mission planning is the important phase where an actual plan for the mission is developed. The plan should be a physical document that can be taken on the day of the mission. Ideally, all stakeholders sign off on the plan.
3. Performing the Mission
The moment to perform the mission has come. The goal of the mission is crystal clear, you know about the potential risks standing on the way, and you have a clear plan to execute the mission. Before you take-off and get started with collecting data, there is a series of step that, when followed properly, will avoid any flight incident and put all chances on your side to avoid an unexpected abortion of the mission.
4. Post-Mission
Depending on what the agreed upon deliverable is, post-mission processing can take time, especially if you need a 3d model. Post-mission processing can be done on-site, but you will need to plan for a sheltered area with electrical outlets. Make sure your IT equipment is able to handle the processing: 3d models can take over a day to create on a computer with low processing power.