Elios 2 drone is able to fly in confined spaces to perform visual inspections of various assets while reducing downtime and increasing inspectors' efficiency. Check this infographic which features numerous applications in the mining industry, available in a PDF download.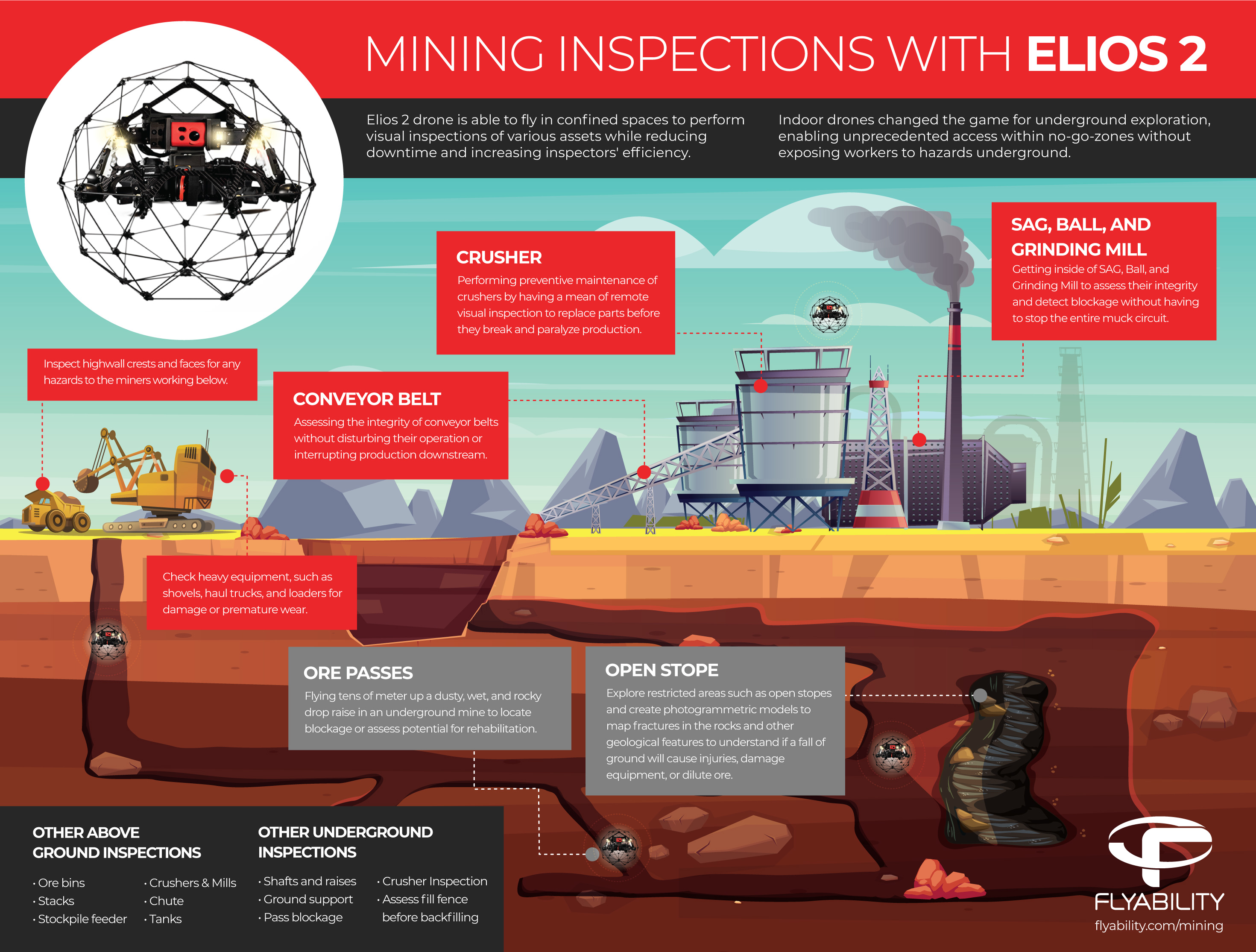 Featured applications:
ABOVE GROUND INSPECTIONS
Crusher
Performing preventive maintenance of crushers by having a mean of remote visual inspection to replace parts before they break and paralyze production.
SAG, BALL, AND GRINDING MILL
Getting inside of SAG, Ball, and Grinding Mill to assess their integrity and detect blockage without having to stop the entire muck circuit.
CONVEYOR BELT
Assessing the integrity of conveyor belts without disturbing their operation or interrupting production downstream.
EQUIPMENTS
Inspect highwall crests and faces for any hazards to the miners working below. Check heavy equipment, such as shovels, haul trucks, and loaders for damage or premature wear.
OTHERS
Ore bins
Stacks
Stockpile feeder
Crushers & Mills
Chute
Tanks
Underground inspections
ORE PASSES
Flying tens of meter up a dusty, wet, and rocky drop raise in an ore pass located in an underground mine to locate blockage or assess the potential for rehabilitation.
OPEN STOPES
Explore restricted areas such as open stopes and create photogrammetric models to map fractures in the rocks and other
geological features to understand if a fall of ground will cause injuries, damage equipment, or dilute ore.
OTHERS
Shafts and raises
Ground support
Pass blockage
Crusher Inspection
Assess fill fence
Before backfilling
Learn more about all the tools used in the mining industry in our in-depth guide.