Inspections are a crucial part of maintenance in the Power Generation industry.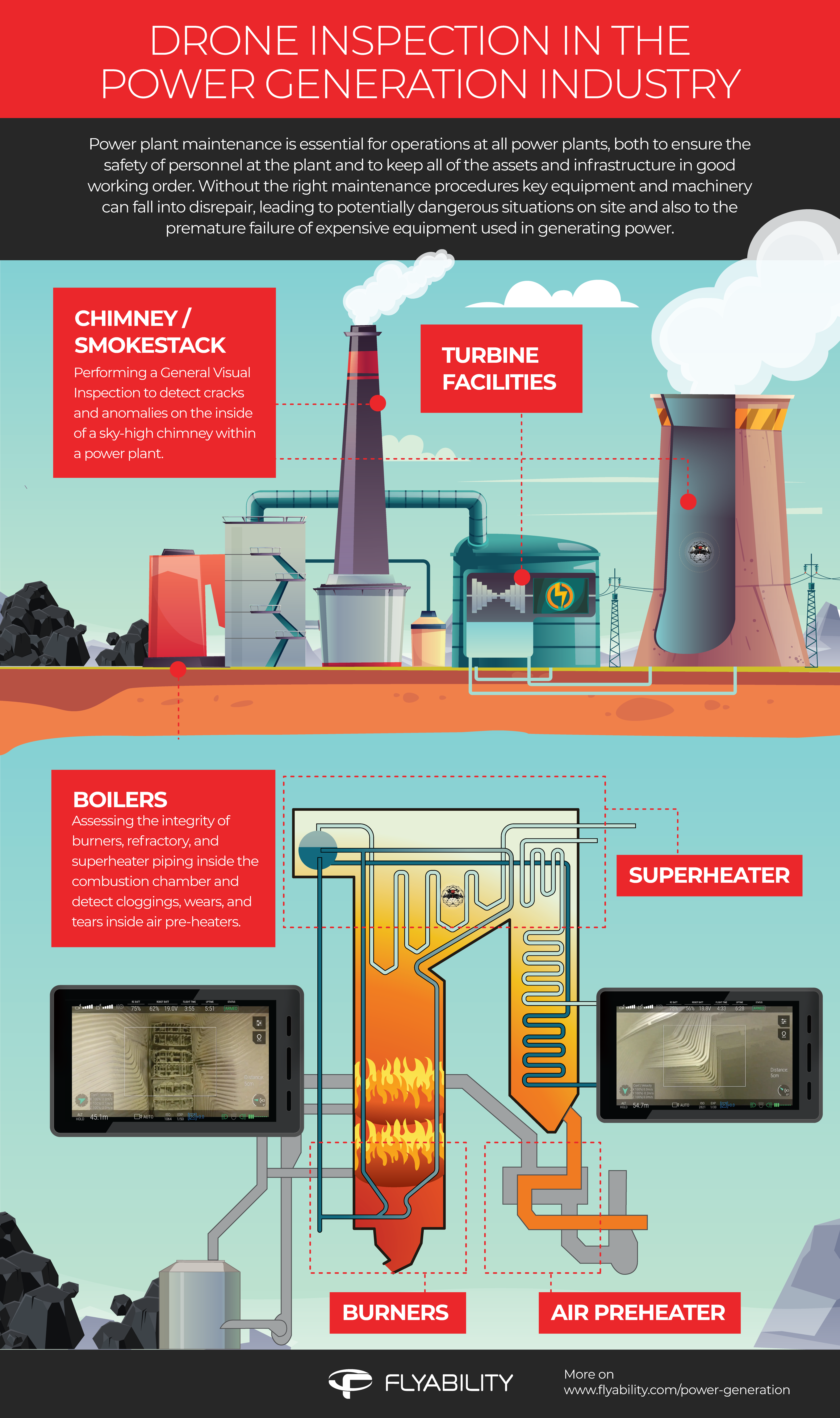 Share this Image On Your Site
Regular inspections at power plants help identify potential problems in plant infrastructure before they can develop further. If such issues are not discovered and addressed they can pose significant safety risks to those working at the plant, and can also lead to the premature degradation of expensive plant equipment and assets.
Many of the inspections performed in Power Generation are visual, with the inspector visually reviewing key assets to look for any signs of wear, damage, or corrosion.
As drone technology has developed, inspectors have started using drones to collect visual data inside assets. Drones like the Elios 2 can take the place of an inspector for the purposes of visual data collection, entering confined spaces inside a boiler or superheater and allowing inspectors to stay safely outside.
The quality of the visual data that drones can gather is quite high. In fact, the Elios 2 has been approved by formal inspection bodies as a formal inspection tool, making it a reliable, inexpensive way for inspectors to collect visual data.
Benefits of Using a Drone for Power Generation Inspections
Drones provide several key benefits to inspectors and plant managers in the Power Generation industry, including:
Improved safety. Sending a drone into a confined space instead of a person means a reduction in the exposure to risk for plant personnel.
ROI. Drones can help companies dramatically reduce inspection costs by removing the need for building costly scaffolding and reducing turnaround times, often by several days. Exelon Clearsight has helped clients save millions in downtime costs using drones for power plant inspections.
Increased frequency of inspections. With cost reductions come the possibility for an increased frequency of inspections, which can help extend the life of expensive plant assets. Increasing the frequency of inspections can also be good for the environment—a study from Boiler Room Consulting found that using drones to increase the frequency of inspections significantly reduced a boiler's emission of greenhouse gases.
Assets in Power Generation that Drones Are Helping Inspect
The Elios 2 is a drone that sits in a fixed cage, allowing it to collide and continue flying. This unique design makes it a perfect tool for collecting visual data inside confined spaces, where collisions are likely due to the complexity of the environment.
Here are the key assets in the Power Generation industry where the Elios 2 is helping with indoor inspections:
Chimneys and Smokestacks
Turbine Facilities
Superheaters
Burners
Air Preheaters
Watch these videos to see the Elios 2 inspecting some of the assets listed above:
Chimney and BOILER inspection
Boiler Inspection
Gas Turbine Inspection
Learn more about how Flyability's drones support inspections in Power Generation.