The first time I saw the Elios 3 fly was in the deepest mine in the world.
This was at the Kidd Mine in Timmins, Canada. We were there to test a prototype of the Elios 3 in a mining environment with UAS Inc., one of the most accomplished companies for conducting mining surveys with drones in the world.
It's one thing to hear a list of features—the drone can create 3D maps in real time, and it's so stable that a video looks like a photograph because the drone isn't moving at all in the air—and quite another to see a new piece of technology in the field. So I was there to see how the Elios 3 operated, and how these new features might change what was possible for work in mining operations.
That morning, we rode the cage (i.e., mining elevator) down to 4,600 feet, then got off and found a gallery where we could conduct test flights. My colleague Johan Mlouka armed the Elios 3 and began flying.
Right away, the live 3D map on his tablet showed him the environment surrounding the drone, producing enough situational awareness that he was able to fly largely by referencing the 3D model, without looking at the drone at all.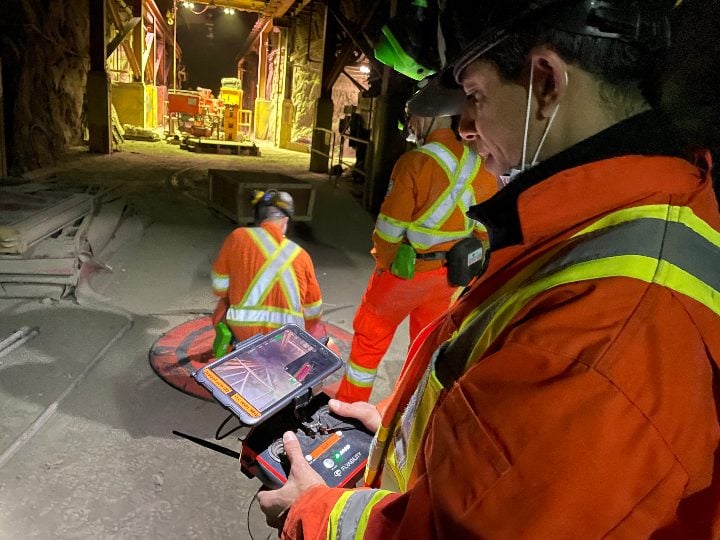 This is one aspect of flying any Flyability drone that people may not know—almost all missions done with our drones are BVLOS. By definition, Flyability's indoor drones are designed to fly in confined spaces, which means going into areas that, for safety or accessibility reasons, you can't and don't want to enter.
With the Elios 2, the pilot navigates these environments using the drone's live video feed. Now, with the Elios 3's live 3D mapping, it can also be done by looking at a 3D model that's being created in real time, while the drone is in flight.
That day at the Kidd Mine, the Elios 3's live 3D models showed us the conditions inside a stope (a huge chamber left after an excavation), which directly informed geological considerations about the stability of the mine, informing safety determinations about that part of the mine. We also got to fly through some extremely dusty areas, putting the Elios 3 through its paces when it came to the kinds of environments where it could fly.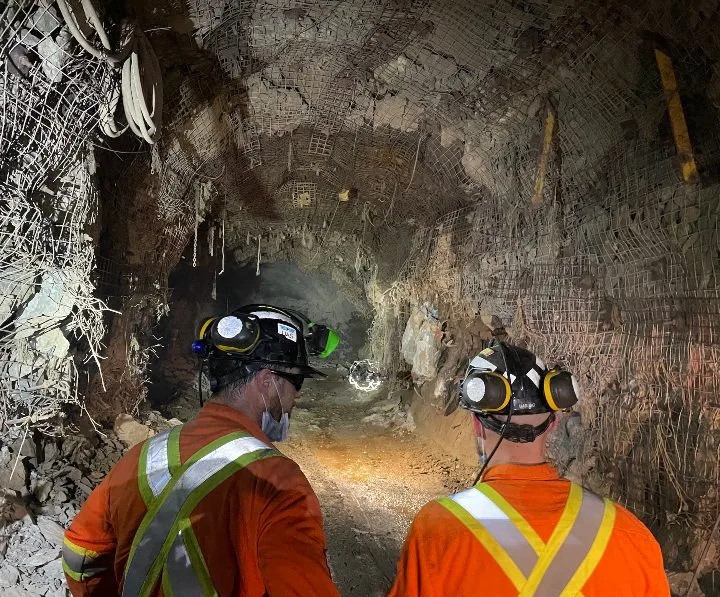 What struck me as we flew the Elios 3 that day wasn't a list of features, but that it was a reliable tool you could count on to get the data you needed—a tool that has graduated from novelty into maturity.
Just like technology we've come to rely on so instinctively that we hardly think about it—consider how our smartphones are also our flashlights, the place we keep our To Do lists, and the storing house for all our family photos—the Elios 3 worked so well, with such little effort, that you could almost forget you were operating a drone and focus instead only on the work you were there to do.
Three Major Insights
The Elios 3 is the single largest project we've ever undertaken at Flyability.
We began working on the Elios 3 four years ago, when we partnered with top universities around the world to research autonomy for robotics.
This work led to our involvement in Team Cerberus, which competed in—and won—DARPA's massive, multi-year Sub-T challenge for autonomous robotics in subterranean environments. In addition to this collaboration, we spent thousands of hours on our own in R&D to make the Elios 3, time that was spent developing both hardware and software.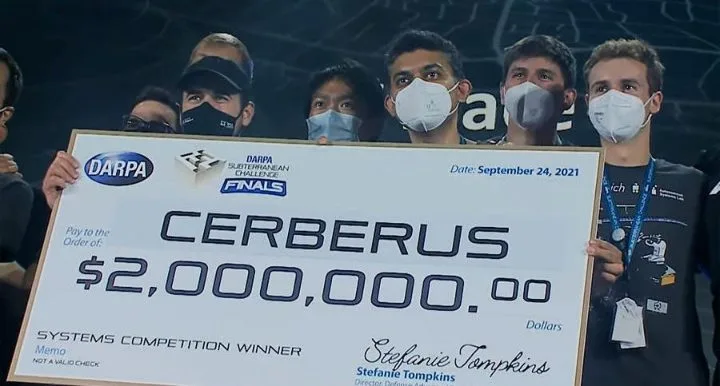 But despite all this research, the Elios 3 was not made in a lab—it was made in the field. In total, to make the Elios 3 we conducted over 200 missions just like the one I joined at the Kidd Mine, rigorously testing it in the harsh industrial environments where our clients use our technology every single day.
From all this field work we gained three major insights about what our clients want, all of which are central to the Elios 3's design.
Here they are.
1. Reliability Is Key
When it comes to the technology inspectors use in their work, reliability is one of the most important factors.
To address the need for reliable inspection equipment, we focused on the reliability not only of the hardware used in the Elios 3 but also the onboard intelligence, allowing the drone operator to be at peace knowing the drone will work as expected every single time they need it.
2. Ease of Use Drives Adoption
With the Elios 2, we proved that we can save companies millions while also significantly improving safety for their internal inspections—now it's time to scale.
To do this, companies need to be able to put a drone into the hands of several people in their operations and know they can learn how to use it quickly. And this is why we made the Elios 3 so easy to fly that most people can be up and running the first time they ever pick up a controller.
3. Meeting the Needs of Each Industry
Flyabilty's indoor drones are used in several industries—oil and gas, power generation, mining, and sewer, just to name a few.
Each of these industries has its own unique needs for internal inspections. Inspectors in these industries don't care about a specific drone platform or the raw data it can collect. What they want is to maintain the health of their plants and assets, and to do this they need a tool that can help them identify defects and monitor them over time.
To help industries meet their specific inspections needs, we focused on making the Elios 3 as flexible as possible, designing it from the ground up to be a modular platform. Modular in terms of hardware to accommodate new sensors and accessories, and modular in terms of software to integrate with our clients' tech stack.
If you think of the Elios 2 as a classic flip phone, only designed to make phone calls, the Elios 3 is a smartphone. On top of making phone calls, it is ready to run the apps that are specific to each individual user's needs.
This means that the launch of the Elios 3 is just the beginning. We're already working on further customizations for the Elios 3, both on the hardware and the software side, so that it will be the tool each one of our clients needs for their specific work.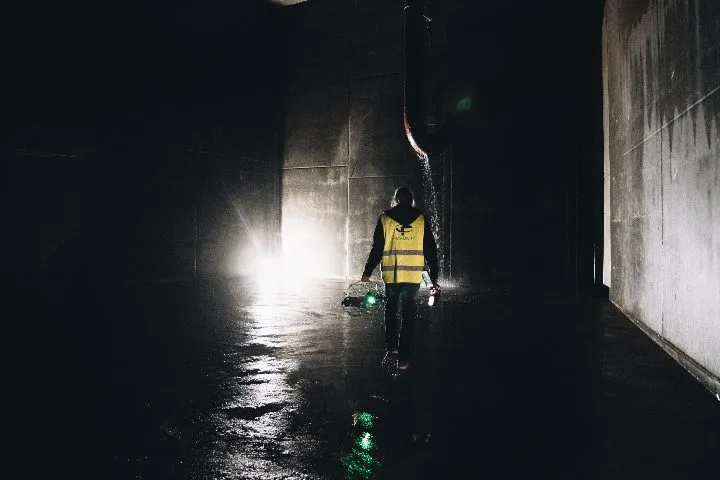 Deep Dive into the Elios 3's Features
We started this article talking about the benefits the Elios 3 provides to inspectors working in confined spaces—it's a reliable, incredibly stable, easy-to-use platform that gives you greater situational awareness than ever before thanks to its live 3D models.
But there are several key features that make all these benefits possible. Let's take a close look at each one.
FlyAware
The first things you'll notice when looking at the Elios 3 are its brand new propulsion system, the LiDAR sensor, and a dedicated, close-up inspection payload.
But what you don't see is the powerful graphic engine we've built into the body of the drone to run our home-made SLAM engine, which we've named FlyAware™.
FlyAware™ is actually the masterpiece of the Elios 3. It is THE element that turns the Elios 3 into a unique solution for the inspection and mapping of indoor spaces.FlyAware™ enables the Elios 3's world class stability in flight, its live 3D mapping, its 3D reporting capabilities, and the possibility of making it fully autonomous in the future.
Here's howFlyAware™ impacts each one of these features:
Stability
FlyAware™ takes information from the Elios 3's three optical cameras and its LiDAR sensor, processes it, and merges it to catch the tiniest unpredictable movement of the drone and instruct the flight controller to compensate for it.
As a result, the Elios 3 can float still as a stone in the air, even when flying in challenging conditions like dusty, reflective, or windy areas located indoors and in complete darkness.
3D Live Mapping
FlyAware™ enables the Elios 3's 3D Live Map capability, which is available to the pilot in the Cockpit app.
Some of the places our clients inspect are incredibly complex, and leading the drone back home can be difficult. The 3D Live Map feature lets users see where they are and where they've been within an asset, so that finding the way back and assessing inspection coverage is easier than ever.
Here's how it works:
While airborne, the LiDAR sensor on the Elios 3 acts as a centimeter-accurate indoor GPS, sensing the drone's surroundings.

FlyAware™

then uses this information to produce, in real time, a cumulative 3D Live Map of the asset under inspection, empowering pilots with exceptional locational awareness.
Check out this 3D fly through of a "no go" zone in a decommissioned nuclear plant created with LiDAR data collected by the Elios 3:
3D Reporting
FlyAware™ also enables 3D Reporting through Inspector 4.0.
Whenever you see a defect or something else of interest when flying the Elios 3, you can mark it as a Point of Interest. When you're done inspecting and you plug the Elios 3 into your computer, you can instantly visualize your flight in Inspector 4.0 and see every single POI you marked located in a high resolution 3D map of your asset.
This feature allows you to review your inspection data directly in the context in which it was captured. You can create reports by navigating from POI to POI through the 3D Map Viewer and documenting what you see directly in Points of Interests.
The benefits of looking at inspection data in a 3D model of the asset go further than reporting. When something needs to be repaired, your 3D Report can help align your teams for planning and preparing the work, letting them visualize how they'll need to stage the asset to access the point of interest.
Automation-Ready
But all these features—world class stability, 3D live mapping, and 3D reporting—are only the beginning of whatFlyAware™ can deliver.
FlyAware™ is a piece of software meant to evolve over time, and our team is already working on features for the future, with the goal of eventually providing autonomy for the Elios 3, allowing users to make fully autonomous indoor inspections.
Collision-Resilient Rugged Design
Until we get to full autonomy, there's one thing that the Elios 3 is particularly good at, and that's capturing data inside the most complex industrial settings.
The Elios 3, like its predecessor the Elios 2, features Flyability's unique, patent-pending, collision-resilient flight controller.
With its signature cage and unique reversing motors, the Elios 3 is the only inspection and mapping drone on the market that can recover from flipping upside-down without crashing. Also, it has a rugged IP-44 compliant design that makes it fit for use in harsh environments, without concerns for water splashes and dust.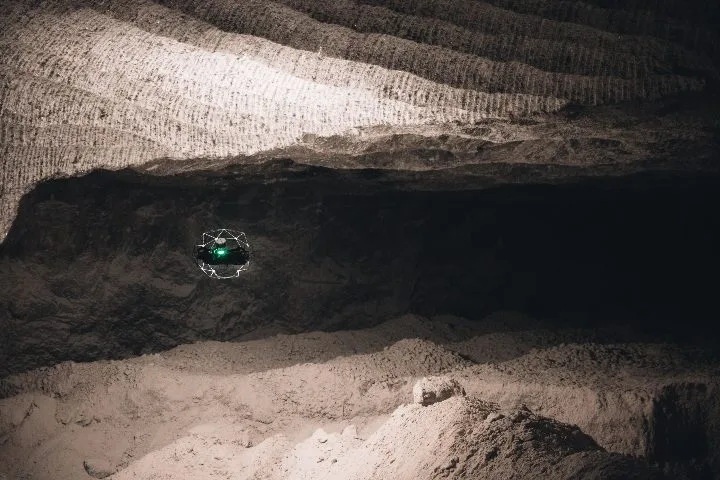 Close-Up Inspection-Dedicated Payload
The Elios 3 is primarily a close-up inspection tool that delivers clear, consistently smooth image quality, even in total darkness.
To make it the best remote inspection tool on the market, we've reworked the payload position and the cage design to offer a fully unobstructed 180° field of view so the cage will never be in your field of view again.
The dedicated close-up inspection payload features a 4K camera, a thermal camera, a distance sensor, and completely redesigned lighting systems.
The 4K camera offers a precision of 0.18 mm/px, allowing you to capture the tiniest details of your assets. This is supported by the lighting system, which can produce up to 16'000 Lumens of light. And, of course, the Elios 3 features Flyability's industry-leading oblique and dust-proof lighting configurations, which help make looking for pitting, cracks, or build-ups during internal inspections as natural as doing it manually with a flashlight.
Modular Payload
We've designed the Elios 3 to be a versatile solution that can accomodate the needs of a variety of different industries.
To do this, we've equipped the Elios 3 with a modular payload bay that can hold two different payloads in parallel.
For now, the Elios 3 only offers one payload option, which is the OS0-32 LiDAR sensor from Ouster. But our engineers are already working on future payload options to support work in different industries, and these will be released in the coming months.
3D Surveying Solution with GeoSLAM
Related to the LiDAR sensor, we've partnered with software company GeoSLAM so our users can create survey-grade 3D models from data they capture with the Elios 3. These models allow you to perform stockpile measurements and centimeter-accurate 2D and 3D measurements for use in various industries, such as mining and aggregates, or infrastructure and utilities.
The Elios 3 and GeoSLAM Connect work hand-in-and to map and survey the most inaccessible spaces, guiding your business decisions with precise and accurate data while keeping your personnel safely outside of dangerous confined spaces.
All of these features help make the Elios 3 a tool that will be useful to any inspection professional who needs to collect data inside confined spaces.
We're taking the Elios 3 on the road! Take a look at the demo days we have scheduled throughout the world to find a date near you.