Inspection Cameras in 2022 (New Guide)
An inspection camera is a tool that inspectors use to collect data for inspection purposes.
Other terms commonly used for these types of camera are industrial inspection camera and digital inspection camera.
In this guide we cover the top inspection cameras on the market, provide advice on choosing the right inspection camera for your needs, and cover detailed information on the different types of inspection cameras on the market.
Here are the top inspection cameras on the market for 2022:
*Click the links above to jump down to a section devoted to each camera.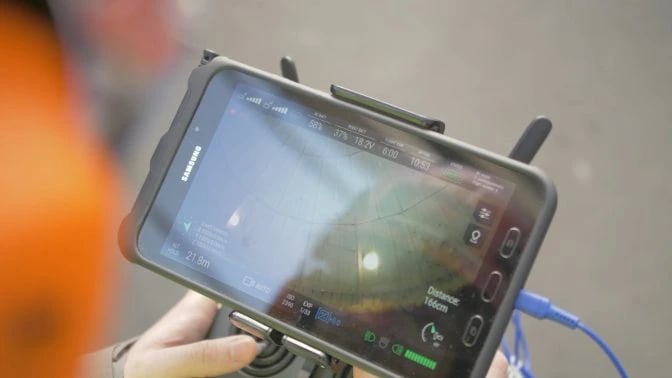 As you can see in the list provided above, inspection cameras can include digital inspection cameras, snake cameras, or remote visual inspection (RVI) tools, like drones.
A visual inspection camera is the most common type that inspectors use, but they also use thermal inspection cameras as well as other cameras made to capture less common types of data, such as a radiography camera.
All of these different types of cameras allow inspectors to get the data they need, enabling them to zoom in on potential defects, or collect data in hard to reach or inaccessible spaces.
Our goal in this article is give you all the information you'll need to navigate the decision-making process when considering industrial inspection cameras, so you can make sure to get the right one for your specific inspection needs.
Here is a table of contents to help you navigate this guide:
The Top Inspection Cameras of 2022
1. Sony's Cyber-Shot DSC-RXO II Digital Camera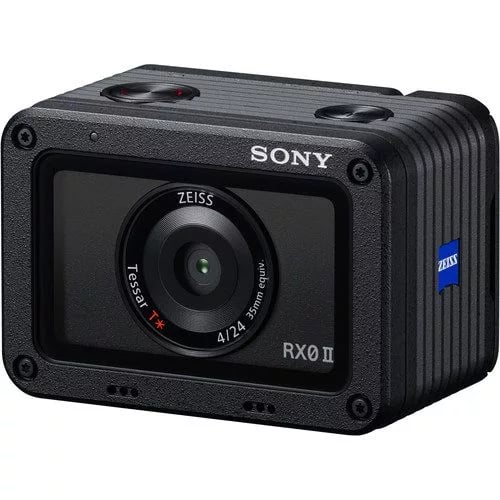 Price:

$$

Good for: Visual inspections, including home inspections.

Specs:

UHD 4K30 Video /

15.3MP stills with 1" Exmor RS Stacked CMOS Sensor
Features: Water, Dust, Shock, and Crushproof
Learn more about the Sony Cyber-Shot DSC-RXO II digital camera.
---
2. BlueFire's Wireless Borescope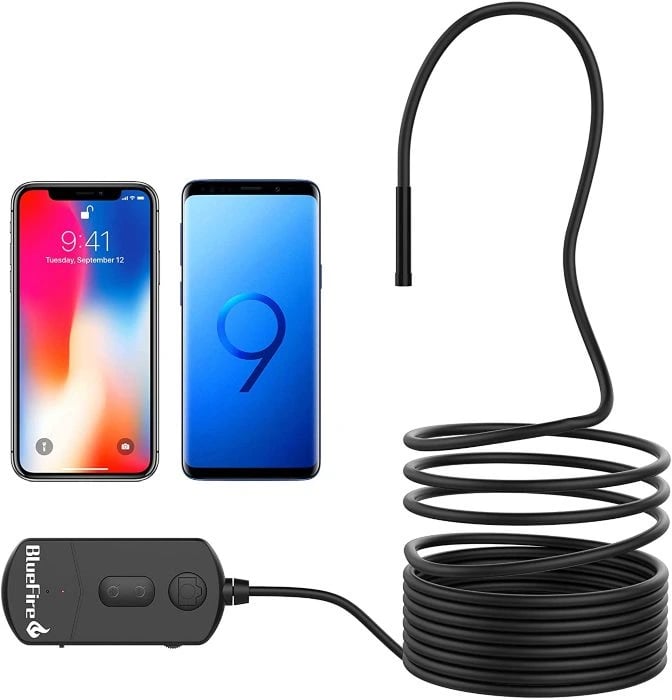 Price:

$

Good for: C

amera for hard to reach places, made for i

nspecting the interior of engines, turbines, and other hard-to-reach places.

Resolution:

1280 x 720 (switchable)

Probe

: 33 feet (10 meters)

Waterproof

: IP67
Learn more about BlueFire's wireless borescope.
---
3. Uniojo's Borescope Inspection Camera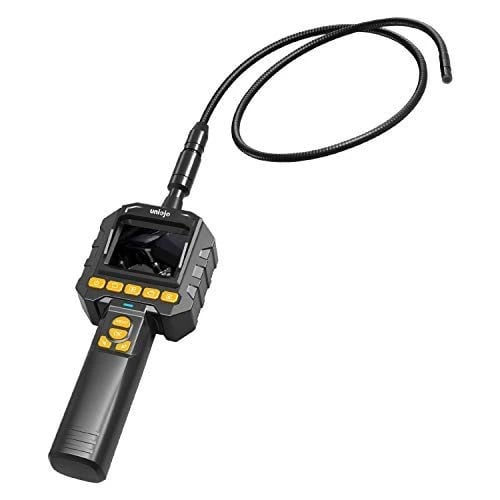 Price:

$$

Good for: General snake camera inspection needs (i.e.,

camera for hard to reach places).

Resolution:

1280 x 720 (switchable)

Probe

: 33 feet (10 meters)

Probe diameter

: .3-inches (8 mm)

Light

: 8 levels of brightness

Waterproof

: IP67

Accessories

:

Key hook and mirror accessories included
Learn more about the Uniojo handheld borescope.
---
4.
Anysun Pipeline Inspection Camera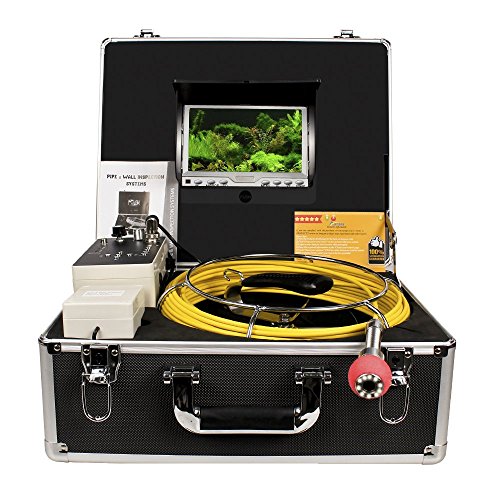 Details
Price:

$$$
Good for: Inspecting pipelines and sewer pipes (i.e.,

camera for hard to reach places).

Resolution:

NTSC/PAL

Probe

: 100 feet (30 meters)

Probe diameter

: 1 inch (25 mm—others available)

Light

: 12 LED

Waterproof

: IP67
Learn more about the Anysun pipeline inspection camera.
---
5. Bosch Universal Inspect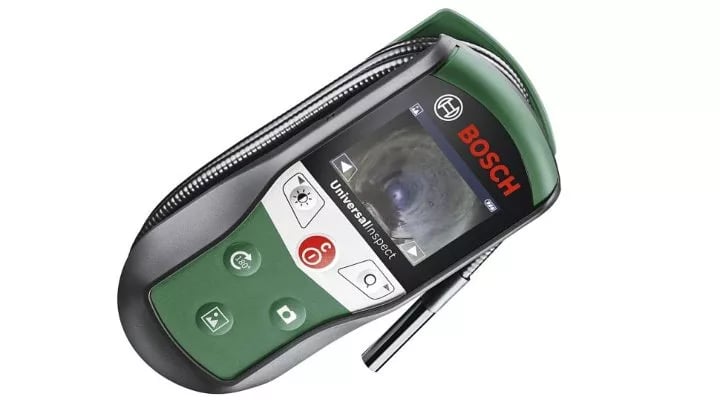 Price:

$

Good for: Camera to look in pipes, sewer lines, or other hard-to-reach places.
Resolution:

320 x 240

Probe

: 3 feet (

0.95m)

Probe diameter

: .3-inches (8 mm)
Learn more about the Bosch Universal Inspect.
---
6. FLIR One Gen 3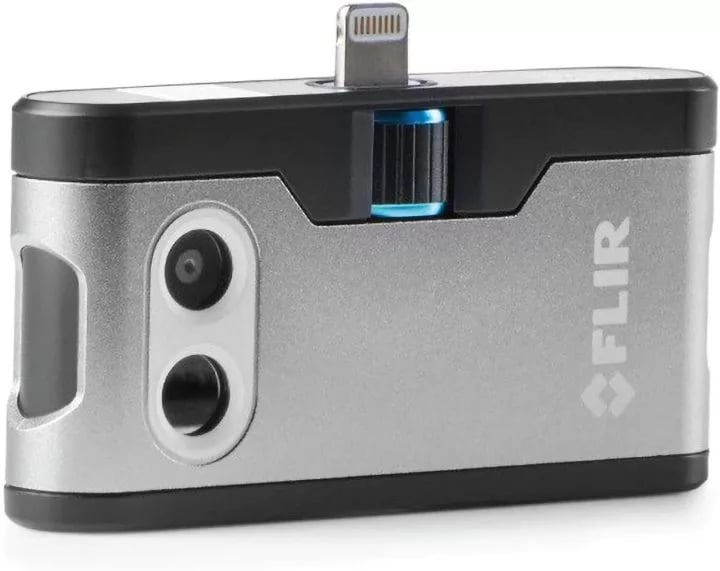 Price:

$$

Good for: Inspecting buildings or roofs to find energy leaks, other general thermal inspection needs.

Resolution:

80 x 60
Sensitivity range:

-4˚F to 248˚F (-20˚C to 120˚C)

Sensitivity:

150 mK
Learn more about the FLIR One Gen 3.
---
The 4 Main Types of Industrial Inspection Cameras
Cameras are most commonly used for visual inspections.
In visual inspections, inspectors use cameras to collect visual data showing the condition of an asset. This data can either be reviewed by the inspector in the moment or later on, once it has all been collected.
But there are several other types of data that inspectors collect, and there are several types of inspection cameras used to collect them.
Here are the four types of inspection cameras: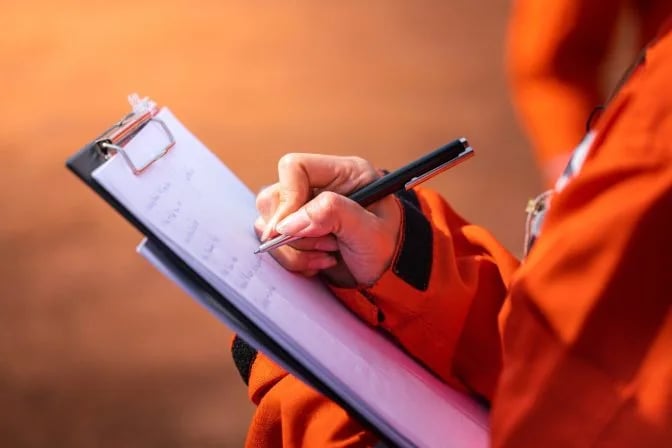 As you'll see when we look at the different types of digital inspection cameras in a moment, all of them are used primarily to collect visual data, with the primary distinctions among them being:
Access. Cameras made to allow inspectors to capture visual data in various types of places that are otherwise hard to access.
Quality. Cameras made to capture various types of quality of visual data.
Size. Cameras made to capture microscopic visual data, or made to help collect other types of size-related data.
Although the majority of inspections cameras are used to collect visual data, cameras can also come with other types of sensors (i.e., not just visual sensors).
1. Visual Inspection Cameras
Digital inspection cameras are one of the most common tools that inspectors use for collecting visual data, regardless of the industry being considered.
A good digital camera can be used for many types of inspections—even if it isn't specifically made for inspections.
Again, start with the data you need, then see if the camera you're considering can collect it.
Digital cameras vary greatly in terms of quality and cost, so it's important to know exactly how precise you need your images to be.
Other factors like the ability to work in low lighting conditions or the need for high quality color may also impact your decision-making when choosing a good digital camera as an inspection tool.
2. Snake Cameras
When people use the phrase "inspection camera," they're typically only thinking of some kind of snake camera.
A snake camera is a long robotic snake, or cable, with a tiny camera attached to the end.
Snake cameras could include sewer inspection cameras, pipe inspection cameras, and borescopes. (There are several types of borescope, but the main difference between them is the length of the cable and the quality of image the camera captures.)
But all these names basically describe the same kind of camera—one attached to a long snake that allows you to feed it into a tiny area.
That being said, you wouldn't use a sewer inspection camera to see inside of a car engine—you'd use a borescope or snake camera for that.
But you might use a snake camera or a pipe inspection camera to see inside a pipe.
Although the camera design is basically the same across all four of these camera types, a borescope isn't made for sewer applications, and a sewer inspection or pipe inspection camera is made just for wastewater inspections (either industrial—i.e., at the city level—or for home sewer pipe inspections).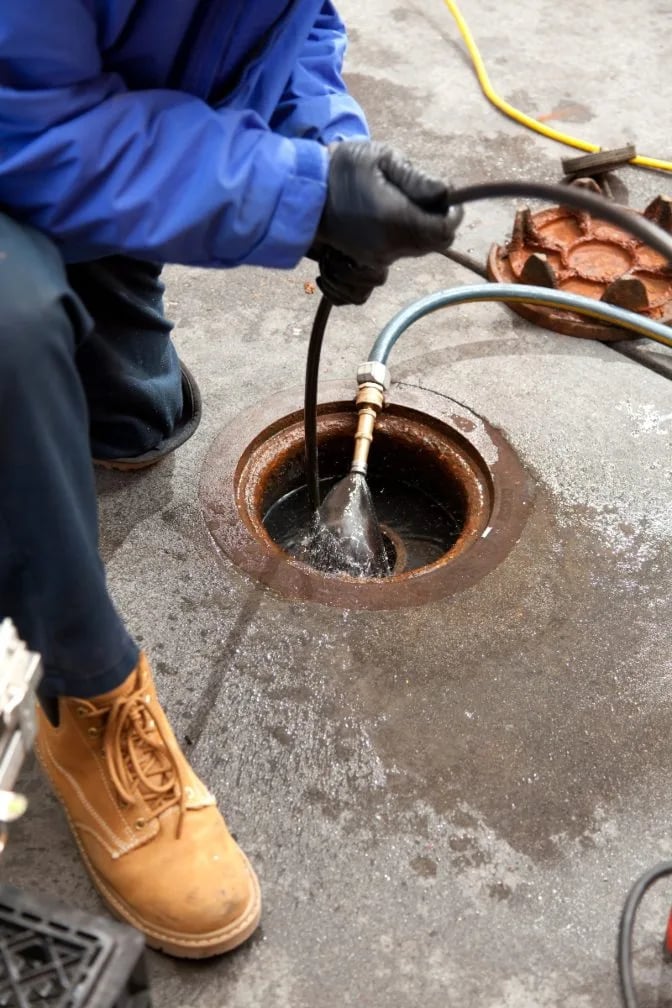 These tools are handheld units attached to a screen, with a length of anywhere from three feet or, with a long snake camera, up to 300 feet. Some are quite tough, while others are made for less rugged work.
Lately these types of cameras have started coming with WiFi connectivity, allowing inspectors to stream live video from the cameras through a tablet or smartphone. This feature is useful for home projects or less industrial scenarios, but for commercial work inspectors generally prefer to use the built-in screen that comes with the camera.
Is an Endoscope Just another Word for a Borescope?
No. An endoscope is like a borescope, except that it's used in medicine, when a physician needs to send a camera into the human body.
Although the word endoscope is sometimes used when referring to digital inspection cameras, this usage is incorrect.
That being said, we have seen some camera companies begin to refer to their digital inspection cameras as both endoscopes and borescopes, seemingly because they're embracing the general confusion between the two types of snake cameras.
3. Thermal Cameras
After visual data, one of the most common types of data an inspector might collect with a camera is thermal data.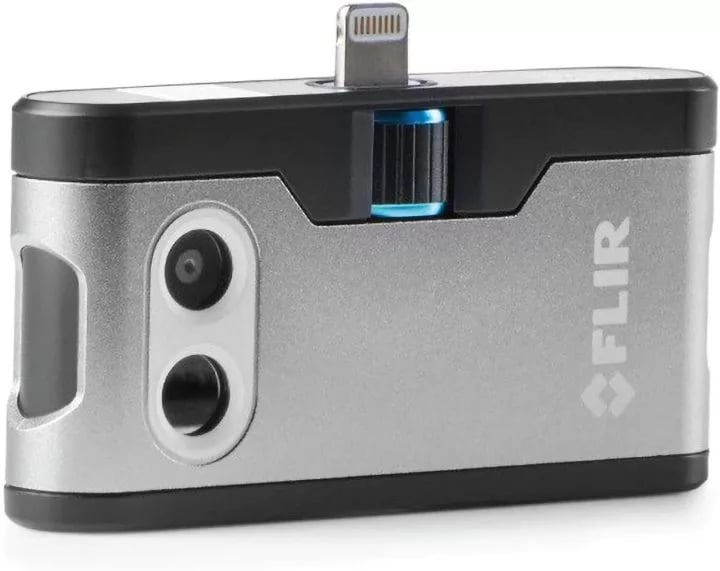 FLIR's Gen One 3 thermal camera
Thermal data can be used by inspectors to:
Determine where heat might be leaking from a building (home inspector)
Determine where heat might be leaking from a roof (roof inspector)
Determine whether a fire that has died down is still active (firefighter/arson inspector)
Determine where heat might be leaking from a closed industrial system, like a boiler (certified inspectors of various types)
Keep in mind that you might be able to find a thermal inspection camera, or even other types of cameras with the sensor(s) you need to collect the data your inspection requires.
4. Radiography Cameras
A radiography camera allows inspectors to capture radiography images. These types of inspection cameras are used for radiography, which is one of the more common types of NDT methods.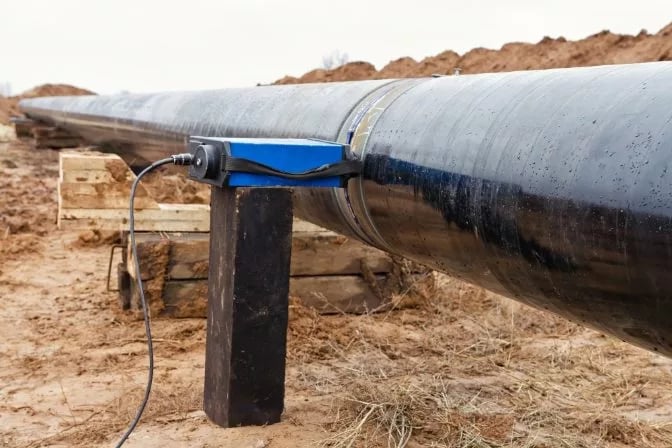 Radiography cameras typically rely on one of two types of radiation.
X-ray radiography devices (or cameras) use electricity, and only emit radiation while they turned on. These device produce very clear images and they are generally big, so they're often used for inspections in large factories or warehouses. Learn more about industrial radiography.
Gamma ray radiography devices (or cameras) use radioactive material that is active inside the device, which means they emit radiation all the time (unlike X-ray devices).
For the same reason, they do not rely on electricity to function, but instead use the radiation being emitted to produce images.Gamma ray devices are smaller in size than x-ray devices and can be used by inspectors to test smaller areas, like the insides of pipes. Because they constantly emit radiation, they must be covered in a protective shield that uses metal to block radiation.
7 Key Factors for Finding the Right Inspection Camera
Here are some important things to keep in mind in your search for the right inspection camera:
1. Image quality
The image quality you need should be determined by the type of data your inspection requires.
Keep in mind that the higher the image quality, the higher the price. This is definitely an area where you get what you pay for—while cheaper cameras generally provide low res images, more expensive ones can get you extremely high quality and resolution.
2. Lighting
If you know you'll be working indoors or in poorly-lit situations, think about whether the camera you're considering has the right lighting for the job, or what kinds of additional lighting you might need to make sure you get the pictures and/or video you require.
Most cameras have some form of LED lights with adjustable brightness, but make sure to review the number of lumens the camera provides to see just how bright those lights are.
3. Length and Width of Your Cable (for snake cameras)
If you're on the market for a snake camera (also called a pipe inspection camera or a borescope) then you'll want to consider the length of the cable to which the camera is attached.
Most cameras like this will have cables that stretch from 10 feet all the way up to 30 feet, or even longer.
Whatever the dimensions, make sure they'll meet your needs. Also, make sure the camera isn't too wide to fit into the area where you plan to use it. If you need them, you can find narrower cables, although this won't always be the case.
4. Cost
Inspection cameras can cost anywhere from $30 to $3,000, and more.
The amount you're willing to spend should be determined by your inspection needs, and the return you expect to get.
If you're a professional inspector who needs high quality data, getting a high-end digital inspection camera makes sense. On the other hand, if you're just starting out as a home inspector you may be fine using a digital camera you already own for a while, until you learn enough about the job to help you find exactly the right camera for your needs.
5. Environmental Considerations
The environment in which you plant to work is another important factor to consider when looking for an inspection camera.
Keep in mind that inspections often don't present ideal photographic conditions.
If you're collecting visual data indoors, you might run into challenges like lack of light or obstructions blocking your view.
And if you know you'll be using the camera in wet or dusty conditions, you'll want to make sure its IP rating is up to snuff.
IP ratings, or Ingress Protection ratings, are used to rate how protected an electrical enclosure is from foreign contaminants like water, dust, or dirt. If the camera you're looking at doesn't list an IP rating, it may not be suited for work in water or highly dusty environments.
6. Add-ons
Some inspection cameras come with additional accessories that could be helpful for your work. Some examples include:
Magnets. To grab metallic objects seen by a snake camera during an inspection.
Hooks. To attach to the end of a cable used in a pipe camera; also used to grab items seen during an inspection.
Angular attachments / mirrors. To allow inspectors to see different angles in order to get full coverage of the asset being inspected.
Often these add-ons can be purchased at a fairly low cost, and could provide significant support in your attempts to collect the data you need.
7. Batteries
The final thing to keep in mind when looking for a good inspection camera is its power source—almost any camera you buy will require batteries, but they're not always included with the purchase of the camera.
Don't buy a camera only to discover that you don't have any way to power it.
Some digital inspection cameras use standard AA batteries, but others might require special lithium-ion batteries, and need hours to charge. Make sure you research what kinds of batteries your camera requires as part of your overall research effort.
Remote Visual Inspection (RVI) Tools
These days, thanks to advances in robotics, not all digital inspection cameras are made to be used in person by inspectors.
RVI (Remote Visual Inspection) tools like drones, ground-based robots, or floating CCTV cameras all allow inspectors to collect visual data remotely, without having to be physically present inside the asset or area being inspected.
Here are the most common types of RVI tools being used by inspectors to collect visual data today: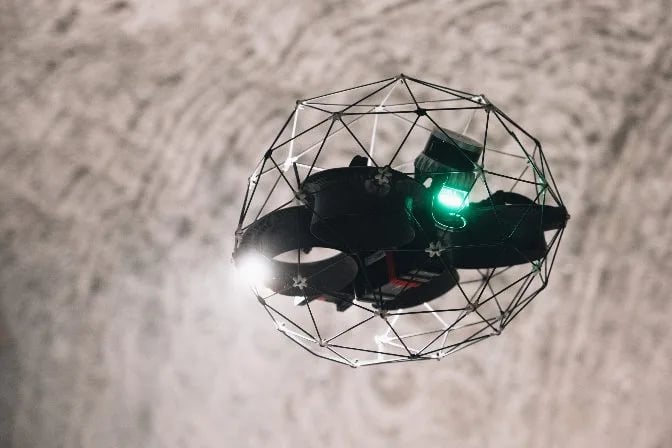 Using these tools for industrial inspections can help improve safety for inspectors, since they allow inspectors to avoid entering potentially dangerous areas.
They can also help increase savings, since they help dramatically speed up the inspection process, thus reducing downtimes and lowering the overall cost of inspections.
Here is how an inspector working in an industrial setting might use an RVI tool in their workflow:
Inspector flies an

inspection drone

inside a pressure vessel to collect visual data on its condition
Inspector reviews live video feed while drone is flying, looking for problematic areas that need further review
Inspector reviews visual data after the flight, both looking at those problematic areas and at all the other data collected in order to make maintenance decisions about the pressure vessel or to determine whether they need to collect more data
Without the use of the RVI tool (in this case, a drone) the inspector would have had to enter the pressure vessel in person to collect visual data.
In many cases, the inspector would also need to have scaffolding erected inside the vessel so they could see all of it, leading to prolonged downtimes, increased inspections costs (for labor and materials to build the scaffold) and further safety hazards due to the need to stand at heights while collecting inspection data.
But with the right indoor drone, the inspector can fly into the asset, collect visual data, and fly out. Keep reading to learn more about each type of RVI tool inspectors are using in the field.
Drones
Drones are fast becoming one of the most used RVI robotics solutions, helping inspectors to improve safety, save money, and reduce downtimes in their inspections.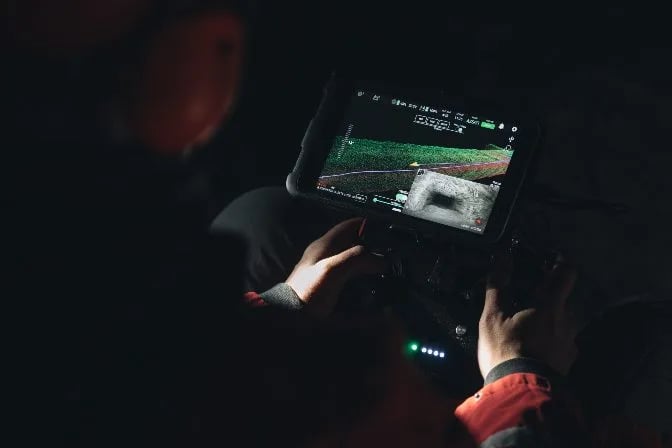 Inspectors are using indoor drones like Flyability's Elios 3 to collect visual data inside assets like boilers, pressure vessels, or stacks.
Here's some information on visual data the Elios 3's camera can capture:
Video—4k Ultra HD in MOV
Still images—12MP in JPEG
And these are the two resolutions the Elios 3 provides for visual data capture:
4K UHD: 3840 x 2160 at 30 fps, data-rate 600MB/min
FHD 1080p: 1920 x 1080 at 30 fps, data-rate: 100MB/min
The Elios 3 also has a thermal and a LiDAR sensor.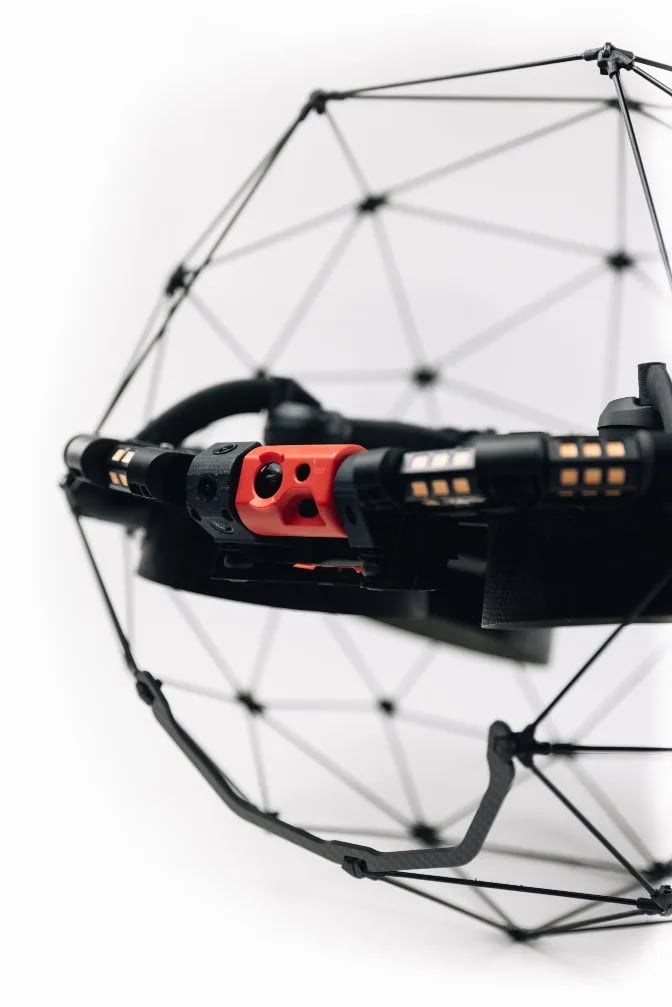 A Closeup Look at the Elios 3's Camera
Outdoor drones are also helping inspectors collect visual data, primarily for assets like power lines, cell towers, or the outside of various assets that might need to be inspected, such as stacks or storage tanks.
Check out our guide to commercial drones to learn more about all the ways drones are being used to support commercial work.
---
Ground-based robots
Inspectors also use ground-based robotics solutions to collect visual data in dangerous or hard-to-reach places. These robots can provide the same kinds of benefits that drones do for inspectors, helping them increase savings while improving safety during inspections.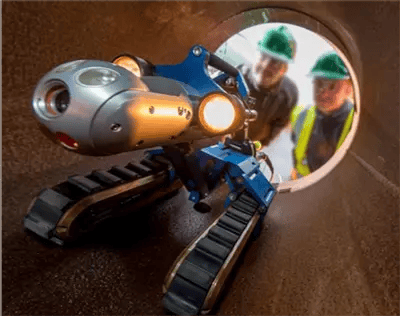 A Robotic Crawler Equipped with an Inspection Camera
See this article for some examples of ground-based robotics solutions that inspectors are using.
CCTV cameras
CCTV (Closed Circuit Television) cameras are often used for inspecting pipes during sewer inspections because they allow inspectors to see inside pipes and drains remotely.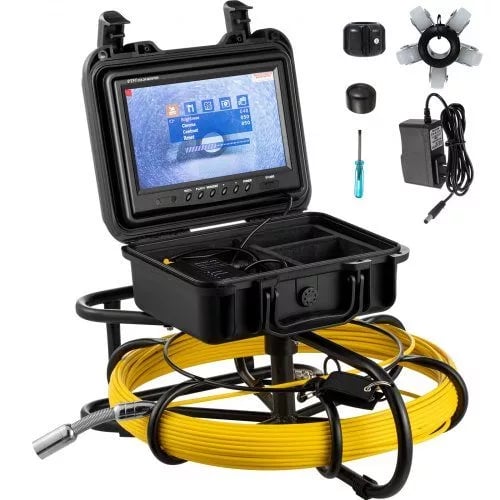 Camera on a Stick or Rope
Inspectors also collect visual data remotely by using fairly simple strategies, like attaching a digital camera to a rope and lowering it into an asset.
A more sophisticated version of this approach is to buy a camera mounted on a stick, which allows inspectors to increase the reach of the camera so they can capture data in places that are hard to reach.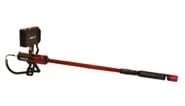 As you can see from these stick and rope approaches, any method an inspector uses to collect visual data without having to be physically present falls under the category of RVI.
What Type of Data Do You Need?
If you Google "inspection camera" the top results might make you think that the only types of cameras used for inspections are borescopes or snake cameras—cameras attached to the end of a cable that are made to enter sewer pipes or other tiny spaces, with a digital live feed available on a screen.
But the truth is that almost any camera can be an inspection camera.
A home inspector might use an inexpensive digital camera to collect images of a house while conducting an inspection.
An industrial inspector working inside a large pressure vessel might use a drone equipped with a high-quality RGB digital camera to collect images for a visual inspection.
[Related read—Inspection Tools: A Short Guide]
And a roof inspector might use a thermal camera to collect infrared data showing where heat is escaping from a roof.
What makes a camera an inspection camera isn't that it has a high-tech scope or that it's made just for inspectors—it's how the camera is used.
So how do you pick the right camera for the inspection work you plan to do?
By considering your data needs.
Once you identify the inspection data you need to collect, then you can find the right tool for collecting it.
That tool might be an inspection camera—cameras are one of the most common types of tools that inspectors use, after all—or you might find that you need an array of tools to collect all of the data required for the type of inspection you plan to perform.
---
We are hosting demonstrations throughout the world to showcase our new indoor inspection drone.
Sign up to see the Elios 3 live in a location near you.